She wanted to be a journalist at first, then a dancer. Then she did degrees in communications and marketing psychology, and started working for a tech company. Shortly thereafter, it occurred to Bridgitte Alomes that she would rather perish.
"I am not a nine-to-five individual," says the Australian-born entrepreneur. "I'm not a good employee. I need to move, I need to have access to nature, I need to be able to go outside and choose if I want to stand up, sit down and move around, be on the floor or whatever it may be."
Plus, she wanted to find work with greater purpose.
So she and her then-husband, architect Allan Alomes, started their own business. Inspired by the birth of their first child, the company — named Natural Pod after the "peas in a pod" that make up a family or a class — launched around 2007 as a toy company with a commitment to healthy and sustainable play choices.
"It was really from a grassroots perspective of looking and researching and finding these toys and working with local craftspeople to create certain things that worked for us," Bridgitte says. All the products they developed upheld Natural Pod's key commitments to environmental sustainability.
From Toys to Tables
After welcoming a second child and as their kids grew older, the couple's company shifted focus. By 2010, they had started looking at ways to incorporate untreated wood, with its natural antibacterial properties, into the classrooms of their children's daycare and preschool. Other parents and educators were interested in the solutions that Natural Pod proposed.
"We cared about what the children were engaged with, how it moved and what it was touching," Bridgitte says. "And when you walk into a learning environment … how do we create a space that's inspiring?"
Fast forward to 2019, and Natural Pod now manufactures more than 200 products a year, shipping them to preschools and grade schools, universities and workplaces around the world — pretty much any environment where creative play, learning or collaboration are encouraged, and where healthy, sustainable choices are a priority. From one of Harlem's first eco-preschools to the Yukon Wildlife Preserve, Natural Pod has partnered with thousands of institutions to create educational environments that promote and facilitate real-world skills in a way that actually supports deep learning.
This small Vancouver Island company is providing just-in-time solutions to an education sector that's changing by the day. Unlike classrooms from just a decade or so ago, we no longer accept that the ideal classroom is one where children sit in rows. Rather, children are meant to learn by doing and exploring, by collaborating with teachers and peers, by finding their own "right space" in a learning environment.
Design that Survives
The company's early commitment to sustainable, healthy products has held —
and even strengthened under Allan's design direction. The untreated wood that forms the tables, benches, light tables and play structures are a pleasing, neutral colour that allows for the passage of time in a way that, say, an orange vinyl chair from the 70s just can't. This means they last longer because they don't go out of style.
All of Natural Pod's products are made from FSC-certified materials and are ethically manufactured on Vancouver Island, in a beautiful building way off in the forests of Cobble Hill.
"Good design comes back to thinking about how to mindfully use the material to its fullest," Bridgitte says. "We wanted to be able to do that locally: to be able to know where it came from, what it's made of, who's making it … We wanted to have full transparency, because there's a lot of questions around: Where does it come from? and What is it made of?"
Every Natural Pod product has more than one purpose too, allowing for maximum usage in the learning space and easy repurposing when the time is right. A bench becomes a balance beam; a shelf becomes a ramp.
Items are flat-packed and shipped with a low-carbon footprint. Each product is recyclable and 100 per-cent compostable at the end of its life-cycle. But the best part of the process is actually when the furniture arrives at its destination, says Bridgette.
"The intention is that it's installed by the community, by the teachers, the parents and the students, so they have a better way of understanding how to care for the product," she says. "We believe and feel that the life expectancy will be longer because it's appreciated in a deeper way."
Learning is Only Natural
For Bridgette, Natural Pod offers a way to create non-hierarchical learning spaces where all students can feel equal, worthy and valued. Equally important is the way educators feel when they enter the learning spaces each morning, because they are the experts who are guiding the change-makers of the future.
"We want a space of beauty, a space of reverence," Bridgette says. "We want a space where children can feel and connect back to nature, because they're in those learning environments more often than in their homes — and often it's the learning environments that they're in where they connect the most."
It's safe to say that Natural Pod was one of the first on the scene in today's education transformation. In her role as board president of the Green Schools National Network (GSNN), Bridgette explains that she is now working with GSNN partners in Virginia to develop a school rooted in biomimicry.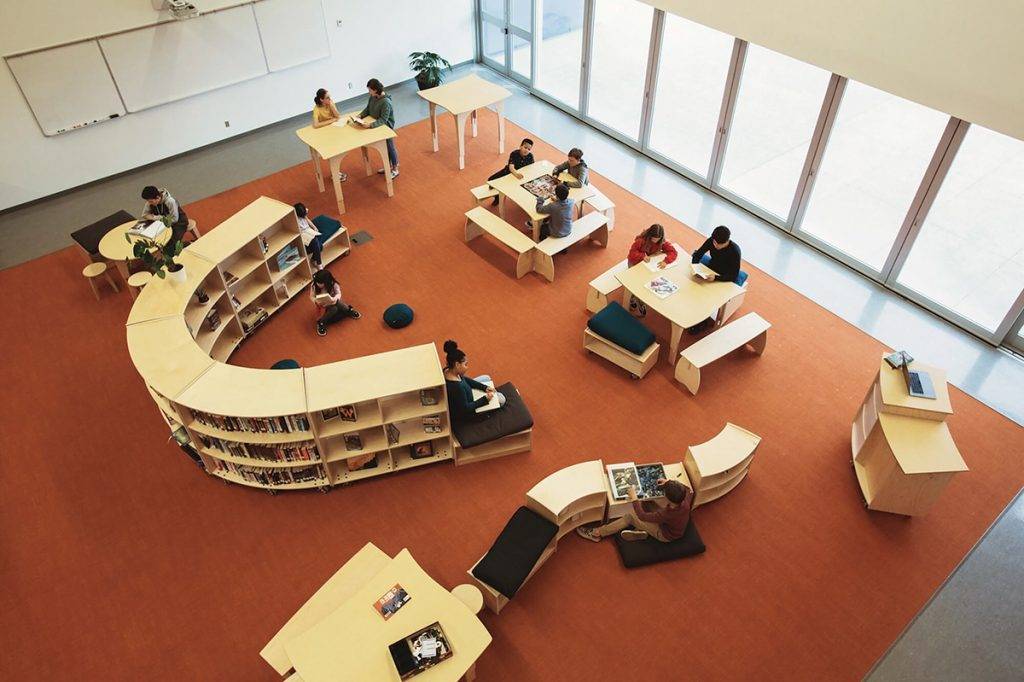 "They're looking at the insects, the environment, the plants, the fauna, the water," she says. "The students are going to be a part of actually designing their learning environments and their furniture and prototyping that — creating their learning environment from the ground up, to create this truly integrated holistic approach, including the curriculum."
It's an expansion of the building process that goes beyond LEED certification — and way beyond having chickens in the school garden.
"It's really thinking about all the different elements and the true engagement of sustainability at all levels," says Bridgette. "[The furniture] is only one element of many different elements that truly make up a really engaging, healthy, sustainable environment. How do we help to foster and create that sense of understanding in their learning environments?"
Preparing for Brighter futures
As education changes to allow greater flexibility and choice in learning, Natural Pod is well poised to cocreate learning spaces that support problem-solving, collaboration, creativity and ecosystem learning, among other 21st century skills.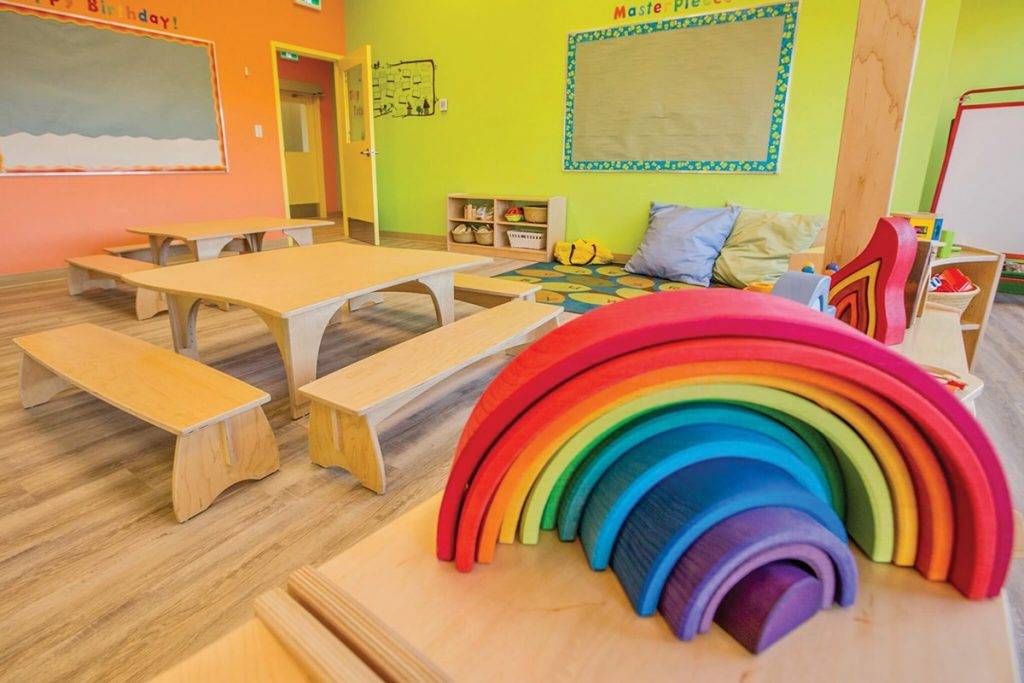 We tend to forget that learning comes naturally for all of us, and that we need only to support young people on their journey of discovery rather than control their movements, dispense units of knowledge into their heads and then test them on what they remember.
 Today's world needs people who can work together, make decisions, take strategic risks, and think. As the pedagogy changes, so does the built environment. And Natural Pod is right where it needs to be to spearhead the change.
This article is from the June/July 2019 issue of Douglas.