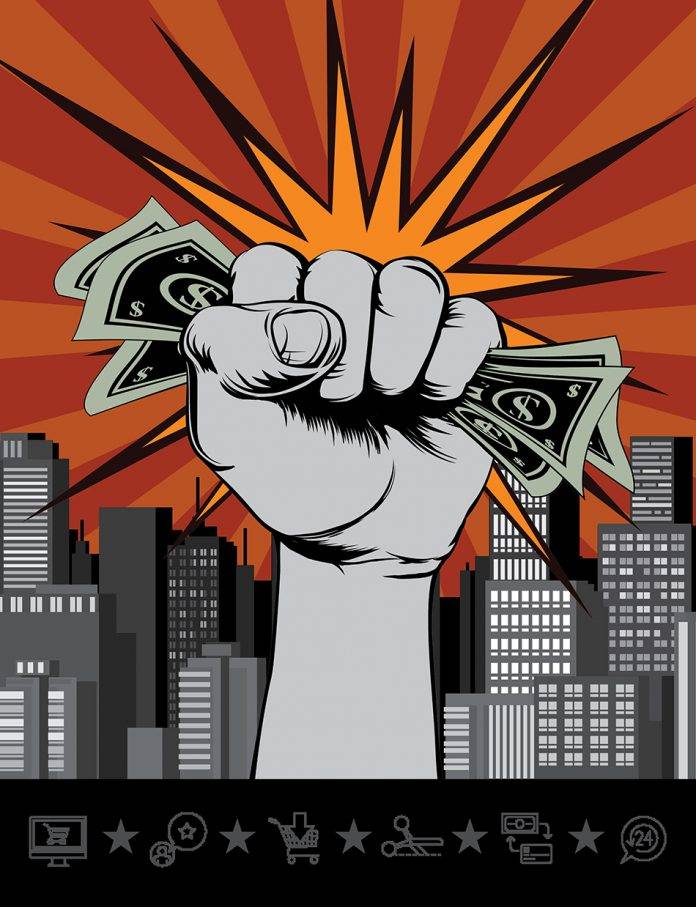 Faced with stiff online competition for shoppers' dollars, savvy local retailers are honing their niches and offering something seemingly revolutionary in the age of the Internet: the human touch.
Shelagh Macartney, owner of sister stores She She Bags and She She Shoes is a veteran of the highly competitive boutique retail scene in Victoria. The art history major opened her first store 25 years ago, a gift shop in Trounce Alley, when there was no Internet, and Omnichannel was still a distant shopping innovation.
Then seven years ago, because she "couldn't look at another Christmas ornament," Macartney decided to open She She Bags, a boutique specializing in handbags, an idea that was hatched in San Francisco where she observed ordinarily dressed women carrying amazing bags. That idea then grew into another idea: a separate sister boutique for specialty shoes, the kind not sold in your average department store.
Macartney's niche focus was successful and today her customers span the age demographic from style-conscious 16 year olds to elegant octogenarians who don't mind shelling out for a handmade Karen Wilson purse, or a Liebeskind bag from Germany, or unique and chic footwear like Ruby Shoo and Poetic London.
Macartney's secret? She never stops talking to her customers and she never rests on her retail laurels. Last year, she relocated her shoe store from Trounce Alley to a new location beside She She Bags on View Street. Together, the sister stores, with their complementary and very targeted branding, pack a double-whammy of fashion that attracts stylish shoppers.
This past October, Macartney picked up on the pop-up store trend to sell off old stock, opening for a weekend, just around the corner on Government Street. The stylish event rewarded her loyal clients and introduced her brands to a new market. The event far exceeded her expectations, Macartney says.
A Fickle Landscape
Retail matters a great deal to Victoria for many reasons. Not only is healthy retail a key indicator of a city's success and vibrancy, the sector is a significant employer.
In 2011, the most recent year for which Statistics Canada gathered data, the entire Greater Victoria retail sector accounted for 20,085 jobs, up two per cent from 2006, with food and health, and clothing and sporting goods as the two largest retail subgroups.
As vital as it is to a vibrant city, retail is a fickle beast. It's a constantly shifting landscape that is also rooted in basic principles that hearken to the very dawn of retail sales; that is, quality products backed by friendly, knowledgeable, trustworthy service. There's no doubt being nimble and responsive is not only good business; it's a matter of survival.
The online world has enabled consumers to customize their shopping experience like never before. Yet even though many prognosticators predicted the death of Main Street with the proliferation of big-box retailers and online shoppers, for the small, independent boutique retailers like She She Bags and She She Shoes, time has proven there's still a demand for bricks-and-mortar retail where proprietors knows the customers' names and tastes.
Competing with Online and Big Box
In fact, according to some astute observers, the future of small retail may be brighter these days than it has been in a long time. Last March, author and venture capitalist Arlene Dickinson of Dragons' Den fame made a post on her Facebook page that gives independent retailers considerable reason for optimism.
"The demise of so many big-box retailers in Canada leaves a real opportunity for entrepreneurs to fill the market's evolving needs," Dickinson wrote, in an obvious reference to Target Canada's spectacular failure. The future of bricks-and-mortar retail, she added, will be in "specialty stores" and "those specialty stores will do well because they offer a fabulous and unique customer experience."
Furthermore, Dickinson went on to say that "online is not the death knoll of retail stores. It's the signal for a pivotal change in them. Bakeries, artisanal products, locally grown produce, butchers, wellness services: the list of what we want and will buy from local retailers is still endless. It's exciting even as it's changing. And interestingly enough, it's ultimately changing back to what it was 100 years ago."
Lisa Hutcheson is a retail expert and consultant for J.C. Williams Group and is based in Toronto. Like Dickinson, she says fears that the online shopping world would eradicate bricks-and-mortar retailing have not been borne out in reality, even though online shopping in Canada now accounts for a whopping $30 billion in sales annually, according to stats gathered by J.C. Williams.
To be successful, she adds, retailers must embrace and understand the shopping habits of modern consumers. People are customizing their shopping experience like never before, often pre-shopping online and reading online reviews of products and stores before walking through the doors.
Details are crucial, says Hutcheson, like the feel and atmosphere of a store, the service and the little extras like serving coffee or, in the case of Lululemon Athletica, offering free in-store yoga classes every weekend. Lululemon has experienced some high-profile publicity flops and product gaffs, a few at the hands of its colourful founder and former CEO Chip Wilson. However, the company's commitment to quality, service and community permeates to the core of its corporate culture. And though Lululemon has quarterly revenues in the realm of $500 million, there are lessons for even the most boutique of boutique retailers.
"The question to ask is, when a customer comes into your store, what kind of experience will they have?" Hutcheson says. "It's extremely important because you won't be able to compete on price with the big-box stores."
Creative Strategies
Hutcheson says progressive retailers are taking personal service to the next level with curated collections to suit the individual tastes of customers. For example, Frank & Oak, a Montreal-based men's clothing chain, sends curated collections to select customers once a month; customers pay only for what they keep and send the rest back free of charge.
Specialized, personal service is a hallmark of She She Bags and She She Shoes. It's also the calling card of D.G. Bremner & Co. Menswear.
David Bremner opened the Sidney-based high-end men's clothing store in 2002, and last spring cut the ribbon on its second location on Broughton Street in downtown Victoria, filling a void left by the recent closure of Philip Nyren Menswear and Womenswear (formerly British Importers). It's a family affair: David manages the new downtown location while daughter Erin, who was elected to Sidney municipal council in 2014, looks after the Sidney store.
"My dad has an old-school philosophy. That is, to treat customers the way you'd want to be treated," says Erin Bremner about her father who has worked in retail since he was 15. "It seems simple, but we have very loyal customers and they are our best advocates."
The younger Bremner also has decades of retail experience. While studying business administration at Camosun College, she worked at Roots, then after college went overseas to work for another clothing retailer. Erin returned to the Island, because she says she missed home and also felt she could make a difference with the family business.
The flagship store on Beacon Avenue is a cozy 1,200 square feet, with an elbow-room sewing space in the back where alterations can be done while customers browse. A pair of friendly Australian shepherds, the store mascots, faithfully greet clients when they walk through the door. High-end brands, like Liberty Print Bugatchi shirts and Alberto jeans, which retail for more than $200 per pair, fill the shelves.
The shop has the feel of something from a bygone era fit for a Norman Rockwell period piece, but the Bremners don't ignore the modern realities of the Internet; doing so would be at the businesses' peril.
Though they don't sell online, Bremner says social media is extremely important as a way to dialogue with customers, tease them with product offerings and keep them informed about in-store events, like when visiting reps are in town to showcase new product lines.
To keep their two stores vital and distinct, Bremner says the respective stores are stocked with inventory and brands reflective of the slightly different 45-to-70 year old clientele — on the one hand, downtown working professionals interested in the latest trends, while in Sidney, a little more relaxed and casual.
"Our customers care about how they look when they leave the house," Erin says. "I have faith in the human connection. Customers can come in and feel the fabric, and we'll do deliveries just as if they were to buy it on Amazon."
Knowing Your Customer
As for Shelagh Macartney, she knows all about retail and the human connection. At the time of this interview, she was gearing up for one of her big fall weekends, the Victoria marathon that she says floods downtown with fit, affluent consumers who are "excited to be in the capital city."
As a sole proprietor with two full-time and three part-time staff, and two small businesses to manage, Macartney admits she has little time for strategic planning, other than staying attuned to her clientele. And she does this well, going out of her way to talk with her customers and learn their tastes and interests.
As it turns out, that ability to connect closely to clientele — to provide the all-too-rare human touch — might just be the thing that gives Macartney and retailers like her the competitive edge. And yes, for retailers doing business in an increasingly online and big-box world, that's revolutionary.
3 Retail Strategies to Fuel Growth
Omnichannel Retailing: Create a seamless experience for customers across multiple channels. Do have a current website with a mobile component. A customer should be able to walk into your retail location and seamlessly reference a product they saw online.
The Buying Journey: Take advantage of up-selling and cross-selling. It is vital to retailers' growth to identify those items that drive traffic to their store or site. These items need to have something that will entice or hook consumers who are not as brand loyal as a retailer would wish.
Targeting Millennials: Millennials are now the biggest generation in the Canadian workforce. As they become increasingly affluent, Millennials will play a central role in retail's profitability moving forward.  (Source: Adapted from cpcstrategy.com)