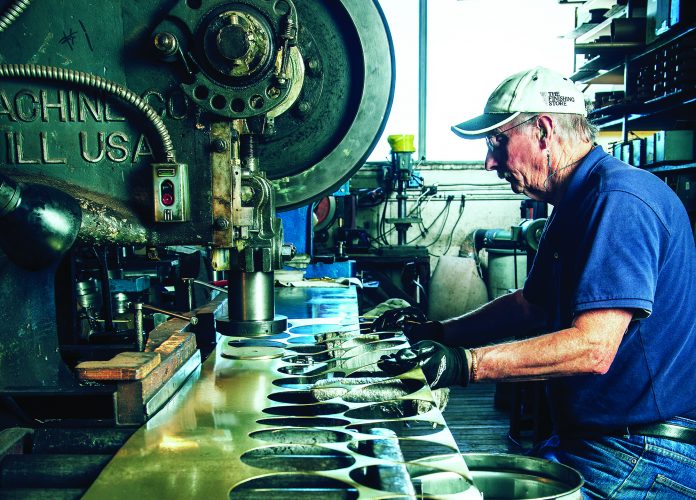 Most people who have fished the West Coast know PEETZ Outdoors. The Rock Bay company founded 90 years ago by Boris Cecil Peetz and owned since 1977 by Bill Hooson, is famous for its handmade, limited edition fishing reels.
Art Aylesworth has been using PEETZ equipment since he started fishing in the 80s — and as a woodworking hobbyist, he admired the craftsmanship of the reels. "I had a lot of respect for PEETZ," he says, "but over the years I noticed the company seemed to be in decline. I said, 'This is a good old brand; somebody's got to do something!'"
In November 2014, Art, along with Shawn Aylesworth and Marc Hoelscher, joined PEETZ as new partners and began to reinvigorate the heritage brand, including the creation of The Evolution Series, PEETZ' first major innovation in reel design in over a decade. Designed to compete with the latest high-tech reels, the new reel features a one-way drag that gets rid of the "knuckle buster" effect of older PEETZ reels.
Next, the partners are focusing on creating a family of products and a plan to awaken the European, New Zealand and Australian markets to the superb quality of PEETZ.
This June, they launched an Artist Series of mahogany and brass fishing reels, carved by Kwagiulth artist Jason Hunt. The limited edition pieces kicked off an initiative with the Pacific Salmon Foundation (PSF) called Reel Change, where $10 from every reel sold via peetzoutdoors.com goes to PSF salmon conservation.
The partners are full of ideas for the future of PEETZ. "We're listening and paying attention to the market," says Art, adding that he and his partners are also looking at other ideas such as the gift market for PEETZ products.
And as they say in the world of fishing, "A reel expert can tackle anything."