Reciprocity Connects creates a new and meaningful way for businesses and homeowners to acknowledge the Indigenous lands on which they live and work. One that puts their money where their mouth is. The program was created "as a way to decolonize our backyards and change the culture of home for the better," says Sarah Reid, Reciprocity Program Director.
Reciprocity encourages businesses to contribute 1% of their profits to the Indigenous Nations on whose lands they operate. It's designed to foster two-way relationships between business and Indigenous Government and provide an impactful way for companies and property owners to acknowledge the violent colonial history on which our lives are founded.
Reid tells Douglas how businesses can enact reciprocity.
What is the reciprocity program? 
Reciprocity is all about making recognition of Indigenous land rights more meaningful and real by making connections between home owners, business owners or renters and the Indigenous Nations whose lands we live, work and play on. Vancouver Island is an amazing place to be, and we get to be here because of a particular history, some of it pretty ugly. Reciprocity is a way to say thank you and to own our histories for as long as we are privileged to live and work here.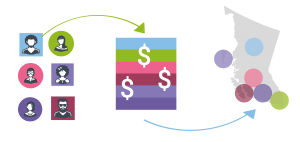 When it comes to businesses, Reciprocity is modeled off of the 1% Pledge pioneered by Salesforce. It asks businesses to commit 1% of profits, shares and/or product to doing good in the world – in the case of Reciprocity, that 1% is dedicated through a regional Reciprocity Trust to the Indigenous Nations whose lands you run your business on. Many big companies have their own agreements and relationships with Indigenous communities, and where those are working well, we think that's great. Reciprocity is another option for businesses who want to recognize Indigenous rights where they operate, especially smaller or newer companies.
How can businesses be a part of the program?
Interested businesses go to reciprocitytrusts.ca and let us know they are interested. We then sit down and figure out what works best for your business. That could be a simple annual payment, share agreement, or contributions of product or time. In the case of payments or shares, these are transferred to a regional Indigenous-owned and controlled Reciprocity Trust.
Our first trust is planned for the South Island. Each participating First Nation names a trustee and is part of setting the rules of the Trust.  Once established, the Trust provides participating First Nations with a reliable, ongoing and independent revenue stream that increases as more homeowners, businesses or renters become part of Reciprocity.
Participating First Nations allocate funds based on a set of Nation-determined priorities, including things like Indigenous language, land and nation rebuilding. We are establishing Reciprocity Trusts on a not-for-profit basis, so after operational costs, every dollar goes to communities. If all goes as planned, Reciprocity contributions will be tax-deductible, and your participation will also be recognized on the Reciprocity Map.
Reciprocity is still getting rolling and, for now, we are simply asking businesses, especially in the Victoria area, to let us know that they like the idea of Reciprocity and would like to join once we are up and running. Businesses can pledge to be a part of Reciprocity at reciprocitytrusts.ca.
Could you outline 3 things that you would recommend all companies do to get started?
Find out whose lands your business operates on. There are some great resources to help guide you, check out

Native Land

or

Whose Land

,

or a great digital map recently put out by

First Peoples Cultural Council

.

For some, the answer to this is relatively straightforward, for others, not so much. Do you have an office in Victoria, some key staff working remotely and anchor clients on the mainland or in other parts of the province, country or world? Think about where you might want to allocate your reciprocity payment, and where you might want to look to recognize Indigenous land rights in other ways. Some businesses are focusing their 1% where their head office is based. Others will be splitting their pledge between multiple Indigenous trust areas once those are set up.

Take some time to learn about Canada's colonial history and the ongoing impacts of colonization. What has happened over the past 150+ years to create the environment in which you are able to r

un your business and prosper in this Nation? Spend some time with the

94 'Calls to Action'

of the Truth and Reconciliation Commission and think through how they relate to your work and your life. There are lots of other great
resources too, try starting with the

Indigenous Foundations

material published by UBC.


Determine what type of 1% contribution – cash, shares and/or product – makes sense for where your business is at, and what might be most useful to the Indigenous Nations where you work.
*written by Aldyn Chwelos with files from Emily Dobby.
You may also like: