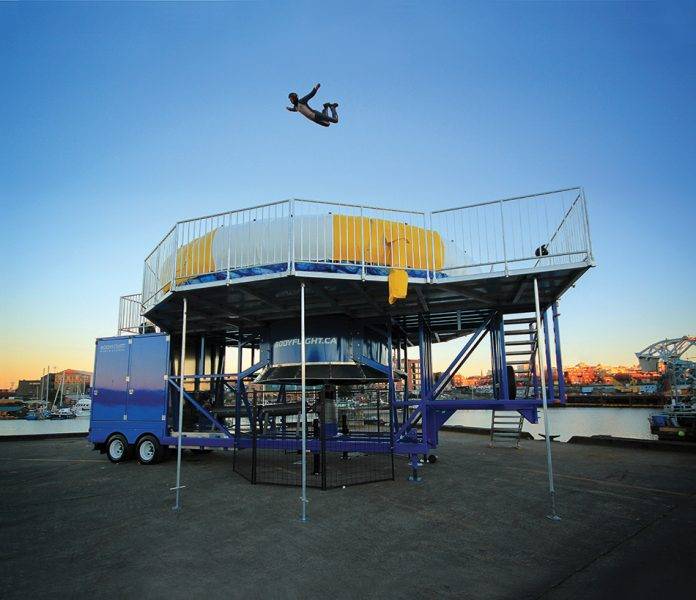 Thrill seekers can now experience the inimitable sensation of a skydiving free fall without having to jump from a plane. Victoria-based Bodyflight Mobile Systems' simulator, a portable wind tunnel, has been used for skydive training, adventure tourism and corporate team-building, and recently it was used to create a little Hollywood magic.
Production crews on the blockbuster Tomorrowland used a Bodyflight simulator to add realism to key action scenes that involved free falls.
"It allowed them to do things they could never do with an airplane," says Peter Zaoralek, owner of Bodyflight. "The stunt guys were really excited about having a machine that could simulate those wind speeds."
The film production used the Bodyflight X1 machine, a fully portable skydive simulator that produces wind speeds up to 230 kilometres per hour and can be converted between a clear wall-to-wall air-flight chamber or an open-air flight system with custom net rigging or air-cushion systems.
With the success of the Tomorrowland project, Zaoralek is hoping to attract the attention of other productions looking to film realistic free-fall, flying or wind-related scenes.
"The film industry is very busy in Victoria and Vancouver currently," Zaoralek says, "and we hope this means more interest in the technology."
Photo: BODYFLIGHT MOBILE SYSTEMS INC