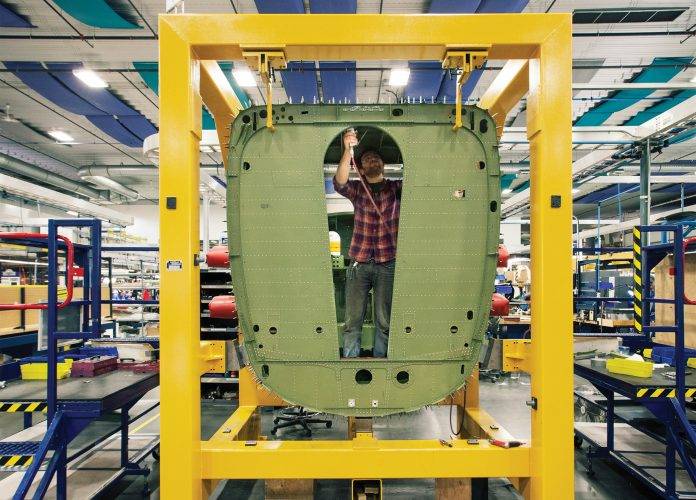 The growth of specialty manufacturers on the Island is a sign of an increasingly sophisticated economy.
Mention Vancouver Island's specialty manufacturing industry and many of us would be hard-pressed to name half a dozen companies that are making and selling highly evolved products to customers around the globe. But in nondescript buildings in Central Saanich or at large premises near Nanaimo, Islanders are proving that unique diagnostic medical tools, specialty air compressors and intricate fishing lures can be designed and built here.
"We definitely have a manufacturing industry on Vancouver Island. The companies are global leaders in what they sell," says John Juricic, owner of Harbour Digital Media and chair of the Vancouver Island Manufacturing Sector Advisory Board. "Why is this hidden under the radar, when, economically, it's flourishing on Vancouver Island?"
WHERE DO WE STAND?
When we think of Island industries, three Ts typically take hold: technology, tourism and trees. In reality, on the Island, over 900 manufacturing businesses exist, according to StatsCan. Some are small-scale producers of sea salt or wood furniture. But others make specialty goods like bicycle components or very pure laboratory chemicals. They're not the sort of things you pick up and fondle at the mall or crack open at the dinner table, which explains why they're off the radar.
In Greater Victoria alone, roughly 120 manufacturing businesses unobtrusively generate millions of dollars in revenue each year, with half located on the Saanich Peninsula, says Juricic, who has served as a board member of the BC Chamber of Commerce and is also chair of the Sidney-North Saanich Industrial Group. The group represents about a dozen manufacturers located on the Peninsula, many near Victoria International Airport or Keating Industrial Park. Included are Scott Plastics, Seastar Chemicals, Nicholson Manufacturing, Schneider Electric, Viking Air and AXYS Technologies.
When George Hanson, president of the Vancouver Island Economic Alliance (VIEA), examines Island specialty manufacturing (SM), it's through a boutique lens. We're not making cheap plastic bottles or budget textiles in huge factories with legions of low-paid workers. "Our products have global demand and command premium price," says Hanson, who's worked in Nanaimo's business sphere since 1993.
"Vancouver Island will never be a major industrial hub; we'll never be a Shanghai. That's not who we are. That's not who we want to be. We have to stop trying to be like everyone else. We should put our focus on being who we are. Look at companies that want to be here. Why? What is it that we have that's unique, that allows new business to succeed?"
SMART IDEAS NOT BOUND BY BORDERS
One SM success is VMAC Global Technology. Since 1990 VMAC has been manufacturing vehicle-mounted air compressors at its site in Cedar. Today, all of VMAC's departments operate out of a 33,000-square-foot facility, employing almost 100 people at good-paying jobs. It's average annual growth is 13.5 per cent over the last four years, says VMAC operational-excellence director Stuart Coker.
The company, which has 400 dealers around the world, most in North America, has continually refined its products to meet trends and new vehicle designs. VMAC's Underhood 70 air compressor system is an industry leader, with few competitors in its market. 
"As you walk around the building, you can sense a pride in what we do," says Coker, an engineer who started with VMAC in 2000 after emigrating from England to Vancouver Island, which he'd visited on a prior trip. "I fell in love with Vancouver Island."
Company founder the late Tony Menard moved VMAC from Kitchener, Ontario, because he wanted his children to grow up on Vancouver Island, his childhood home. As the business grew, and co-founder Jim Hogan came west to join Menard, the decision to move VMAC to the Island proved savvy. As Coker says, buying 10 acres of land and building a huge facility would have cost up to four times as much in the Lower Mainland.
As well, the perception that it's a hardship to ship goods off the Island doesn't hold water. Courier FedEx realized that Vancouver Island was generating a lot of business, so in early 2014, it opened a transport hub at Nanaimo Airport and began to aggressively court customers.
"If you're manufacturing massive equipment, the Island's not so good. For a company like VMAC, the Island makes sense," Coker says. "Shipping from the Island to the U.S. is the same as shipping from Richmond to the U.S." While VMAC has gotten offers to sell from larger companies, VMAC won't leave Vancouver Island, Coker says.
In Saanichton, Quester Tangent has become a highly specialized designer and manufacturer of sophisticated data and control systems for passenger trains. It continues to enjoy annual double-digit growth, with 95 per cent of the components exported, says COO Bill Collins.
Around 60 employees work at Quester's 20,000-square-foot facility, where in 2015 over 15 million U.S. worth of work was completed.
"No one else in Canada is doing this. We're like an auto-parts supplier for trains," says Collins. But unlike Magna International, Quester is a low-volume manufacturer that produces 10,000 instead of 100,000 units of a mix of intricate products. This puts Quester firmly in Hanson's "boutique" category. "If you're dealing in high volumes, this isn't the place to be," says Collins. While companies who manufacture trains, like Bombardier or China Rail, complete in-house manufacturing of similar products, Collins says Quester does it better.
"We're more cost-effective, more agile. We can innovate." Collins attributes that nimble market response to Quester's strong suit: access to an extremely skilled workforce. "They are people who are here and want to stay here for the long term," he says. The loyalty is tied to profitability and the natural amenities of the Island. Attractive wages are paid, and a healthy workplace prevails. Because Quester manufactures products that last two decades, having long-term staff who remember the 20-year-old process is an advantage.
StarFish Medical has been designing and manufacturing one-of-a-kind medical devices, such as ultrasound eye scanners and prosthetic heart valve testers, at a 24,000-square-foot facility near Uptown for global clients. "We make products that are as big as your fist and that cost $10,000," says StarFish founder and CEO Scott Phillips. Being on an island hasn't been a problem. If StarFish were producing kayaks, shipping costs might be a hardship, but the price to ship a small medical device to Boston is little more than an afterthought, says Phillips, who has a degree in engineering physics. Whether Island firms are building a $7-million plane destined for Malaysia or a $60,000 U.S.-bound robotic system, profit ratios are good and the cost of shipping is a small part of doing business.
With 2014 growth of 40 per cent and over 70 staff, Phillips has no regrets about opening shop on the Island 16 years ago. When StarFish surfaced, Phillips carefully grew the company because of limited capital. About three years later, StarFish was swimming strong. And because he's not running a factory in a metropolis, Phillips can continue to ride his bike to work.
SHORTCOMINGS AND LONG SHOTS
At VMAC, a large challenge has been the Island's limited labour pool. "People don't instinctively look to the Island," Coker says. Because VMAC uses the Lean manufacturing philosophy, VMAC wants employees who can adopt the Made in Japan principles, which include being open to new ideas and acknowledging personal limitations. People from across Canada and beyond apply for work at VMAC, but not a lot of them have the necessary qualifications. Finding the right people for the job hasn't been easy, Coker says. Throwing up one more hurdle is the lack of technical education on the Island. Vancouver's B.C. Institute of Technology is the closest institution to offer machinist apprenticeship training, Coker notes.
But there are pleasant surprises. VMAC's cryogenic compressor specialist, a high-level engineer, emigrated from China to Toronto, and when the Island job arose, he was keen to escape the big city. Still, Coker would like more government-led promotion of the Island. StarFish, too, has challenges finding qualified staff. In late 2015, the company had 10 vacancies.
One untapped source of skilled employees is Vancouver Island's four major educational institutions: Vancouver Island University, Camosun College, Royal Roads University and the University of Victoria. Instead of focusing on "putting bums in seats," Juricic says, the schools should be talking to one another to ensure that training gaps are filled and that innovation is nurtured.
Hanson has asked post-secondary foreign students why they're attending school on the Island. Inevitably, it's because their parents chose safe Canada over the gun-infatuated U.S., then the south coast of B.C. because of mild weather, and finally Vancouver Island because it's less expensive than Vancouver.
Many post-graduate students want to remain on the Island and start a career. Yet, under the B.C. Provincial Nominee Program, which oversees immigration of all foreign workers based on the needs of B.C. employers, from 2010 to 2014, there were only 1,425 applicants in the Skills Immigration stream for Vancouver Island, with 1,075 of those earning a nomination for permanent residency.
Hanson doesn't think we have to "cast a net" to capture skilled workers. "It's not about more glossy brochures, it's about collaborative efforts."
For Collins, it's about Victoria International Airport and the need for more direct flights. "Getting people on and off the Island is difficult both for cost and convenience," he says. When Quester's equipment is being commissioned, Quester staff have to get to the client, quickly. Reaching Kuala Lumpur becomes a marathon. As well, when Collins ferries high-spending clients to Quester's factory, he takes the back way, along West Saanich Road, rather than the direct route near Keating Industrial Park, to avoid "For Sale" signs and run-down vacant premises that paint a less-than robust image.
One debatable roadblock is the cost of housing in sections of Greater Victoria. Juricic considers lack of affordable workforce housing a major deterrent to the SM expansion, along with the shortage of available, skilled tradespeople and transportation options. While Victoria International Airport, which sits on federal land, has made space for companies like Viking Air and Scott Plastics, Central and North Saanich haven't done much to create workforce housing for employees in the area. Juricic estimates about 50 per cent of the employees in the 12-member Sidney-North Saanich Industrial Group live in the West Shore.
To draw desirable workers in the 25-to-40 age group there needs to be affordable housing, schools, shopping, easily-accessed transport and jobs that are close to home. But, as Juricic points out, in these volatile times of fluctuating commodity prices and the lower Canadian dollar, skilled employees are returning to Vancouver Island from Alberta and beyond.
ROOM FOR MORE
Because not much property is left for industrial development in Victoria or Saanich, the promised land to the west beckons. Juricic says, "A Silicon Valley of manufacturing. I think that's the role Langford could play. Langford's got the space; it's got the affordability."
Not surprisingly, Langford Mayor Stew Young has envisioned both a hi-tech park and a specialty-manufacturing centre in his municipality. He's already got his eye on a 40- to 50-acre spot not far from the new Leigh Road Interchange that would be suitable for a hi-tech business park. He's also seeking a roughly 200-acre chunk of land for an SM park.
"I want residents of Langford to live and work in the community," Young says, confident of his vision. 
Beyond Greater Victoria, costs diminish and room to grow expands. The State of the Island Economic Report, released this fall by Hanson's organization, VIEA, shows the benchmark cost of a single-family home in June 2015 in the Victoria area was $508,900; Duncan, $298,300; Nanaimo, $350,200; Qualicum/Parksville, $369,800; and Comox Valley, $334,000.
The living wage for Victoria was also the Island's highest, at $18.93 per hour compared to $17.04 in the Cowichan Valley and $17.30 in Qualicum/Parksville. On the whole, Vancouver Island is a cost-effective locale for SM compared to the mainland, where $1 million gets you track housing and one-way two-hour commutes are the norm, Hanson says.
One vision that could have implications not for just Island manufacturers but for the whole of B.C. is a Port Alberni container facility, Hanson says. Instead of shipping out of Vancouver, a Port Alberni port could shave off two days of travel for Asia-bound goods, a promising market for Island products. The port could also open the door to new SM such as products made from readily available wood fibre.
"There are things that can be done here that can't be done in other places," Hanson says. Cross-laminated timber and specialty charcoal made from slash burn leftovers are two of many examples.
While it's his job to promote the Island, Hanson says that individuals will push SM forward. "There are challenges in the way, but those limitations haven't stopped entrepreneurs. We're on the cusp of realizing that we have significant untapped potential. We have to keep telling the story, the story that there's opportunity on Vancouver Island. We need to debunk the myth that an island location is a liability."