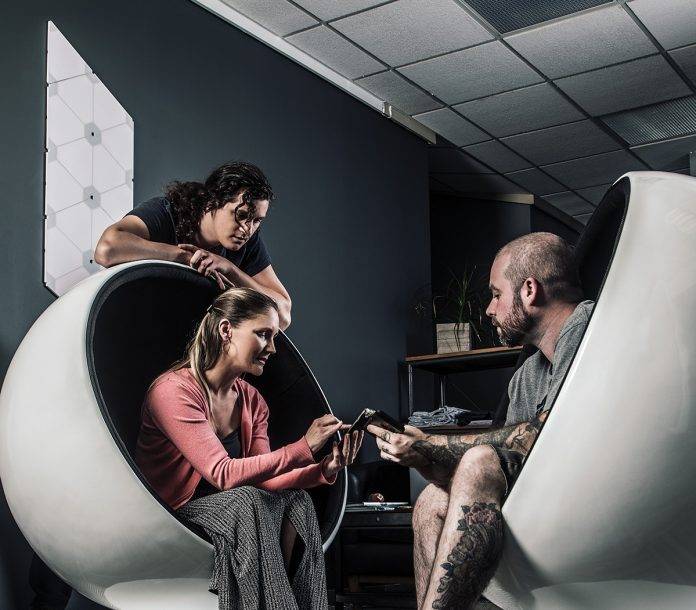 Each day when mobile games expert Jean-Guy Niquet rolls into his new office in Nanaimo, he's aware of his good luck. As the live operations lead for LDRLY, a company that specializes in cannabis-related mobile games, he's heading up one of the first businesses in a newly established industry in a region so beautiful those in his company refer to it as a resort.
LDRLY started out in Vancouver as the sister business to the popular and award-winning industry veteran Eastside Games, founded by Joshua Nilson, Jason Bailey and Galan Akin.
"There's definitely an opportunity in Nanaimo," Niquet says, adding that he hopes to see more gaming companies established in the region. "I knew it would be hard, and we had a lot to do to build a community here. But it's also a blank slate, so there's an opportunity there to go into a city where an industry doesn't exist and really leave your mark and feel like you're actually doing sometime that contributes to the community."
Niquet describes LDRLY's games, like Bud Farm, as falling into the light-hearted "green culture" category. Designed for iPhones and Androids, they are similar to the popular agricultural social networking game FarmVille — but with players growing cannabis instead of strawberries.
Instead of battling for space to expand in Vancouver's expensive real estate market, LDRLY looked to the mid-Island, landing in Nanaimo with a hand from the Mid Island Business Initiative. In December 2018, they landed a 3,200 square foot waterfront office in the Port Authority building that currently serves their staff of 10 with room to grow.
"When we have people coming over from Vancouver, we can actually watch their planes land and just walk over, grab a coffee, meet them and walk them back to the office," Niquet says. "It's convenient for us to go to Vancouver for meetings, or have them come here."
And there's no lack of interest in green culture games. To date, Pot Farm, Eastside's flagship game, has had more than 20 million downloads and 3.5 billion active play sessions.
This article is from the August/September 2019 issue of Douglas.