Walking into KWENCH work + culture club, you immediately grasp that you're not in staid-old Victoria anymore. The expansive space in the historic Francis Rattenbury building on Store Street was once just an attic that was considered unusable space when the lower level was home to Sports Traders. Now, sunlight streams through an enormous peaked skylight, illuminating a modernistic reception area with an eye-catching circular yellow couch and the sleek lines of custom Kurva Design desks. The design-forward esthetic projects an urban, big-city, big-culture vibe.
"My first impression was that KWENCH is a gift to the city of Victoria," says Nicole Smith, founder of Flytographer. 
Tessa McLoughlin is the wizard behind this Oz. But it wasn't an easy skip along the yellow brick road to get here. When the Australian-born McLoughlin first arrived in Victoria in 2013 from Squamish, she was spinning from a recent divorce, which she calls an unexpected turn.
"It put my children and me in incredible financial and emotional stress," she says. "I truly believe it was because I had gone through this upheaval and came out the other side that my determination to see my vision for this place to fruition was so strong. Failure was not an option. I wasn't going to let someone else control my future."
The 2018 Douglas 10 to Watch winner initially launched KWENCH — her coworking-meets-culture-based collective — in a smaller Fort Street location, while the Rattenbury building was being renovated. She knew her vision called for a generous space with a large footprint.
"It came about out of my own desire to have a central physical space that removed the busy-ness from my life and supported happiness," McLoughlin explains.
Working closely with local interior designer Sarah Donald of Hansenbuilt, KWENCH was brought to life. The 23,000-square-foot club is home to solo entrepreneurs and creatives, and businesses, such as Avalon Accounting and Becoming Design Office. Along with dedicated office space or desks for lease, there are hot desks and boardrooms, plus a telephone room, library, event space and fitness studio. Non-members can access the facility with a day pass and outside companies can book the boardrooms.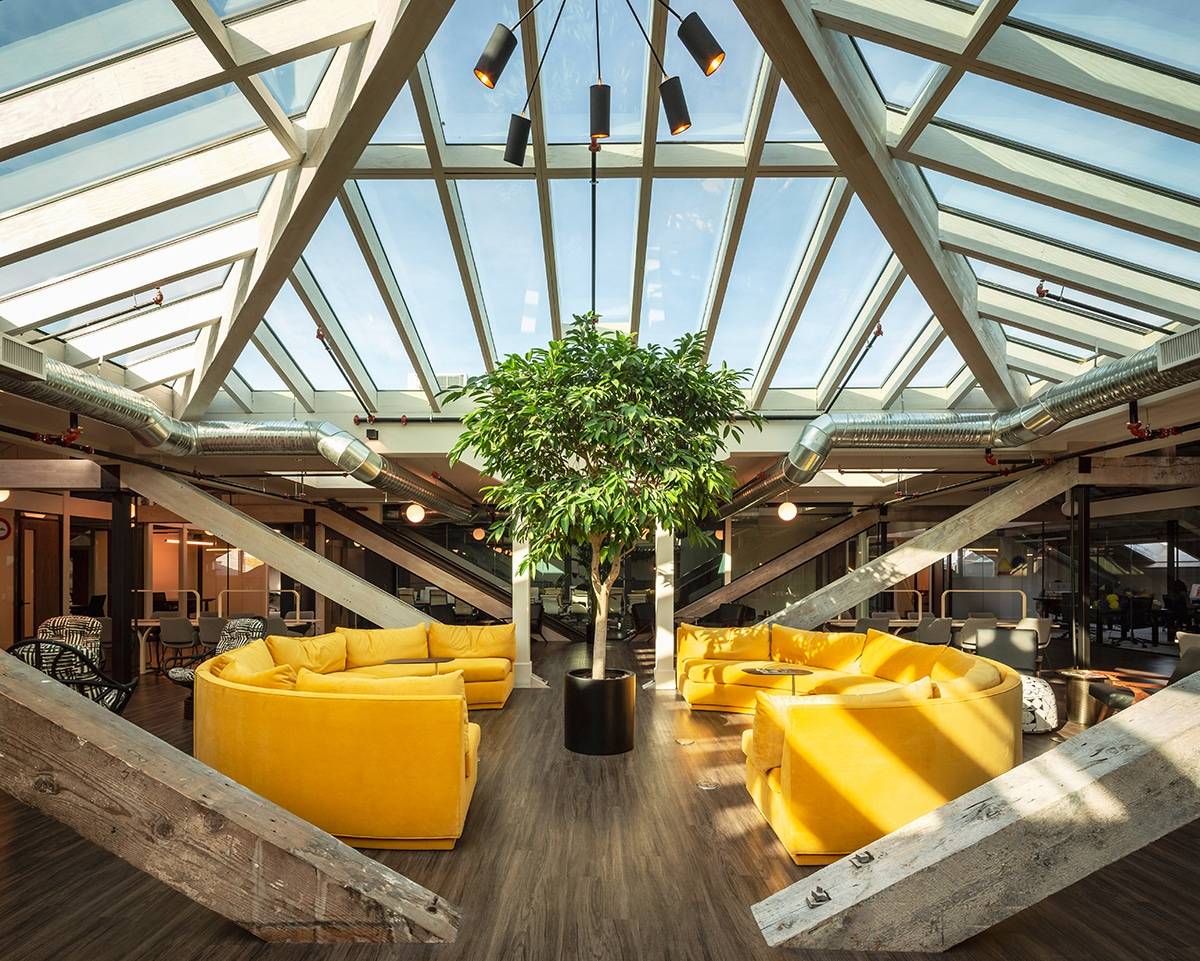 As an entrepreneur scaling up her business, Annabel Youens, cofounder and CMO of Appreciation Engine, believes KWENCH has the ideal setup for her tech business.
"No more coffee orders or checking up on the cleaners," she says. "My team gets access to world-class amenities and are totally looked after. The ability to just focus on my business is invaluable."
But it's not just about the work. Culture is also key to KWENCH. Smith calls McLoughlin "a generous connector" who realizes the power of community to elevate, both personally and professionally.
"KWENCH provides a hub where people can work but also not feel alone [and to] tap experts if they have a question, take a yoga class, grab a meal together," she says. "There's nothing else like it in Victoria."
Douglas sat down with McLoughlin in KWENCH's new space to learn how she plans to change how Victoria works and connects.
What inspired you to create KWENCH?
I'd moved to Victoria with my two young kids, and I didn't have any family or anything here. It was a very tough time. It got to the point where I just asked myself, "What do I ultimately want for my life?" I knew I wanted to move back to Australia one day, and I wanted to know that what I was doing was giving back. I've always been in the arts and creating — I was a professional musician — and that kind of stopped before I moved here. That's when the idea for KWENCH came to me. I had started Thinklandia, and I was running everywhere to try and stay happy. Going to the YMCA, going to yoga, trying to eat healthy food, trying to meet people. I just wished it was all in one place.
How did you find this space?
I had come to see the woman who used to run Ingredients to see if that space could work, but it was too small. As I was leaving the building, I noticed these totally rickety blue stairs that went up. I asked if we could go look. It was so crappy up here. Just disgusting. Very "attic," very dark, very musty. There was no light at all, but I could see these beams on either side of me, and I realized there were two roofs that we could join and create a much larger space.
What was the next step?
I had heard Matt Phillips [of Phillips Brewing & Malting] had bought the building, so I messaged him and said, "Hey, I've got an idea." And Matt, being the visionary he is, said, "Let's chat." I sent him a proposal of what I was looking at doing. Then I came with two friends, one who is an architect and the other a designer. We had to go up in a construction lift and sneak through the ceiling to get to some of the spaces. The top floor, the attic, had never been used. We proposed opening up and connecting the space all the way through. Two and a half years later, here we are. 
What were the challenges in getting this space up and running?
The biggest challenge, first off, was finding someone who believed in my vision and would take the risk. I have huge, huge respect for Matt for putting that commitment into something that's a new concept for people. He took the risk and said, "Yes, I'm going to do that."
What were the the other barriers to your success? 
The second was financial — finding investors and financial assistance. When you're a new company, you have to have been around for two years before the bank gives you anything. I'm a single parent, and so therefore I don't have the assets and things that coupled people often have. I don't like to whine about that, but it is a reality.
How did the concept challenge potential investors?
It was hard to explain to people what makes us different, but now that we're here, we're not going to need to explain as much. You can see people get it as soon as they walk in.
Why coworking?
I don't think coworking is my main focus — it's just one of the functions of KWENCH. For me, it's about being a club. A big culture club where you feel seen. A place where you can explore and learn and be a part of something. We're a club. We're full-service. We take care of everything so our members can concentrate on what they're here to do. 
What else inspired KWENCH?
When the idea came to me, coworking was just coming about. While I totally could see that as the foundation and potentially the revenue, I knew that while people will leave their homes to go to a cool space, they won't stay just for space. You've got to create way more. For me, that's the culture. I usually say in my pitch decks that we're kind of a cross between a WeWork and a Soho House. The cultural part is absolutely key. Taking in those pillars of KWENCH — knowledge, wellness, experiences, novelty, curiosity and connection — brings health and happiness. Everything we do in this space is about that.
How does that translate into action?
We're very inclusive and have designed the space without a gender bias. We have kombucha on tap because it's supposed to be healthy. We offer fitness classes [and] have learning opportunities, be it through events or workshops or lunch and learns. This space is somewhere where the city can come and really foster an intense sense of culture, whatever that means to each person.
We're really into supporting the arts community. We were the clubhouse for the Victoria Fringe Theatre Festival this year and had the Victoria Short Film Festival here. We're going to be doing dance classes. We'll be starting up our choir. And we're really consciously environmental too … When people rent out the space for events, we let them know that we do not allow single-use plastic. If they're getting catering, we have suggestions so they're aligned with our practices.
What does the future hold?
Finding financing was hard in the beginning.Now I have quite a few people knocking on my door. So our plan is to expand in Vancouver next year. Once we've done Vancouver, and we've figured out how the clubs work together, we'll expand into the States. So within the next five years, we want to have a minimum of nine locations throughout Canada and North America.
What's it like seeing people's reactions?
Because the process has been so long, this building has been like watching your child grow. You know when someone says, "Oh, they've grown so much!" And you don't see it. Everybody's been coming in, going, "Oh my gosh, this is incredible." Obviously, I designed the space with my interior designer to [address] how we thought people were going to function within the building. But then to actually see people functioning in it, and connecting with each other, that's when I get emotional.
This article is from the December/January 2020 issue of Douglas.