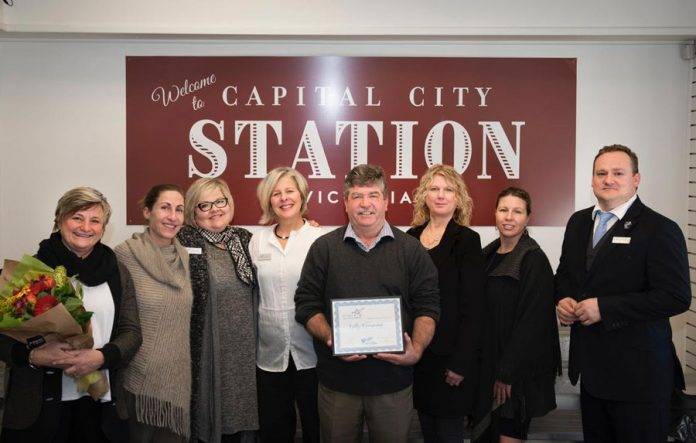 As Kelly Ransome couldn't be at the awards ceremony at Capital City Station on January 25, the award was accepted on her behalf.
The Victoria Hospitality Awards Committee (VHAP) recently recognized Kelly Ransome of Wilson's Transportation for providing outstanding service that went above and beyond expectations.
Kelly Ransome's nomination came from a young university student who had recently arrived in Canada. When she arrived at the airport, the student was expecting to be picked up by a woman offering her "homestay" accommodation. When the woman didn't come to the airport to pick her up, the student went to Ransome at the Wilson's Transportation desk for help.
"Kelly said could use the phone to try to reach [the homestay family]. I called so many times, but she didn't answer.  I felt scared because I did not know anyone and had nowhere to go. Kelly tried to reach the housing department at Royal Roads University, but it was Sunday and everyone had gone home. She did not give up trying to help me and went out of her way to try and find me a safe place to stay.
"Kelly said that if she could not find a place for me, that I could spend the night at her home and she would take me for my orientation in the morning at Royal Roads. I felt safe with Kelly and could see she was doing more than she had to do to help me."
Ransome then called Royal Roads security, who told the student she could stay at the emergency housing on campus until she found someone to speak with during the week. Kelly arranged for a taxi to take the student to Royal Roads' emergency housing.
"Kelly stayed with me the whole time and even helped me take my luggage to the taxi. I have never met anyone like her. She was so happy to help and so kind.  Thank you Kelly, you are an angel to me."
About the Victoria Hospitality Award program
The Victoria Hospitality Award program was founded in 1994. A not-for-profit society was formed with a mandate to recognize individuals from the Greater Victoria area for outstanding hospitality. Outstanding hospitality is defined as a random act of kindness that goes over and above the expected to meet the needs of an individual.
Committee members meet monthly to review ballots received and to select a winner. Monthly winners are presented with a signed Victoria Hospitality Award Program certificate, a letter of commendation, a City of Victoria pin engraved with the winner's name, and numerous other gifts from Committee members representing various sectors of our community. The Society hosts a Special Event annually to honour all nominees and monthly winners.
Nomination ballots are found online at Tourism Victoria or at victoriahospitalityawards.com.