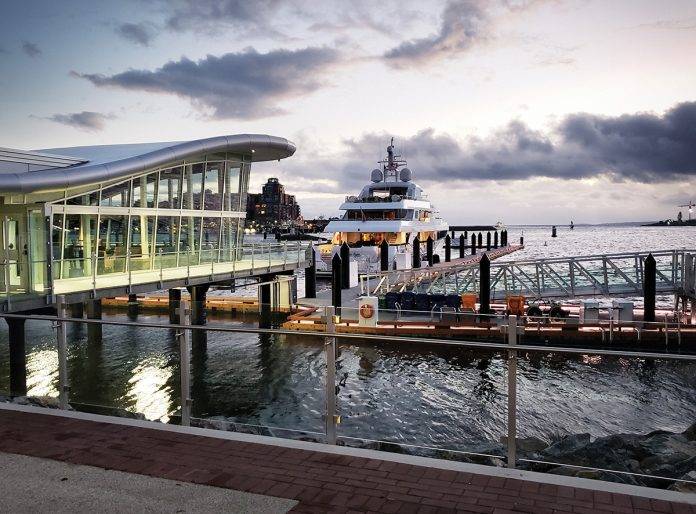 While the Victoria International Marina made its global debut in June 2018 as a venue for the Melges 24 World Championship Regatta, the 28-slip marina for luxury superyachts is now fully operational and planning a July 1 grand opening.
"Last year we had about 80 boats in and it was to really test our capacity… to test our service areas," says Craig Norris, CEO of Victoria International Marina. "This summer, we'll be fully running, with some added features. We're hoping for 160 different boats this year."
The marina project was originally conceived more than 30 years ago by developer Robert Evans. Purchased by Community Marine Concepts in 2014, the new owners made some small alterations to the overall concept and began construction in the fall of 2016. An initial opening planned for summer 2017 was sidelined as weather-related issues and other factors hampered progress. 
"We were building the first of its kind in the world," Norris says. "There was no design for this, so we had to make it up. That's difficult enough when you're challenging an industry to do something it's never done before, especially on the West Coast. If you do that in the middle of a construction boom, you end up in the middle of a nightmare."
To mark its official opening, the marina will "piggy-back" on the harbour festivities with their own celebration, including the Future Oceans Design Competition. 
"It's a competition across Canada for fashion designers to come up with unique ways to use ocean plastics in clothing," Norris says. "The idea was to connect something fundamental and right in front of us with ultra high-end fashion."
A principle amenity at the marina is the soon-to-be-open Boom + Batten restaurant, owned by a group of local investors. Along with an open-concept kitchen, a wood-burning pizza oven and locally sourced menu, the space will offer ocean views from every seat.
"First and foremost, we're a restaurant for Vic West," says executive chef Sam Harris, formerly of Agrius and The Courtney Room.
"Its name captures the energy of the project," Harris says, noting the boom and the batten are parts of a ship that hold the sail in place.
"These elements allow the wind to move a vessel," he adds. "They help nature fuel your adventure. We view the restaurant the same way. It's a structure that allows nature and imagination to fuel our adventure, which is what we share with our guests."
This article is from the April/May 2019 issue of Douglas.