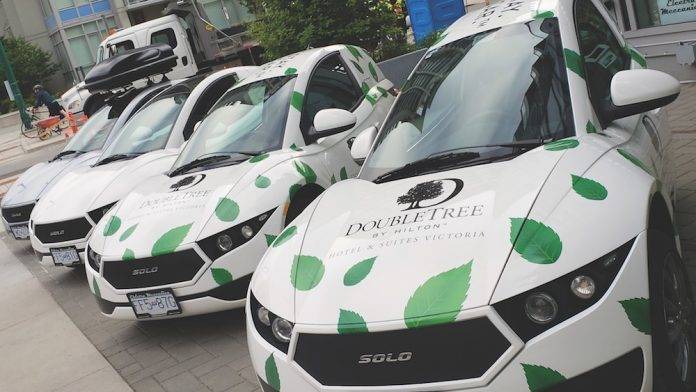 Five things happening in Vancouver Island's business world right now that you should know about. 
DoubleTree by Hilton in Victoria has launched its My Stay My Car program, which means its guests can rent three-wheeled Solo all-electric vehicles by Vancouver automaker Electra Meccanica. There are two hybrid and two electric vehicles in the fleet, available for $20 to $30 per night in a program powered by share-economy pioneer Turo.
NorthStar Air Tours has added an Island Hopper service from Victoria to San Juan Island. The 12-minute flight makes it North America's shortest flight, according to NorthStar.
Nanaimo Airport (YCD) has launched a $15-million infrastructure investment project to expand its terminal building by 60 per cent. The 14,000-square-feet expansion will increase the security area and more than double the size of the departure lounge. A partnership between Nanaimo Airport Commission and the federal and provincial governments, the project will be managed by Durwest Construction Management.
Elements Casino in View Royal has reopened after a 14-month, multimillion-dollar revamp that adds 26 gaming tables and 200 slot machines, bringing the total to 800. The casino has also added a 560 seat entertainment venue, public house and expanded food offerings.
Viking Air plans to hire more than 200 employees as part of the Viking CL-415 Conversion Program to rebuild a fire-fighting water bomber. The program is a collaboration between Viking and Longview Aviation Asset Management of Calgary. In support of the program, Viking will relaunch its Viking Academy program to train successful job applicants in the appropriate technical skills.
This article is from the June/July 2018 issue of Douglas.