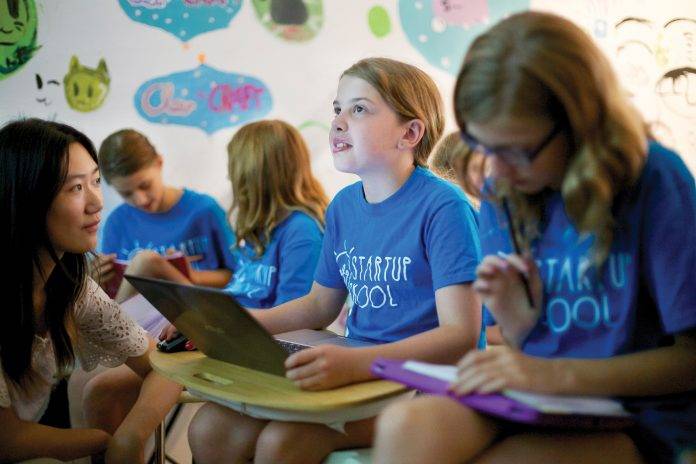 That's what Gustavson School of Business alumni Kim Cope did. The result? From selling birdhouses at a local market to making bracelets and selling them to fellow classmates, the students collectively made over $18,000, enough to build two schools with the Free the Children Foundation.
As schools across Canada began teaching the program, Cope decided to launch summer entrepreneur boot camps for kids. Startup Skool is a social enterprise focused on educating youth on entrepreneurship, design thinking and technology through school programs and intensive weeklong summer boot camps.
Taught by university students and graduates, and working with local companies such as LlamaZoo and Flytographer, the camps encompass everything kids need to know to start their own businesses, from financial skills to digital literacy. After a week of hands-on activities and field trips, the kids finish with their own websites that profile everything they've accomplished and learned.
One 10-year-old Vancouver boy asked for a micro-loan after noticing the hipster obsession with terrariums. Within 10 minutes of selling his own hand-made terrariums on the street, he had sold out and made a profit of $180.
"Students have a natural inclination to entrepreneurship," says Cope, adding that the entrepreneurial terrarium builder has since approached Startup Skool to create a financial literacy toolkit to help other kids.
"It's not just about learning to build a website or run a business," says Elton Pereira, co-founder of the Victoria-based tech firm ParetoLogic and also co-founder of Startup Skool. "It's equally important to give students the opportunity to lead, collaborate, gain confidence and have fun."
Startup Skool takes place this summer in Victoria, Vancouver, Kelowna and Burnaby. Visit startupskool.com.