The latest reports on the state of the climate from the Intergovernmental Panel on Climate Change (IPCC) paints a stark picture of planetary impacts of global warming if we continue on the current trajectory. To meet our national targets for emissions reduction, governments are looking at stronger regulations.
At the same time, institutional purchasers, investors, consumers and employees are demanding more transparency and action from the business community.
Building climate action into your operations and investment plans is not only a shared responsibility but a prudent business strategy, as low-carbon operations will become a new business imperative. 
A decarbonization strategy investigates approaches to reduce the carbon footprint of a business or equity portfolio without materially impacting performance. These include mechanisms to optimize through efficiency gains, switching to renewable fuels and energy, and minimizing waste and purchasing impacts.
The decarbonization pathway starts with assessing key emission sources: 
Scope 1: Direct emissions controlled by the company 
Common examples are company-owned vehicles, natural gas, propane and other fuels. 
Scope 2: Purchased electricity 
Fortunately, B.C. has a low-carbon intensity grid at 18.6 gCO2e/kWh (NIR, 2019) compared to the average emissions from electricity in Alberta at 620 gCO2e/kWh (NIR, 2019), due to the burning of fossil fuels to generate energy.
For most businesses in B.C., electricity will not be a large source of carbon; however, the UN Sustainable Development Goals call for dramatic energy efficiency upgrades in order to meet our future power needs, including electric vehicles. 
Scope 3: Indirect emissions from other sources the business does not directly control or own
Common examples are emissions from landfill waste, flights and hotel stays, staff commuting and supplier deliveries.
You may choose to use an online carbon calculator or conduct a carbon footprint assessment to determine your total annual greenhouse gas (GHG) emissions. This will create a baseline year from which you can set goals, benchmark your performance as a company and celebrate achievements.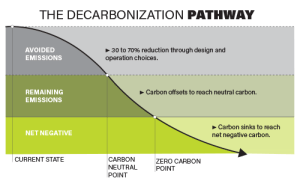 Reducing Your Emissions

 
Once you understand your emissions profile, the second (and most important) step is to map your opportunities for reducing emissions. In a decarbonization strategy, we usually aim to reduce emissions by 30-70 per cent over a five to 10 year period. 
Avoidable emissions can vary greatly. For example, the main emission source of a helicopter company is fuel, and electric or hydrogen fuel cell helicopters are still years away from commercial operation. A restaurant's main emission sources will usually be waste, natural gas and staff commuting — alternative practices and technologies exist to reduce or minimize these emission sources.  
As you build your list of solutions you can add data for the appropriate timeline, associated costs and emission reduction potential. You can then compare solutions and look to prioritize actions that will reduce the greatest amount of annual emissions with the lowest capital investment. 
You may also look to prioritize emissions that generate strong operational cost savings. Top cost-saving initiatives include energy efficiency upgrades, water efficiency, reducing waste generation, introducing electric vehicles or e-bikes into fleets and reducing unnecessary travel or idling time. 
Companies may choose to start purchasing offsets and become a carbon-neutral company at any point along their decarbonization journey. We see this as a bridging solution — being "zero carbon" is not always viable immediately. Many businesses still want to take responsibility for their emissions by investing in emission reduction projects. 
In purchasing carbon offsets, look for verified, credible and transparent offsets that fit your values. Look for standards such as CCB, REDD+, VSC and GOLD Standard. 
As a business continues along the decarbonization journey, the offset costs will gradually decrease over time. Though offsets have received warranted criticism, it is a critical financial tool to invest in emission reduction projects that do not generate a return on investment.
Without the offset market, hundreds of renewable energy and conservation projects would not happen. 
Achieving Net Negative

 
Some companies are making commitments to be net negative and draw more carbon from the atmosphere than they emit. 
There are two ways to achieve this. The first is to invest more in carbon offsets than you produce on an annual basis. The second is to look at optimizing carbon sinks — a long-term mechanism for storing carbon.
Some businesses, such as farms, can invest in new techniques to maximize carbon sequestration and become net negative, or even sell carbon credits. Other examples of carbon sinks are seagrasses and seaweeds (like Cascadia Seaweed), healthy forests, wetlands and bogs, and non-natural carbon sinks such as mechanical carbon sequestration. 
I believe that one of the most promising opportunities to advance climate action and to protect biodiversity is to look to carbon sinks as a mechanism for the regeneration of ecosystems, sponsored by companies who aim to become net negative. 
As we approach a new year, consider starting your decarbonization strategy and identify your short-term and long-term solutions. Engage your team in the process to bring in different perspectives and start a climate action team within your organization.  
The year 2022 will mark a new economic era. We have an opportunity to rethink our businesses and build back better. Maybe you will introduce your first electric vehicle into your company fleet, cut your waste or upgrade your old natural gas hot water heater with an electric on-demand system.
As you make progress, you can take bigger leaps. Maybe your business can even become net negative before 2030. Using climate action as a decision-making lens will allow your business to become a better agent for the economy of the future, and your employees, investors and the planet will thank you for it.
Jill Doucette is the Founder and CEO of Synergy Enterprises, working with leading businesses to decarbonize their operations. She is an author, speaker and director of the Synergy Foundation.