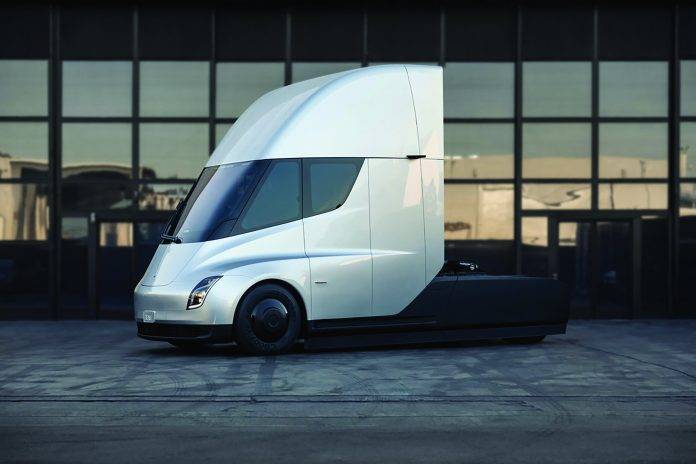 On Vancouver Island, innovative companies in tourism, industry and public transportation are making the switch to electric. British Columbia is already leading the country in electric vehicle sales, with more than 54,000 light duty EVs and hybrids on the road. In 2020, 9.4 per cent of the province's new car sales were electric models. 
Last August, BCAA launched its car share operation Evo in Victoria with a 100 per cent hybrid fleet composed of 80 Toyota Prius vehicles. Sara Holland, BCAA's senior manager of communications and advocacy, says Victorians are already making 200 trips daily in Evo hybrids. 
"Our members are definitely environmentally conscious," says Holland. "Many choose Evo over private car ownership or a second car because accessing a shared fleet is proven to take cars off the road."
According to Holland, each Evo car takes nine personal vehicles out of traffic circulation. 
Full electrification is on BCAA's radar; however, the company is still examining some of the logistical challenges, such as the higher cost of EVs, keeping them charged, battery range and ensuring members know how to use them.
Mosaic Forest Management Inc., which manages private forestland for TimberWest and Island Timberlands on Vancouver Island, is planning to test out several fully electric Tesla logging trucks. It's a partnership with the Parksville company EcoWest Driven, that is aiming to help the freight transportation sector convert to fully electric semi trucks.
"There's no delivery date yet from Tesla but we're excited about it," says Domenico Iannidinardo, Mosaic's chief forester and vice president of forest and logistics, adding that electrifying log hauling is part of the company's plan to reach carbon neutrality by 2035.
In Victoria, Alset Tours, which specializes in food and wine tours on the South Island, continues to grow since launching in 2015. Founder Kevin Belanger is hiring professional drivers for his fleet of Teslas, which includes the SUV models S, 3 and X. He refers to his tours as "solar powered." 
Between 2015 and 2020, the company's 18-panel solar power array generated 26 megawatt hours of electricity, enough to drive more than 100,000 kilometres and offset 10 tonnes of CO2.
Electrification is also changing the two-wheeled pedal bike world in a big way.
Last July, Gordy Taylor Jr., a member of the Ucluelet First Nation, opened up the family business Tiickin (which means thunderbird in Nuu-chah-nulth) Ebike Rentals at the Tofino-Ucluelet junction. Taylor Jr. started with a fleet of 35 electric bikes, and he says he wants to grow it into a full-service bike shop that offers retail sales, service and tours.
Innovation is the hallmark of Parksville-based Canadian Electric Vehicles. Since 1995, the company has been manufacturing light duty work trucks for municipalities, college campuses, airports and other institutional customers. Last March, CleanBC Advanced Research and Commercialization, part of a provincial program to support the development of companies operating in the zero-emission vehicle sector, awarded the company a $294,000 grant to develop a street and highway-ready version of its Might-E Truck.
Electric Expansion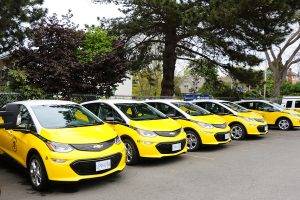 Five new Chevy Bolt electric EVs were added to the Victoria Fire Department fleet. The 'FireBolts' will replace three gas-powered pickup trucks and two SUVs used to conduct safety inspections and deliver educational presentations. With this addition, the city now has an electric fleet consisting of 16 EVs and five e-bikes.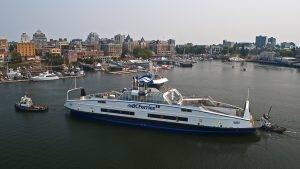 The sixth vessel in a new fleet of hybrid diesel-electric powered Island Class ferries has set sail toward B.C. from a Romanian shipyard. Two of the six ferries are already in operation with the additional four set for 2022 sailings. The additions will travel on Campbell River—Quadra Island and Nanaimo Harbour—Gabriola Island routes.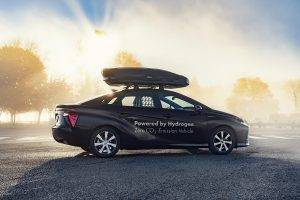 Victoria-based zero-emission courier, Geazone, is building a fleet of hydrogen fuel-cell electric vehicles (FCEV). These 40 Toyota Mirai FCEVs will be the first hydrogen-powered courier fleet in North America. The company also makes use of human-powered tricycles and will be adding fully electric five-tonne trucks to their lineup in 2022.