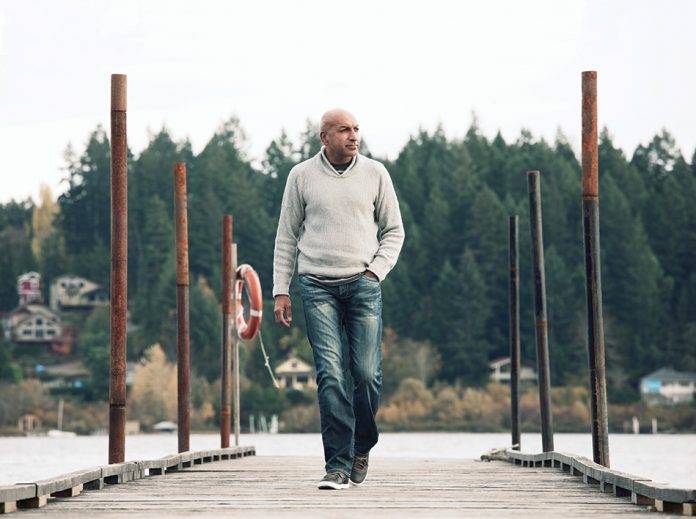 Al Hasham is an entrepreneur with an innovative mind, a philosophical spirit and a drive to make a positive difference. 
Douglas talks with Hasham as he takes on his new role as chair of the Greater Victoria Chamber of Commerce.
If you ask Rahim Khudabux, partner and general manager of Max Furniture, about Al Hasham, he'll tell you straight out: "Al saved my life."
Hasham didn't rescue Khudabux from a burning building, but in some ways he, along with his brother Al Verjee, did something just as profound.
"He essentially took me under his wing and kind of saved my life because I was not on a very smart path," recalls Khudabux, who was 18 when he met Hasham. "He showed me the ropes in business and in life."
Seven years after their initial meeting with Khudabux, Hasham and his brother felt such confidence in the young man, they became partners with him in Max Furniture. It was the start of a successful business.
In fact, a generous spirit and humanitarianism are frequently mentioned in conversations about Hasham. Whether it's the BC Cancer Foundation, The Mustard Seed or the Prodigy Group, where he has mentored young entrepreneurs, Hasham always tries to find a way to say yes. He takes the need to give back seriously. He's also very humble about it.
"I know where I came from and I'll never forget that," he says. "Hence, I'm always wanting to give back where I can, when I can."
Hasham was 10 when he left Uganda for an Austrian refugee camp, escaping the brutal dictatorship of Idi Amin. He then came to Canada where he was later reunited with his parents. Hasham's parents set up a hardware business in Kitsilano and later expanded to other areas. He and his siblings helped out in the family business.
"Sometimes our parents would question our work ethic if we'd try to take weekends off," he says, laughing. "Because they'd been working seven days a week, they couldn't figure out why we wouldn't want to do the same!"
That work ethic stuck. With two successful businesses — Max Furniture and Maximum Express Courier, Freight & Logistics — and his new role as chair of the Greater Victoria Chamber of Commerce, Hasham's days often start at 4:30 a.m.
He also inherited an entrepreneurial streak. In 1977, age 19, he approached Fred Mortensen of DanFoss Couriers & Freight for a job. "I just hired somebody," Mortensen told him. So Hasham said, "I'll work for you for free for two weeks … After those two weeks, you decide between the person you've hired and me who you want to keep."
He got the job.
Years later, when the business was expanding to Victoria, his boss said, "Well, you got the license. You did the work. It's going to be your office."
But Hasham had bigger plans. "I said, 'Well, I have a different idea. My brother and I would like to be partners in the courier business on the Island together with you.' If he didn't want to do that, then I was going to give notice and start my own courier business in Vancouver. I thought he was going to throw me out! But he embraced it. He said, 'I'm so proud to hear what you're saying. You remind me of me.'"
After Mortensen's death, Hasham and his brother sold their shares back to his family and launched Maximum Express Courier from scratch.
Congratulations on your new role as chair of the Victoria Chamber. You own two businesses and do lots of charity work. Why do you want yet another job?
[Laughs] Well, it's funny. Everyone says, "Why are you doing this? You obviously don't get paid for it, and it takes a lot of time." But I'm passionate about our community, and as much as it's not a paying position, it depends on how you think about payment … I've learned that when you give back, you get back tenfold.
As Chamber chair, what will your style be?
I'm a people person, so I want to hear from our members, to retain our members and have more people engaged, more directors engaged. I want to get them talking more. I don't want to always be the face, and I don't want Bruce [Carter] to always be the face. I want our directors to be the face and to use their expertise…
I want members to find value the way I've done. I've been on the [chamber] board for six years, but I've been a member since 1987. I've completely utilized the chamber to grow my business, and I've done everything possible to make it positive. Once you get to know what the chamber actually stands for and what it does, you understand it's the voice of business. So I learned you actually have to speak to the chamber in order for the chamber to sound your voice out to create change.
Beyond being very engaged, what mandate do you want to accomplish?
To see the Greater Victoria Development Agency [GVDA] become its own agency. It's something [past Chamber chair] Frank Bouree started together with Dan Dagg [of Hot House Marketing and GVDA chair] and the GVDA committee. I want to help make that transition successful and create a great organization. That's what happened with Tourism Victoria, VIATEC and the Film Commission — they were all committees of the chamber that were spun off to become their own organizations.
I believe you told me that you're the first non-Caucasian chair of this chamber. Things have changed.
Things are evolving. When you think back 50 years, it was so different. For instance, it used to be known as an old boys' club whereas today we have a lot of members and directors who are female. It used to be the club where everybody wore suits and it was stuffy and you had to follow protocol. It's a little more relaxed now. You can go in shorts sometimes. And I have, over the summer [laughs].
When you embrace that, you attract entrepreneurs and young professionals. You help guide them in, and they help you relax and have a bit of fun. They help you change the environment of the boardroom.
What's your philosophy in business?
Listen to your customers and team. It's quite simple, actually. Try not to make emotional decisions. Take time to listen. Don't get your pride involved, because a lot of times you'll make harsh decisions or wrong decisions because of it. Then, all of a sudden, you don't want to let your guard down.
So take a breather. Listen. Get one thing in your head: You're not always right and you're not perfect. Once you relay that message, not only to your team but to your customers, they'll know where you stand and know you're going to make mistakes. It's how you deal with mistakes that matters.
A lot of people see you as a mentor.
It's just helping out — paying it forward. It's trying to help somebody be successful or get on the right path. … I'm so proud when I can see somebody has made a difference and actually changed their life. It's pure satisfaction. I'm just happy. It's hard to describe that happiness, that tingly feeling that you get when you see somebody succeed. I just love seeing people succeed.
Where do you find time amidst all of this to plan and reflect?
Running is one of the most important things for me and I do that a ton. People ask me to come running, but I like to run on my own with my music, and I'm in a land nobody can imagine because all I'm thinking is, "What do I have to do? How can I change things?"
What message would you like to pass on to others in business?
I'd just like to tell people to be open minded — to try and help out where they can, to try and pay it forward. That's huge for me. And to try not to be in a hurry to say no. Think before you say no. I always tell my team, "Try to find a way to say yes."