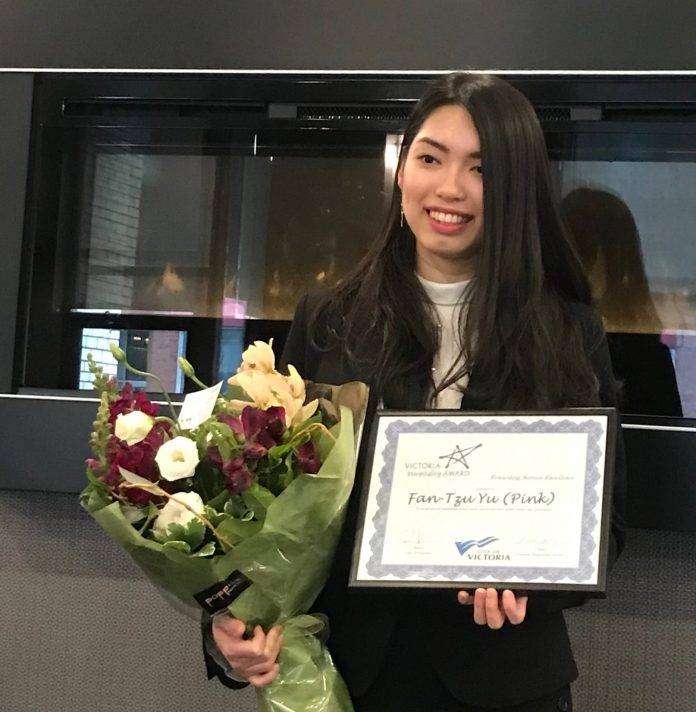 The Victoria Hospitality Awards committee recognized Fan Tzu Yu (Pink) from the Best Western Carlton Plaza Hotel for her outstanding service in creating an above and beyond memorable moment for one of the hotel's guests. She took it upon herself to go the extra mile to provide exceptional service.
Among the numerous nominations for Pink, Marian said,"Pink is always cute and helpful", while Gui Ying Feng said "Once you arrive you will get warm and thoughtful service from Pink. We feel with her the warmth of family and we are deeply grateful. I wish her career will be successful and everything will go well."
Tao Jun nominated Pink and told this wonderful story about her problem solving: "Best service I have ever had. When I checked in, Pink was very nice and helpful to us. We wanted to rent a car to visit our children. Unfortunately, we were not able to get a car. Pink made up very detailed information on public bus routes, specific bus stations and when we should get off. She also gave us very useful information for visiting downtown."
About the Victoria Hospitality Award program
The Victoria Hospitality Award program was founded in 1994. A not-for-profit society was formed with a mandate to recognize individuals from the Greater Victoria area for outstanding hospitality. Outstanding hospitality is defined as a random act of kindness that goes over and above the expected to meet the needs of an individual.
Committee members meet monthly to review ballots received and to select a winner. Monthly winners are presented with a signed Victoria Hospitality Award Program certificate, a letter of commendation, a City of Victoria pin engraved with the winner's name, and numerous other gifts from Committee members representing various sectors of our community. The Society hosts a Special Event annually to honour all nominees and monthly winners.
Nomination ballots are found online at Tourism Victoria or at victoriahospitalityawards.com.