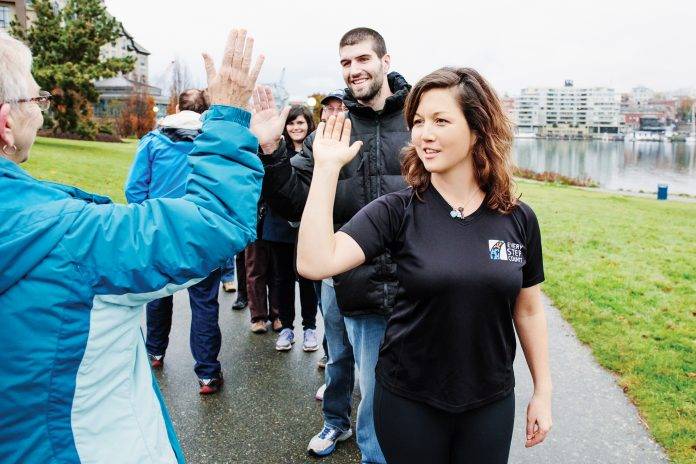 While many of us were relaxing over the holidays, a group of volunteers for Every Step Counts, a program run by Victoria's Cool Aid Society, were busy making 875 lbs of granola in the Truffles Catering kitchen.

This "Granola That Counts" is part of a fundraising initiative for the running and walking program, which empowers people to stay healthy and focused.  It will be sold at all Victoria-area Thrifty Food locations through to February 6.
Gillie Easdon, coordinator of Every Step Counts, says funding for charities can be a challenge — and social enterprise may be the key to remaining viable.
"The money available for charities seems to be decreasing, so it's up to us to find a way to make our program sustainable because you can't always count on donors and granting," Easdon says. "For us, [social enterprise] was a dynamic way of revisiting how we could do it and adding a program development component to Every Step Counts."
This program development included seven of the program participants being among the volunteers working in the kitchen to produce the granola.
Easdon says the project has also benefitted from much support from local businesses: Vancity provided a framework and valuable tools to embark on a social enterprise; the granola is produced under the supervision of Jena Stewart, Team Chef and the Truffles Group, in the Truffles Catering kitchen; Victoria Box & Paper Ltd. donated all packaging and display; McAllister Marketing donated the packaging and point of sale marketing materials; and Thrifty Foods is listing the product at no cost during this promotion and is the sole distributor of Granola That Counts at this time.
"I've been volunteering with Every Step Counts since 2009," said Karen Palmer, co-owner of Victoria Box & Paper Ltd. with her husband Kirk. "I know how the simple act of running, walking and eating together can profoundly help people improve their lives. When Gillie asked if we could help with packaging, it was an easy decision for us to contribute."
Every Step Counts was founded by the Victoria Foundation and is hosted at Cool Aid Victoria. The running and walking program is designed for people experiencing barriers and challenges with housing, mental health, addiction and other related issues. It draws on the wide-reaching and long-lasting benefits of exercise and teamwork to foster self-esteem, confidence, energy and healthy lifestyle choices. Since its founding in 2009, Every Step Counts has helped over 600 individuals improve their lives.
Easdon says the granola project is a pilot program to see how social enterprise can work for the charity.
"We're going to see how it goes and explore the options after the dust settles in February," Easdon says. "It might be viable a couple times of year or long term, we're not really sure. We just want to sell as much as we can now. There was a lot of volunteer work, a lot of sponsorship and a lot of donors, so the question is what that would look like long term — you can't expect that level all of the time."