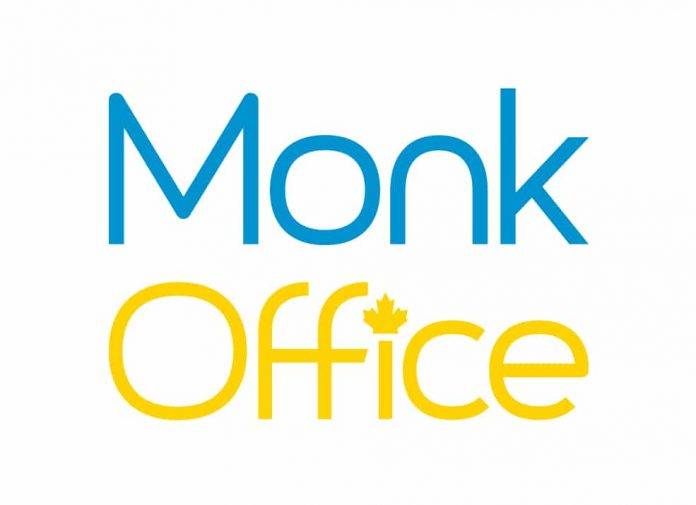 The Douglas Magazine 10 to Watch Awards for 2019 will be announced on April 4th, 2019 and the countdown is on to see which 10 local businesses will receive this years awards. The awards would not be possible without the continued support of Vancouver Island businesses who support and sponsor the event and local entrepreneurs in general.
Monk Office is one of the 2019 sponsors for 10 to Watch and we had the chance to talk to Caitlin McKenzie, President and CEO of Monk Office, about why she thinks supporting local is like "keeping it in the family".
Why did your business choose to sponsor the 2019 Douglas 10 To Watch Awards?
"I look at supporting local as something like "keeping it in the family". If Victoria didn't take the time to support my Grandfather 60 some odd years ago, and continue to support our local company today, Monk Office wouldn't be here. Monk Office has a core belief and responsibility which is to support local – The 10 To Watch should be celebrated! Make a Difference is one of our Core Values, this does not just extend between our own Team Members and our customers, it extends into our communities and fellow entrepreneurs. We all need to do our part in encouraging others to think outside of the box and see what happens!"
What do you think is the most rewarding/important part of supporting local, up-and-coming businesses? 
"We have such amazingly strong communities and to support the brave, dedicated and creative people within our local communities who have taken the leap to try something, to put a dream into action,  is not only a luxury of ours but also an amazing opportunity to help with their success."
What do you enjoy most about the 10 To Watch event itself?
"I think just the encouragement and engagement from everyone for everyone. It's super exciting to see what new things (or old things approached differently) are coming to our city and whose behind the change!"
Explain you and your businesses' connection to entrepreneurs and businesses in the community.
"Well, I represent the third generation of Mckenzies to own and run Monk Office. It's a deeply meaningful and incredible opportunity for me. I do not consider myself an entrepreneur – but I certainly consider that of my father and grandfather! Without entrepreneurs and small businesses in our community, we risk losing the tightknit support and creativity that we, in Victoria, are lucky to have now. We need one another to achieve success, whatever success means or may look like to you. Businesses need other businesses to thrive, grow, learn and succeed. Great things and businesses need to start somewhere and if we (Monk Office) are lucky enough to be a part of an entrepreneur or small businesses journey, especially at the beginning, then we can be proud knowing we are giving back and staying true to our values."
Douglas would like to thank all of the 2019 sponsors supporting the Douglas 10 To Watch Awards – together we can celebrate the innovative, up-and-coming businesses who are excelling on Vancouver Island.