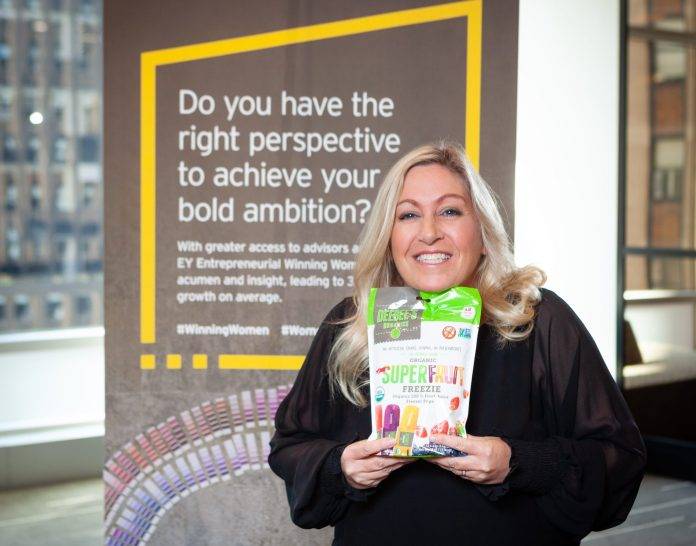 EY announced today that Dr. Dionne Laslo-Baker, the Founder & CEO of DeeBee's Organics, a leading Canadian natural snack company, was chosen as one of the 13 women founders selected for the EY Entrepreneurial Winning Women™ North America Class of 2019. Dr. Laslo-Baker is the only Canadian founder to have been selected this year.
The program, in its 12th year, identifies ambitious women entrepreneurs who are leading thriving organizations and provides the access, advisors and resources needed to scale their companies to their full potential and ultimately become leading market innovators. Program engagement offers participants executive education and introductions to the vast EY global entrepreneurial ecosystem as well as the Entrepreneurial Winning Women community worldwide.
"When I found out I was selected, I was thrilled," says Dr. Laslo-Baker. "Women entrepreneurs face unique challenges – from raising capital to networking to balancing family life, we often go into business with more to balance and fewer resources. I think it's amazing that EY has deliberately created space for female entrepreneurs to connect over shared experience, harness our strengths, and support each other through our challenges."
Dr. Laslo-Baker is keenly aware of the opportunities offered through the program. "I've heard first-hand from previous Winning Women how this program has changed their lives personally, and transformed how they run their businesses." She is eager to continue building relationships with her graduating class and EY. "I am already connecting with the 12 women who were honored alongside me. I'm so inspired to build on these relationships and so grateful to the Ernst & Young team for the opportunities this award has brought to DeeBee's Organics. The resources that come along with winning this award will be a phenomenal asset to our business."
The judging panel for the Class of 2019 consisted of Beth Ferreira, General Partner of FirstMark Capital; David Liu, Co-founder of XO Group, Inc. (formerly The Knot, Inc.); Nicole Smith, Founder & CEO of Flytographer; and Naomi Whittel, Founder & CEO of Naomi Whittel Brands.
The North America program targets women business owners who are founding CEOs of any US or Canadian privately held company less than 10 years old. Company revenues typically range from at least $2m to as much as $30m annually.
This year's class convened for the first time at a two-day orientation in New York City this September. The entrepreneurs took part in educational sessions including pitch coaching, TRACOM Social Styles® and building a public profile. On an ongoing basis, Entrepreneurial Winning Women take part in additional workshops, conferences and training sessions; become part of the EY global community of more than 500 Entrepreneurial Winning Women on every continent; and forge connections to a vast community of EY Entrepreneur Of The Year™ alumni throughout the world.
"As advisors to the ambitious, we feel privileged to be a part of these founders' business journeys," said Lee Henderson, EY Americas Growth Markets Leader. "The program underscores EY's continued commitment to foster the success of women entrepreneurs and reinforce their positive impact on the global economy."
The Class of 2019 will be officially recognized during the Strategic Growth Forum® US November 13-17, 2019, in Palm Springs, California. Founded and produced by EY, the Forum is the country's most prestigious gathering of high-growth, market-leading companies, bringing together more than 2,000 of the nation's top executives, entrepreneurs, advisors, investors and other business leaders.