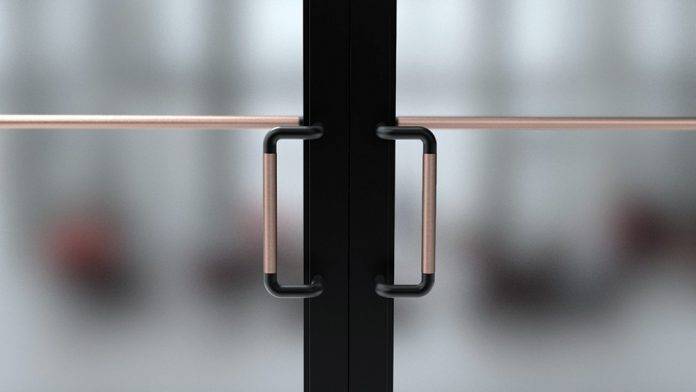 Named after the element, Cu (pronounced Q) Grip is a naturally antimicrobial copper wrap that provides cover for high-touch surfaces.
Studies have found that the COVID-19 virus survives for less than four hours on copper surfaces, compared to up to three days on plastic and stainless steel. Solid copper door handles are expensive and eventually oxidize, completely changing colour and losing effectiveness.
Seeing the potential for copper's self- sanitizing properties on busy communal services that can be found in hospitals and on public transportation gave entrepreneur Victor Nicolov the idea for CuGrip.
"You don't necessarily see the person who wipes down a surface you're touching," says Nicolov, whose product is applied to existing handles. "But customers can feel safe seeing the copper."
The Materials
Copper has long been known to possess antimicrobial properties; ions on its surface naturally kill viruses and bacteria by disrupting bacterial cell membranes.
The Lifespan
Depending on the environment, each strip will last up to six months. Copper naturally reveals signs of wear, oxidizing over time and visually signalling to users it's time to replace.
The Application
The wafer-thin copper sheets are backed with adhesive and cut in sizes to fit a range of handles and poles. Key to the product is the ease with which they stick and can be removed.
The Market
The product offers value for companies, organizations and services that aren't able to regularly clean surfaces like transport systems, schools, hospitals and restaurants.
As part of a pilot funded by Teck Resources for Translink, CuGrip will be installed on two busy electric trolley buses and on two SkyTrain cars in Vancouver.
The Canadian government recently put out a call for recyclable PPE to address the huge amount of waste that results from disposable protection. CuGrip answers that call as the discarded copper can be recycled with other foils.
"I was looking at other solutions. They had amazing results but didn't last. So the aha moment was: Why don't we just offer people something that they can remove and replace?" says Victor Nicolov, CuGrip Founder.
Continue Reading: