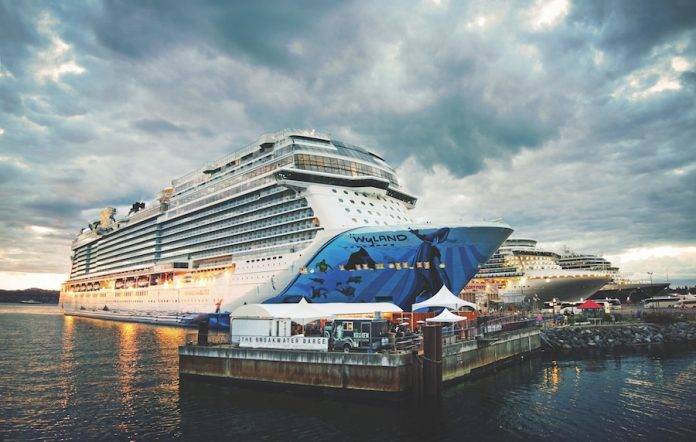 When the 304-metre-long Norwegian Bliss arrived at Ogden Point on her maiden voyage in early June, the Greater Victoria Harbour Authority (GVHA) wanted to make sure her 2,000 passengers were given the red-carpet treatment and that Victoria shone as a port of call. Onboard, executives from Norwegian Cruise Line, travel writers, agents and members of the media travelled from Seattle on the megaship that can hold 5,700 passengers and crew, to spend the day touring Victoria.
Victoria's popularity as a cruise port, where 245 ships carrying close to 600,000 passengers will arrive during the 2018 cruise season, owes at least something to a U.S. trade law called the Passenger Vessel Services Act. Stopping at Ogden Point for a few hours saves cruise companies a quarter of a billion dollars annually in fines they'd face under the act if they sailed directly from one U.S. port to another. But according to GVHA CEO Ian Robertson, Victoria has become a popular cruise port based on its own merits as tourism destination, not because visits are legislated.
A study by Business Research and Economic Advisors (BREA) commissioned by the Cruise Lines International Association in 2012 and revised in 2016, found cruise companies and their passengers add close to $50 million a year in direct spending to Victoria's regional economy.
The BREA report indicates most of the money spent locally by cruise lines is on ship repair at Ralmax's Point Hope Shipyards and the Esquimalt Graving Dock, or for dockside services provided by Western Stevedoring. Passengers and crew spend an average of $50 each per visit on bus tours and other transportation, and $16 on food, drink and other consumer products.
Robertson acknowledges the importance of the cruise ships to Victoria, but says that, despite what some critics say, the GVHA actually understands the need to diversify from the cruise business and develop new revenue streams.
"The Ogden Point Master Plan," says Robertson, "is a critical part of that."
But some critics say the GVHA's Ogden Point plan still favours the cruise industry at the expense of other marine-based industries.
Planning for the Future of Ogden Point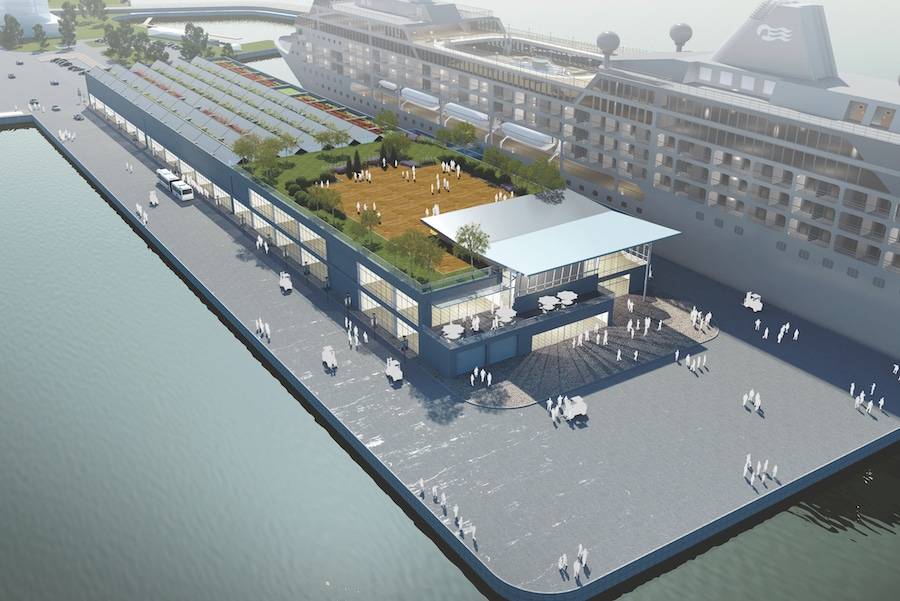 The Ogden Point Master Plan has been in development for the past eight years and lays out the vision for the development of Ogden Point over the next three decades. The December 2016 draft of the plan is a 135-page document prepared by Stantec for the GVHA. (Former Stantec senior associate Mark Crisp was hired by the GVHA as property manager once the latest phase of the plan was complete, according to Robertson.)
It proposes an elevated cruise-ship terminal with bus parking below, an expanded warehouse, plus year-round amenities such as a brewpub, a First Nations Cultural Centre, an improved public boat launch, cycling infrastructure, a pedestrian walkway and 63,000 square feet of office space along with several four-storey office buildings along Dallas Road.
The plan also envisions a hotel near the head of the breakwater walkway, which ties in with the GVHA's goal of expanding Ogden Point as a home port where smaller cruise ships carrying between 800 and 1,200 passengers would begin and end their journeys.
Other proposed changes include a revitalized marine services area allowing for small yacht storage and a boat-lift operation, and a new hangar for an air ambulance integrated with a new heliport terminal.
Helijet CEO Danny Sitnam says the Ogden Point Master Plan does not materially change Helijet's business plan, adding, "We are pleased with the elements presented to us, to date."
The Master Plan seeks the city's approval for three interrelated regulatory and policy documents, including an amendment to the City of Victoria's Official Community Plan and the creation of a new comprehensive development zone as part of the City of Victoria's zoning bylaw.
Jonathan Tinney, the City of Victoria's director of sustainable planning and community development, describes the master plan as a step before the rezoning process, providing a blueprint to the city about how and why 13.7 hectares of land surrounding the deep-sea port should be rezoned to include a range of new uses.
"It's similar to what we do with developers of larger sites, like Dockside Green," says Tinney.
Robertson says revenue generated through implementation of the master plan will also help pay for an estimated $40 million to $60 million in maintenance and upgrades to its properties, including Ship Point and Fisherman's Wharf, without relying on public funding.
"If we don't [diversify]," he says, "in 15 to 20 years our ability to fund that would run out and we would run into a challenge."
Right now, Ogden Point is the single largest revenue generator for the GVHA. The other half comes from marina and commercial permits on its other properties at Fisherman's Wharf and the inner harbour, as well as revenues from tenants in the Steamship Terminal, which the GVHA leases from the Province.
The GVHA became the landlord of Ogden Point, Fisherman's Wharf and much of Victoria's inner harbour in February 2002 when the federal government divested control of its public wharfs and small-vessel docks to local governance. While Transport Canada's larger waterfront holdings were divested to heavily regulated port authorities, like Port Metro Vancouver and the Port of Nanaimo, in Victoria, a rare hybrid was created. The GVHA is not a port authority or a public entity, but a private not-for-profit society.
So What's the Problem?
Not everyone has been happy with the GVHA's vision for Ogden Point — or its process.
"The GVHA has been captured by the cruise industry, at the expense of local, marine-related businesses," says Harold Aune, co-owner of Whitehall Rowing and Sail. Whitehall employs 12 people who build and sell boats to customers around the world from its Ogden Point headquarters.
"No one can get a lease for more than three years at a time, which makes us feel as though things are nowhere near as secure as they should be in terms of business planning," Aune adds.
Robertson says he understands leaseholder concerns, but "the GVHA will not be offering long-term leases because we're not really able to commit to a particular operator that in 10 years from now, [they] will be at the same spot at Ogden Point. We sincerely hope that in the overall plan at Ogden Point, there will still be a space for them, but until we get approval from the city for the master plan and the rezoning, it's difficult for us to pinpoint when development may occur."
Whitehall's neighbour, Mercury Marine, is the oldest and only marine repair shop on the Victoria waterfront. The GVHA offered it a two-year lease extension last February, but it withdrew its offer in May. The GVHA's letter to Mercury Marine says the withdrawal is "due to a change in strategic planning." The letter informs the long-time marine repair shop it must vacate when its current lease runs out in December.
Mercury owner Milt Barnes says the GVHA has a mandate to help marine businesses thrive and grow, but he says his experience has been exactly the opposite.
"The GVHA does not communicate with its leaseholders and makes no effort to help marine businesses grow. It just makes decisions behind closed doors," he says.
Barnes hoped to grow his business by submitting a plan to the GVHA 10 years ago, for a covered repair facility that would also reduce noise from its neighbour, Helijet. He says the proposal also offered an apprenticeship component. But the GVHA never responded to his proposal, he adds, yet it did include those ideas in the Ogden Point Master Plan. They are the only examples in the plan of what the future might hold for marine-based businesses.
When asked via email about the change in the strategic plan, why Mercury's lease is not being renewed and how mariners will get engines repaired after Mercury's lease-end in December, Robertson replied, "We do not comment on details of client leases." 
He also added, "We anticipate going to RFP in late 2018/early 2019."
Bob Fraumeni, owner of Finest at Sea agrees that small marine businesses have not been a focus for the GVHA.
"In 2004, the GVHA encouraged me to lease some space and I did, with the idea of eventually building a fish-processing plant, but after a year of using the area for storage, I was given notice to move out," says Fraumeni.
"They said the work I was doing was too noisy. Just after I left, a GVHA board member was given permission to construct three houseboats on the very same spot. He left and the site has sat empty ever since."
Fraumeni, whose company employs more than 200 people, subsequently built his processing plant across the street from Fisherman's Wharf Park. His fleet is moored in the upper harbour, in an area not controlled by the GVHA.
Former leaseholder, Trotac Marine says it was driven off Ogden Point in 2012 by an exorbitant rent increase and unreasonable demands by the GVHA. Campbell Thomson, a partner in Trotac, says he moved the region's largest marine supplier inland to Gorge Road after the GVHA offered a three-year lease and hiked its rent from $8,000 a year to nearly $8,000 a month. Despite efforts at arbitration, Thomson says the GVHA refused to compensate Trotac for constructing the 20,000-square-foot building at Ogden Point that Whitehall now occupies.
Robertston, who was hired as CEO by the GVHA in 2015, says it is the organization's policy, directed by the board, to charge market rate at all of its facilities.
"Every two to three years, depending on the property," says Robertson, "[the] GVHA goes to market and seeks various appraisals to ensure our rates are fair and in-line with similar properties."
He notes Trotac had a Transport Canada lease from 1986 to 2005 focused solely on bare land. When the lease expired in 2005, the GVHA obtained ownership of the improvements — Trotac had levelled out the lot and constructed a 20,000 square foot building — with a policy stated at divestiture directing GVHA to charge market rate for all properties. An appraisal was conducted in 2006 for improved and vacant land — the area was re-measured and increased.  
According to Robertson, a draft lease presented in 2006 was never approved by the GVHA board nor finalized and executed by the parties. He adds that Trotac disputed and chose to settle via a mediation process, which resulted in the subsequent rates being levied.
While the GVHA sees implementation of the master plan as key to protecting and enhancing Victoria's marine heritage and ensuring a vibrant commercial and tourist industry in the future, Victoria City Councillor Ben Isitt, who sat on the GVHA board from 2015 to 2017, says he is concerned about the future vitality of the working harbour for Victoria.
"We don't have a lot of industrial land that's in proximity to foreshore areas," he says, "and I can't escape my concerns that a private, non-profit entity should be entrusted with the management of these vital public assets."
Getting it Right
Marg Gardiner, president of the James Bay Neighbourhood Association (JBNA), which took part in the Ogden Point community consultation process, says, "We have real issues with what is being planned for there. It could destroy downtown if it's done wrong."
She also fears development on the site will bring more noise, pollution and traffic congestion to her neighbourhood.
Growth issues are also on the minds of city planners who are reviewing the Ogden Point Master Plan. That's why the plan has been stalled since it was submitted to city staff 20 months ago. Tinney says the GVHA has been asked to provide a more detailed market-feasibility analysis and more in-depth traffic studies before city staff makes any recommendations to Victoria council.
"We have some questions about the rationale for some of the land uses," says Tinney. "Where is the market for those and what impact will they have on the office uses or retail uses downtown? We're just asking for the backup. What transportation is affected by those uses? And how would you work to mitigate the impacts?"
Robertson says those studies will be delivered to the city in the fourth quarter of 2018, after municipal elections this fall. He says local merchants and residents have nothing to fear.
"We're not going to open up another Bay Centre. We're not going to in any way compete with the local shops along Government or Douglas Street. The vision that we have for this is like a Granville Island or a Seattle Pike Place Market, so a real mix of what I'll call industrial and consumer-friendly shops.
"We're not building this for cruise-ship passengers," Robertson adds. "We're building this for residents of Victoria and what we think will attract them to that space 365 days a year. In conversations with the cruise lines, what they've been telling us is 'build it for the residents first.' If the residents like it, then the cruise-ship customers will like it."
Robertson insists all stakeholders will continue to be consulted as the Ogden Point Master Plan moves forward. Dave Cowen, GVHA chair and Tourism Victoria's representative on the board, did not respond to requests for an interview for this article.
"We want to get it right," Robertson says, "not just from our perspective, but from the community's perspective as well, so that we've got a site that everyone in Victoria can be proud of."
The GVHA believes its Ogden Point Master Plan will achieve that. A number of local marine businesses and groups like the JNBA have yet to be convinced.
This article is from the August/September 2018 issue of Douglas.