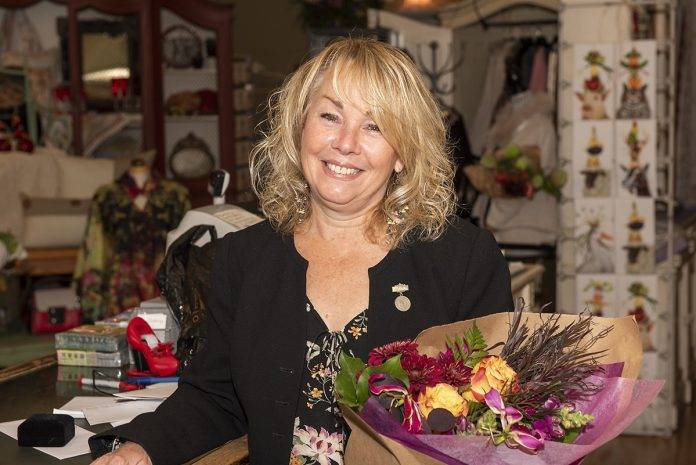 Chris Stephen of Lilaberry Home & Decor is this month's recipient Victoria Hospitality Awards (VHA) for going above and beyond expectations to meet the needs of customers. Donna Petrie of the Sidney Business Improvement Area Society heard about how Chris recently helped two travellers and was so inspired she submitted the following story to the VHA.
"A young New Zealand couple who worked at the Mount Seymour ski hill over the winter, and had most of their possessions stolen in Vancouver, are leaving [Canada] empty-handed but with their faith in humanity restored, thanks to a Saanich woman.
Molly Tame, originally from Australia, and New Zealand native Brad Hawkins, both 22, toured B.C. for three weeks after the ski season wrapped and had been living out of their 1998 maroon Chevrolet Malibu.
On May 13, less than 24 hours before they were due to fly home to New Zealand, the couple lost about $12,000 worth of gear and electronics along with their ID, bank cards and passports. All they were left with was the clothes on their backs and their cellphones. Without passports, they couldn't board their flight.
A Saanich woman read about what happened to them, contacted the couple through Facebook and invited them to stay with her and her fiancé on the Island."
Restoring Hope
"I just looked at these kids' faces and, I don't know, something really hit home for me," says Chris, a mother of three adult sons. "I just thought, 'What if they were my kids?' I would hope that there would be a Good Samaritan out there that would at least be a safe person to go and talk to for help."
Because Tame and Hawkins had no funds and no knowledge of the ferry system, there were some hurdles involved in getting them to Saanich. Stephen contacted a childhood friend who lives on the North Shore and who happened to be from Auckland, New Zealand, where Hawkins is from. That friend met the couple and gave them cash for their journey.
Stephen said she will never forget when Tame and Hawkins turned up at her shop in Sidney at dinnertime on Wednesday night.
"I tell you, when those two little faces appeared in my shop … my heart skipped a beat," she said. Stephen immediately went into mom mode and took the couple home to feed them.
Hawkins was supposed to be celebrating his 22nd birthday in Fiji — the couple's last hurrah before settling down in New Zealand — but that plan died when their stuff was stolen and their $2,000 flights were forfeited.
However, Stephen and fiancé Alex Morgan cooked up a birthday party for Hawkins, with a meal at a restaurant. "It just felt so good to be able to give them a little bit of happiness in all of this nastiness," said Stephen.
An Overwhelming Situation
The theft has occurred when Tame and Hawkins had parked their car in the underground of a Denman Street bike rental shop. After visiting Stanley Park they returned to find their car gone. It has been reported stolen but nothing has been recovered. They quickly learned that without ID and bank cards, they had no access to money to buy food and other necessities. Fortunately, a former co-worker gave them shelter.
The day after their car was stolen, the North Shore News published a story about the couple's plight, and strangers from all over B.C. reached out to help. "People have offered their homes and clothes and money," says Tame. "Even just their wishes and keeping us in their thoughts, hoping we get our stuff back is just overwhelming.
"We definitely think of Vancouver as not the innocent place we thought, but do recognize the majority of people here are kind and welcoming people that care for justice and the welfare of people visiting their country," Tame adds.
Initially, the couple didn't want any additional assistance, but Stephen encouraged them to set up a crowdfunding campaign via GoFundMe. "I told them, 'Listen, allow people to do this for you. Down the road you'll remember how it felt … pay it forward down the road when you can.' "
They applied for emergency passports, which they received on Friday. With help from family, they arranged $3,000 one-way tickets to go home on the weekend."
Recognizing Excellence
Victoria Hospitality Award committee members meet once per month to review ballots and select that month's winner. The winners receive a signed Victoria Hospitality Award Program certificate, a letter of commendation, a City of Victoria pin engraved with the winner's name, and numerous other gifts from Committee members representing various sectors of our community. There is a special event hosted annually to celebrate the nominees and monthly winners.
The nomination ballots can be found online at Tourism Victoria and on the Victoria Hospitality Awards website.