For Samantha Harron, beauty is not skin deep, and she wanted a salon that reflected that ethos. It took years to design and build the more-than-sustainable Hemp House Hair Salon.
"I always knew that this was what I was going to do," says Harron, who was disappointed and shocked by the amount of waste she encountered in the beauty sector. 
Seeing the salon to fruition was a family affair. Harron's husband Tristan Harron managed the build while their young daughter played foreman. The couple settled on hempcrete for its high performance, non-toxic quality and fast, renewable growth. Common in Europe, the process lacks standardization in Canada, providing numerous challenges solved by a cross-Canada team of engineers.
When building in hempcrete, every detail has to be designed and in place before applying the material. "We had to go with the shape of the land," says Tristan Harron of the design process. "Samantha got creative and took a spray can and just started spray painting on the lawn. We then tried to design something that was going to really be functional and work."
The deliberate, thoughtful space benefits from improved air quality, reduced energy consumption and natural temperature control. 
It is one of the most boundary-pushing businesses that the Vancouver Island Green Business Collective has certified. As a Métis raised in foster care, with a vision that doesn't align with industry standards, Samantha wants to be a positive role model for re-envisioning beauty.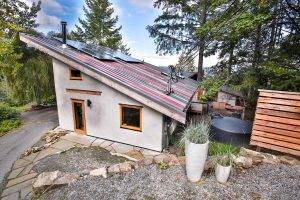 The Material: 
Hempcrete is a mixture of hemp shives (hemp stems), water and lime. The salon's 13 inch thick walls pull carbon out of the atmosphere and store it, and are fully compostable.
The Building:
Features include 11 solar panels, rainwater collection, a rainbow of reclaimed metal roofing and locally milled wood from fallen trees. 
The Finishing:
The walls are plastered with a natural sand, lime and water mixture.  All wood finishes are painted with an eco-friendly milk paint.
The Closed Loop:
Hair clippings, used foils, colour-tubes, excess hair colour, glass, papers and plastics are recycled and repurposed by Green Circle Salons. Cut hair is upcycled into booms to clean up oil spills in waters worldwide.