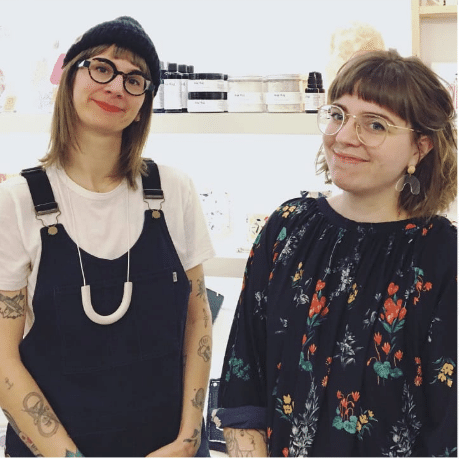 Brooke Cannon and Liz Hagiepetros opened their store Local Assembly in Fan Tan Alley three years ago. The store empowers artists and makers by providing a welcoming and supportive space to showcase their work. As makers themselves, Brooke and Liz encourage others to invest in their creative pursuits, and to support artists and small businesses in their communities and beyond.
How are you, as the owners of Local Assembly, coping right now?
Liz and I are about as okay as anyone else. We both lost our other jobs at GooGoo Goggles (they've been amazing at checking in) and are full-time parenting like many others. We've been putting off building a website for a few years, so we've been spending almost every day since our closure taking photos of stock, working with a friend on the web design, dealing with our shop landlords and making sales through DMs and doing local deliveries. It's busy but it's been keeping us sane … or making us go insane, depends on the day!
How has the crisis affected your business, and how do you anticipate it will continue to affect it?
We shut our doors on March 16th and took a couple of weeks to process before touching our shop's Instagram account. Since we revived our presence there we've been making some sales, but of course it's nothing close to business as usual. The sales we have been making have really shown us a path towards online shopping for locals. Neither of us feel like this is going to return to "normal" anytime soon, and we want to focus on what we can do now in the face of a changing world.
What advice are you giving yourselves for riding this out?
I personally am trying to focus on one day at a time, as cheesy as that might sound. I find that when I zoom out, I start to feel really anxious about the endless possibilities of 'what-ifs'. We've all been deeply affected by what's going on, whether it be through job loss, change of routines, or problems with landlords (commercial and residential). We can't really offer advice; all we've got to give is love and support. It's a big ol' question mark hanging over all of us, and there's nothing really to draw from or compare to. We just have to keep checking in and trying to be there for one another as much as we can.
What is the opportunity in the challenge for you and your business?
Definitely getting the website up and rolling. Just through a week or two of DM Instagram sales, we've seen how this current way of life has transitioned into a new way of buying. In a weird way I'm almost happy we didn't already have a website before this because now we have something fresh and new coming during a time that feels so tender and scary. Any reason to celebrate right now is totally welcome. Now the real challenge is finding time! Because we are both full-time parenting, we are trying to work together (but physically apart) to get things done during nap times and at night or wherever we have a free window. For instance, I'm writing this in the morning while my toddler is playing naked in a large IKEA tote and she just peed in it … how's that for real life working-from-home vibes?
Both of our partners are essential service workers, so Liz and I are managing a lot without any breaks … again, like so many of us. I think we're hustling more now that the shop is closed. We worked very hard to get to the point we're at in the past three years; we've built relationships with our makers and feel a responsibility to keep sales going to get everyone paid. There is so much uncertainty right now and lots of the makers rely on our sales for their income. But also! They make such beautiful things, we are just surrounded by so much beauty and creativity and finding a way to keep getting that into people's hands and homes is paramount right now. Website!!
What advice have you applied or are you applying from previous experiences coping through crises? 
I don't know if I've ever received advice that relates to this. I'm basically reading a lot of memes that are making me feel better about crying so much! I have a mentor with another small business who reminded me that I am a pro hustler, and that I've literally never let anything get in my way. Liz is the same and that's part of the reason why we are so great together. We took all this in, paused and are pivoting towards something new that's going to work.
What are your resources right now? Do you have a mentor supporting you, peer group, books you read?
We started an Instagram message including a ton of local businesses like ours and that has been extremely validating, just to know we are all in this together. Everyone has been so transparent about what their landlords are doing and what steps they are trying to take. Once you start to think about what businesses in Victoria are local, you begin to realize that they almost all are! Our city is so special, there are so many unique small businesses and we aren't competing, especially now; we're supporting and guiding one another through this sudden and stressful time.
What advice do you have for others experiencing this alongside you?
Don't give up! Unless this is bankrupting you, in which case, give up! I'm kidding, but definitely measure the amount of risk and debt you are capable of taking on. At a certain point, if this continues for months, it's not going to make sense to drown yourself in debt; something's got to give. Also reach out to your community and build relationships with people in the same situation as you are! We are all in this together.