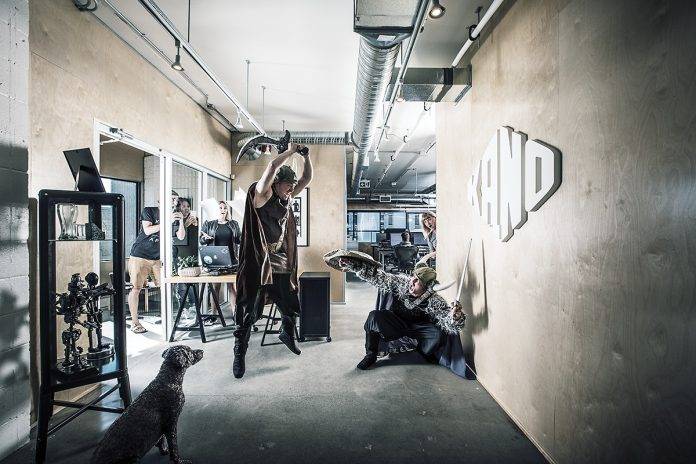 "In Canada there are more people per capita working on video games than in any other country in the world," says Eric Jordan, CEO of Victoria video game company Codename Entertainment. "They're part of an industry worth $100 billion in North America alone that continues to grow."
Victoria is also a player in that global video game industry, with a vibrant tech sector employing at least 15,000 people and steadily transforming the city from tucked-away, renovated offices above Fort Street, Bastion Square and Chinatown, or in industrial parks and home studios. There, you'll find at least 20 video game companies employing about 250 people who are creating games that are popular with millions of people all over the world.
"Our game Idle Champions recently exceeded a combined total of 30 million hours of play time since its launch in September 2017," says Jordan, who has led the company for the past five years. Both Idle Champions and another Codename game, Crusaders of the Lost Idols, are among the top one per cent most-played games on Steam, a popular distribution platform widely used by people all over the world to discover and purchase video games.
Video games have a long history in Victoria. Sanctuary Woods, a pioneering video game company in Victoria, was founded here 1992 and operated out of the city before being purchased by Disney Interactive later in the decade. More recently, companies including Zynga, the creator of Farmville, and that once employed a development team in Victoria, took advantage of the phenomenal popularity of Facebook as a gaming platform in 2009 and 2010 to reach and build massive new audiences.
Over the years, local companies have also been able to experiment with new revenue models, such as microtransactions, where a game is free to play and players can enhance gameplay by making small purchases within the game.
Today, many Victoria companies still include Facebook as a platform, but also offer their games across multiple platforms, including web browsers, Steam, mobile apps and consoles like the Sony PlayStation or the Nintendo Switch, all in order reach as many players as possible.
"There is an incredible depth of talent in B.C.," says Jordan, noting two of the top video game franchises of all time, Electronic Arts (EA's) Need for Speed and FIFA both come from Vancouver."
When it comes to attracting this talent, Victoria's video game community benefits from being just across the water from Vancouver, which employs approximately 5,000 people in the same industry, he says.
"Combine rising housing prices in Vancouver and Victoria's proximity, and it's easier to attract talent to the Island," says Jordan. "The Internet has had a flattening effect in terms of where you can create and sell video games — you can do it from anywhere."
Home Advantage
Dan Gunn, CEO of VIATEC, the non-profit organization that boosts and helps build Victoria's booming $4 billion tech industry, agrees.
"Like our entire tech sector, our gaming studios are focused on external markets and selling their products to the world," says Gunn. "They aren't here to be close to a customer base. They can locate anywhere."
"[Video game studios] are here for the talent and the lifestyle our region offers, and because [Victoria is] close to other major gaming hubs like Vancouver, Seattle and San Francisco. The cost of living and the cost of running a company are much lower here than those other cities and, for many, we have a much higher quality of life."
Mike Wozniewski, president and CTO of Hololabs, a local gaming company that develops games, mobile apps, and social platforms that allow users to create and share digital content, is one such transplant. But instead of coming from Vancouver, Wozniewski relocated from Montreal, Canada's other great video game hub.
"We moved to Victoria to be closer to family," says Wozniewski, a father of young children whose parents retired here. Originally from Calgary, Wozniewski started out in the game industry in Montreal after graduating from McGill.
"The thing that put me over the top was a VIATEC report on the games industry. It seemed like things were happening in Victoria's tech scene."
Hololabs' most recent success is a game called Floor Kids that the Guardian newspaper has hailed as one of the best indie games for the Nintendo Switch. Focusing on free play, Floor Kids features original music by famed DJ Kid Koala, and lets players create and perfect dance moves in breakdance battles across a virtual city.
Ten software developers work at Hololabs' Fisgard Street studio, while offsite another team, located in Montreal, produced the game. While British Columbia offers the Interactive Digital Media Tax Credit (IDMTC),Quebec offers even better tax incentives for companies like Hololabs.
"It's definitely more expensive to run the company in Victoria," says Wozniewski. "On the other hand, there are some incredibly talented people in Victoria who you wouldn't expect to live here. People do massive projects all over the world while working remotely."
Wozniewski cites Hololabs' chief creative officer Rob Barrett as an example of the world-class talent powering Victoria's video game industry.
"After working with Disney Interactive in Victoria, Rob started Blue Castle Games in Vancouver, then sold the company to [Japanese video game publishing giant] Capcom in 2010," says Wozniewski. "Now Rob has come back to the Island and wants to work for a small creative company."
The industry contacts, experience and vision Barnett and others like him bring with them to Victoria will continue to help put local video game companies on the map.
Hololabs' next game is based a series of popular children's books by Salt Spring Island author Jordan Stratford. Aimed at middle-readers, Stratford's Wollstonecraft Detective Agency series follows Ada Byron Lovelace, who helped create the world's first computer, and Mary Shelley, who wrote Frankenstein, as young girls who use math, science and creative analytical thinking to solve crimes.
As the father of two daughters, Wozniewski says part of the impetus for taking on the Wollstonecraft series is because "I have become very frustrated with how games for children are so gendered, especially on mobile."
He says he wants to create quality games that offers the opportunity to be creative, teach skills and encourage girls to learn, especially about STEM, using science, technology, engineering and mathematics to develop the next generation of technologists and creators.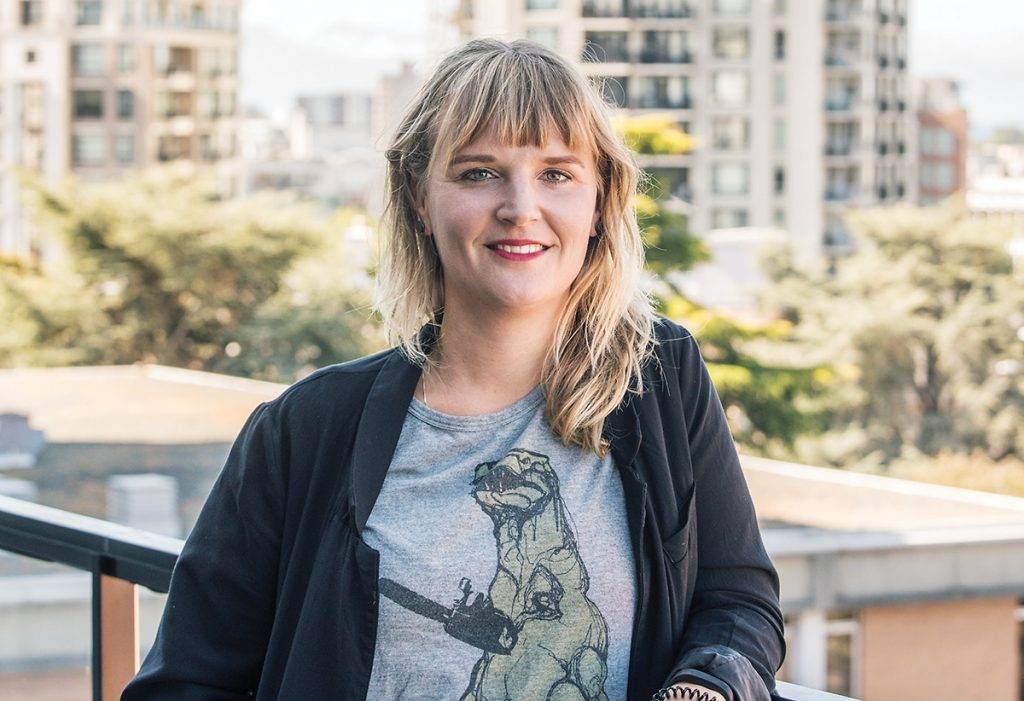 A Deep Culture
Gaming culture runs deep in Victoria. The University of Victoria's Writing Department has outfitted a lab on the first floor of its home in the Fine Arts building with a sofa and a variety of consoles, so students can experiment and play with video games.
"When you look at the successes in Silicon Valley, it's also about STEAM — how you use art and design and technological innovation," says David Leach, chair of UVic's Writing Department, which is one of Canada's oldest and most innovative programs of its kind. In fact, Victoria filmmaker and visual artist Scott Amos of Monkey C Interactive is an alumnus — and graduates of the program often go on to work in Victoria's growing technology sector.
"Writing students can collaborate with visual artists and musicians, and come out of the program with great communication, creative and collaboration skills," says Leach.
"In video game design, you want your visual artists working alongside coders working alongside business. Universities can be siloed, so we're all about how to break down silos to provide opportunities for creative collaboration."
The department offers a course in Writing Interactive Narrative, which covers writing text adventures, virtual reality narratives and other interactive experiences. The department has also organized events, including Games Without Frontiers 2.0 and pop-up "idea arcades" that bring people together from industry and the arts to think about the social power of games. Leach also helped develop a course offered at UVic about the history of video games.
"I took that course," says Dylan Gedig, a Victoria software developer who, with friend and classmate Brendon Duncan, launched his own indie game shortly after graduating from UVic with a Computer Science degree in 2016.
One of Gedig's Games is Friday Night Bullet Area, an arcade shooter that's available on Steam and Xbox.
"My friend came up with a prototype in a week, and we decided to join forces and get one game and then another out the door."
Gedig says it took almost eight months of full-time work for Friday Night Bullet Area to be published on Steam and Xbox. However, he says, despite winning awards the game hasn't generated enough sales to fund another title.
"Releasing smaller games gives us a chance to work on the product and marketing side," says Gedig. "We eventually want to release games that are stable and start our own company."
In the meantime, Gedig works as a software engineer for San Francisco-based video game mammoth KIXEYE, which operates a development studio in Bastion Square. He also helps organize the Victoria chapter of the International Game Developers Association (IGDA), which plays a critical role helping local talent build skills and connections, and in turn grow Victoria's video game community.
"IGDA Victoria organizes monthly meetups where speakers present on different topics about the video game industry," says Gedig.
"Twice a month, IGDA hosts a hack night at the Bent Mast pub in James Bay — it's a great workspace because there are no TVs  — where you can sit down and figure out your game with other game developers."
Jobs Aplenty
Gedig says that even if an indie game isn't profitable, there's still plenty of work in Victoria.
"Tech is Victoria's number-one industry now and has been for at least 10 years," he says. "There's always space in this city for more tech workers who can move between video games and other industries that need software developers."
Some established video game companies in Victoria are hiring. Kano is one of them. The company currently employs 30 staff, and was founded by three Vancouver Island natives Tim Teh, Eric Alpini and Eric Haight in 2008.
Although the company found massive success with games including Viking Clan and Mob Wars: La Cosa Nostra, its founders have chosen to remain in Victoria.
"We all love our community and our surroundings, and spending time with our families outside," says Magda Rajkowski, who as Kano's people ops manager is responsible for recruitment, performance and team culture. The company is looking to hire more people, notably a new product manager who will work with Kano's millions of players to improve its games.
"Kano constantly adds new features, and we do this by communicating with players in forums and chats, along with in our player success department," says Rajkowski, a Victoria native. "We try to find out what players are looking for and listen to their concerns to enhance the games."
Capitalizing on the Promise
In the hyper-competitive world of video games, it's important to quickly respond to and engage with players.
"The combination of easy-to-use development tools and easy-to-access distribution (on the web, Steam, consoles and mobile) means that it is easier than ever to publish new video games," says Codename's Eric Jordan.
However, since there is such a torrent of new games, it's also more challenging than ever before for your game to be discovered.
"All of the current markets are mature and so new (video game) companies need a very thoughtful approach to discovery to be successful," adds Jordan. "If their approach to discovery is compelling and unique, then I think they have a lot of promise."
This article is from the October/November 2018 issue of Douglas.