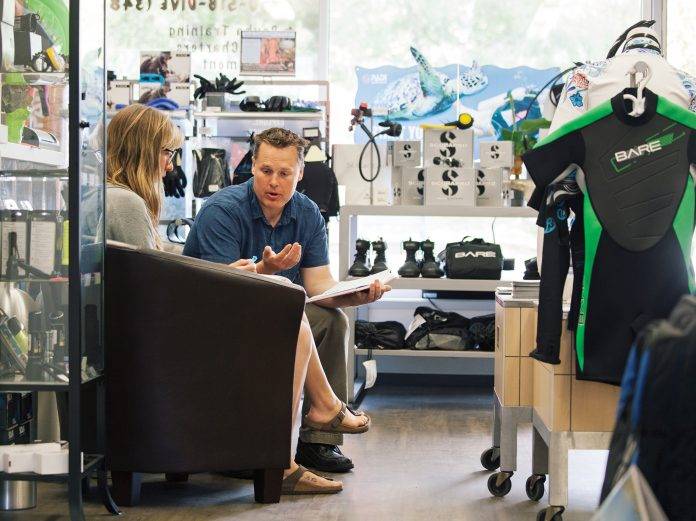 Just try to find an entrepreneur who has not lain awake at night worrying about business. Douglas asked local business owners what keeps them up at night and offers some strategic solutions for entrepreneurial insomnia.
So what's keeping local business owners awake in 2015? Is it the lingering effects of the economic downturn? The falling Canadian dollar? Succession planning? The increasing price of gas, or the falling price of oil?
In fact, what worries the local business owners we talked to has more to do with the day-to-day running of their companies, the foundation stuff upon which successful businesses are built.
1) Hiring the right people
When asked what business issues keep him up at night, Adrian Ortiz-Mena, who launched 900° Pizza in Langford earlier this year, says, "It's attracting and retaining talent, because you're only as good as your team."
Mexican-born Ortiz-Mena, who studied banking in the U.S. before immigrating to Canada, deals with this issue by drawing from a wider pool of people who don't necessarily have the right experience, but who do have the right attitude.
Studies repeatedly back up what Ortiz-Mena says. According to a 2015 study by Leadership IQ, 46 per cent of new hires fail within 18 months because:
26 per cent can't accept feedback
23 per cent are unable to understand and manage emotions
17 per cent don't have the motivation to excel
15 per cent have the wrong temperament for the job
11 per cent lack proper technical skills.
So attitude, not skill, was by far the biggest reason employees did not work out in a job. The study looked at 5,247 hiring managers who collectively hired more than 20,000 employees over three years.
"You can't teach attitude," says Ortiz-Mena. "They either come with a positive attitude or they don't."
2) Difficult conversations
Paul Abra, former publisher of Island Parent magazine, which he recently sold after 18 years of success, also pinpoints HR issues as sleep stealers.
"I remember one instance where I needed to let somebody go and I spun it out for almost a year," says Abra. "When I finally did let this person go, it was fine … they were fine."
Now a certified executive coach, Abra brings his experience to bear when consulting with clients through his company Motivated Coaching. Not surprisingly, having these difficult conversations with staff is a common issue for many of his clients.
Abra tells them, "It's deciding what you want from the situation … One of the questions [to ask yourself] is 'what if you don't have the conversation, what's going to happen?' Another way is to ask, 'How's that conversation going to look? How are you going to structure the conversation? What do you want to get out of it?'"
When Abra used to become frustrated with staffing issues, his wife would tell him, "Either deal with it, or get over it" — blunt advice which nevertheless helped him face up to those difficult moments.
3) Getting money, growing money
Accessing funds to start a company, change direction or grow can be another big sleep stealer for business owners, including Scott Dewis and Anita Pawluk, partners in RaceRocks 3D, an education firm developing learning and training tools that integrate augmented reality, simulation, games, and video storytelling for the military, major corporations and government.
"We've bootstrapped for five years …" says Dewis. "We haven't had access to capital or access to government programs."
So how do they handle it?
"Early on we raised some money from friends, family and employees, and we've taken some debt and just operated off revenues," says Dewis. "We finance the company by not paying ourselves. We're very frugal with the money."
And then there's cash flow. "After pulling a specialist team together, if a project is delayed, we incur additional costs which affects cash flow," Dewis adds.
Their solution? "We've started putting a delay clause into our contracts. For every week of delay, we get a percentage of our fee whether or not we deliver anything."
To gain more cash-flow control, Dewis and Pawluck are moving toward a more product-oriented business and B2C sales, because the downside of high-paying government contracts is that the client can cancel anytime.
Another aspect they are very conscious of is paying suppliers. "People are telling us 'Collect fast and pay slow.' That's how they handle cash flow," Pawluk says. "[But] what keeps me awake is not being able to pay suppliers. It's your relationship with them that keeps them providing services to you …"
That's why being truthful and building relationships with everyone in the supply chain is vital, she says. "People go a long way to support you if they believe in you."
4) Breaking into the market
A recurring challenge for most entrepreneurs is bringing in new business. David McArthur of Morello moved to Victoria from the U.K. three years ago, bringing with him his communication and design studio specializing in the financial services industry. But building local business has been a challenge, and much of his work still comes from abroad.
"We have some good clients and we're definitely building our reputation," he says, "but Victoria is a tough city to break into, in spite of the fact we are highly respected in the U.K. I lose sleep trying to figure out how to convince people to give Morello a chance."
His approach has been to network and to build relationships with other businesses. "You do the best job you can so they are willing to put your name out there and recommend you," he says.
Victoria, he notes, is intensely relationship focused. "A lot of it is 'if you scratch my back I'll scratch yours,' more so than in the U.K."
He agrees that having a niche is important. "It's how you set yourself apart, especially here where there are so many design and communication businesses. You really need to define yourself."
5) The responsibility
Tyler and Alisa Preston, owners of Rockfish Divers, offer diving charters off the coast of southern Vancouver Island from their two vessels, along with diving instruction. They also sell and rent diving equipment and recently opened a second retail store on Quadra Street. For companies like Rockfish, ensuring everything goes smoothly for clients isn't just a matter of pleasant customer service, it's a matter of safety — and they take it very seriously,
Tyler, a scuba instructor trainer with over a decade of management experience in retail, uses the phrase "escalating compromise" to explain how diligent they have to be in noticing the small things.
"Escalating compromise," he explains, "is when a number of individually minor issues combine to compromise safety."
"Imagine a nervous novice diver, cold water, a strong current," adds Alisa, a dive instructor who previously worked as the Dive Safety Officer at UVic.
"The diver is carrying extra weight. Then add an over-friendly sea lion. Any one factor is probably manageable, add them all together and safety can become severely compromised."
It's an essential philosophy for the management of a diving business, but it's also an apt metaphor for business management in general. Take care of all the minor issues so they don't add up to a big problem.
From putting training at the forefront to providing equipment counselling for clients, success is in the details.
6) Working on, not in, the business
When he retired last year, Jim Munro, founder of Munro's Books, gave his business to Jessica Walker and three of her colleagues — Carol Mentha, Sarah Frye and Ian Cochran — all long-time employees of the bookstore.
Asked what keeps her awake at night, Walker says, "My main challenge is to run the store in a way that makes Jim proud, to have the business he spent so long building continue to be a success. It's a high hurdle to clear."
The new owners are very respectful of Munro's legacy. "So much that it actually took a while to realize 'Oh, we can make that change," says Walker.
While she often wakes up at night worrying there are not enough hours in the day or second-guessing decisions, Walker says the biggest challenge has been "To learn to take off the hats many of us have worn as employees and put on owners' hats, to actually make time to think about your business as a business and not just what you need to do that day."
It's Worth It?
Most entrepreneurs will have to deal with these sleep defiers at some point over the course of owning a business. And while a non-entrepreneur might say it's all just too much, for business people who are passionate about what they do, this sheer determination to succeed and make a difference is worth the lost ZZZZ's.