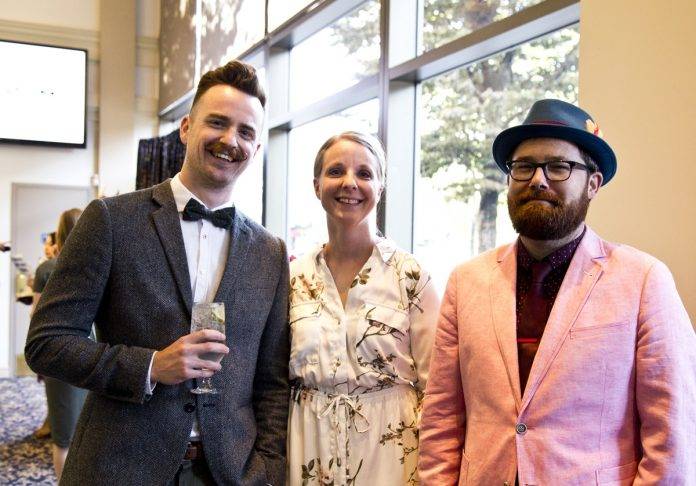 Last night at the Royal Theatre, the VIATEC Awards celebrated the innovation and excellence of individuals and technology companies responsible for making Victoria the fastest growing technology region in British Columbia. 49 finalists were honoured, with 15 recipients receiving newly designed astronaut trophies (designed by local artist Russell Papp), at the elaborate show. Attendance ballooned to over 1,100 guests, making it one of the largest celebrations of its kind in the nation, and VIATEC's most attended – ever.
Erin Skillen took the reigns for the second year in a row as host for the production, bringing the perfect balance of humour, intelligence and attitude. With a theme of "There's no place like home", the night featured local variety show acts from Passion and Performance Arts Inc, Atomic Vaudeville and a powerful finale accompanied by the resident awards band, in what has become an annual tradition… flying inflatable Killer Whales. The stage was brought to life by immersive video projections from VJ Photon featuring seven flown screens featuring video projection mapping along with four laser banks and five giant disco balls all supported by the incredible stage crew of the Royal Theatre. Everyone continued the celebration at the After Party with local eight piece band The New Groovement. 
"It is our honour to produce a show that brings together and entertains our tech community and we relish the opportunity to highlight and celebrate some of our top performing companies and executives," said Dan Gunn, CEO of VIATEC. "Each year gets more elaborate and we cannot say enough about our local arts community and what they bring to make this event the unique and anticipated festivity it is has become."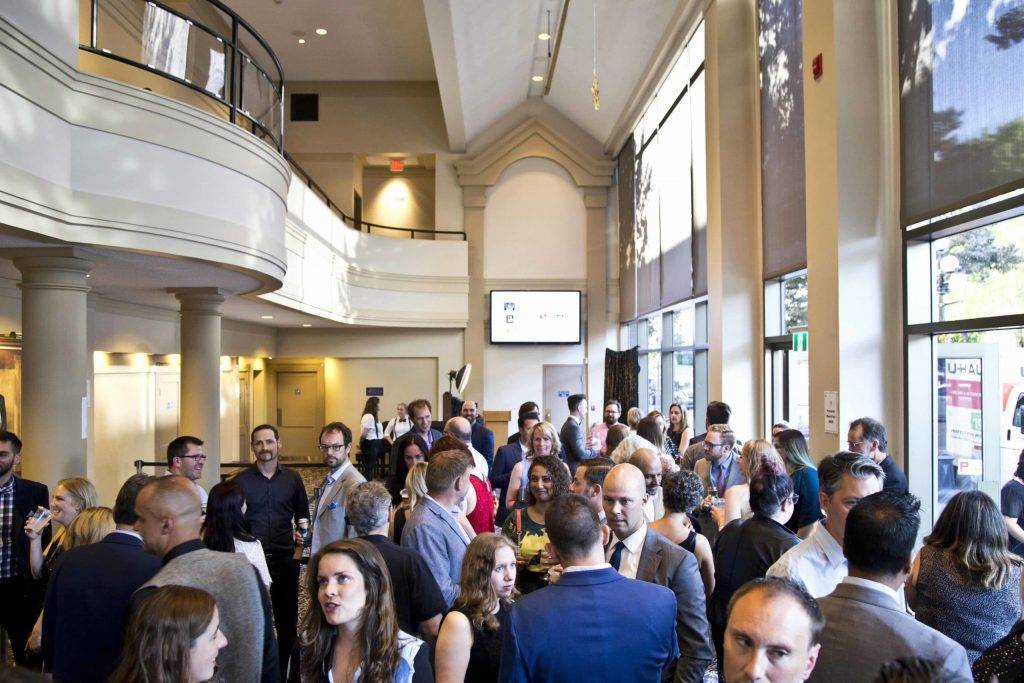 2019 VIATEC WINNERS
Technology Company of the Year (30+ employees): (Sponsored by: Farris, Vaughan, Wills & Murphy LLP)
● Benevity
Technology Company of the Year (11-29 employees): (Sponsored by: Lazaridis Institute)
Scale-Up of the Year: (Sponsored by: KPMG LLP)
Start-Up of the Year: (Sponsored by: Bambora)
Product of the Year: (Sponsored by: RBC Commercial Financial Services)
Innovative Excellence – Software or Service: (Sponsored by: Grant Thornton LLP)
Innovative Excellence – Hardware: (Sponsored by: Wesley Clover)
Leader of the Year: (Sponsored by: AbeBooks)
Emerging Leader of the Year: (Sponsored by: Roy Group)
Team of the Year: (Sponsored by: Royal Roads University)
Employer of the Year: (Sponsored by: The VIATEC Foundation)
NAMED RECIPIENTS (No finalists):
The Colin Lennox Award for Technology Champion: (Sponsored by: Reed Pope LLP)
VIATEC Members of the Year: (Sponsored by: Cox Taylor LLP)
Community Champion: (Sponsored by: City of Victoria)
Angel of the Year: (Selected by the Capital Investment Network, Sponsored by Osler, Hoskin & Harcourt LLP)
Media Contact: Michaela Schluessel Community Manager VIATEC mschluessel@viatec.ca

About VIATEC
VIATEC (Victoria Innovation, Advanced Technology and Entrepreneurship Council), started in 1989. Our mission is to serve as the one-stop hub that connects people, knowledge and resources to grow and promote the Greater Victoria technology sector (Victoria's biggest industry). We work closely with our members to offer a variety of events, programs and services. In addition, VIATEC serves as the front door of the local tech sector and as its spokesperson. To better support local innovators, we acquired our own building (Fort Tectoria) where we offer flexible and affordable office space to emerging local companies along with a gathering/event space for local entrepreneurs. www.viatec.ca, www.forttectoria.ca
This News Release was received June 2019.