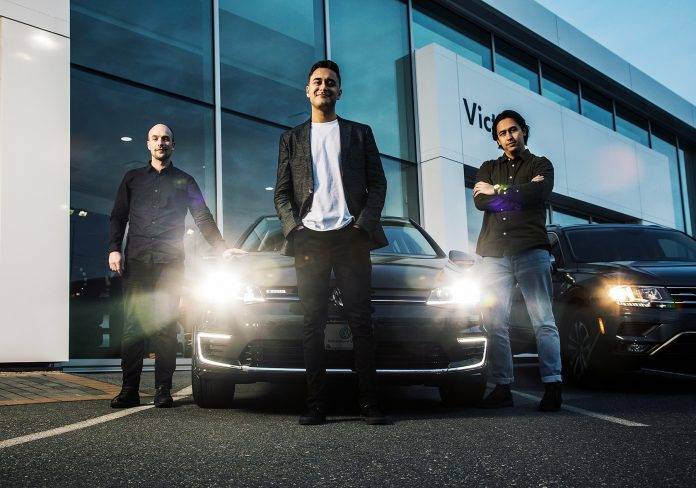 Lifelong auto enthusiast Caleb Bernabe was working in marketing for an auto company when he realized the way people bought cars hadn't changed much in over 75 years. That's when he got the idea for VINN, an online car purchasing platform he launched with cofounders Tom Avant and Chet Flanagan in the summer of 2019.
With its name a play on the acronym for Vehicle Identification Number, VINN is already partnering with 56 auto dealerships in Victoria and throughout B.C. to help customers find and buy vehicles through what Bernabe says is the first true e-com solution for the auto market.
That's a relief to time-crunched Canadians who typically spend about 40 hours researching before buying. "With VINN, the process can be finished in less than 20 minutes," Bernabe says.
Customers compare and buy vehicles right on the VINN platform, choosing
from thousands of cars from different manufacturers at various price points. VINN's automated concierge uses machine learning to make custom recommendations.
VINN's goal is to streamline the process to get customers into cars they want quicker. "We're using thoughtful design, innovation and transparent business practices," says Bernabe, "to bring positive change to an antiquated industry."
A Q & A with Caleb Bernabe
What was the best business advice you ever received?
Things are happening, so be retrospective and just appreciate the whole journey and its process, because it's really easy to take it for granted.
What was the scariest part of starting up?
It's scary how quickly things can escalate without you even really noticing.
What advice would you give to someone just starting out?
Think really carefully about why you're starting your company and what your company is. You need to be quite certain that there's an immediate need that you're addressing.
This article is from the April/May 2020 issue of Douglas.