When Jason Chan purchased The Village in Oak Bay in 2012, the Estevan neighbourhood café was popular but not thriving.
Chan knew he could use his restaurant experience to help the business reach its full potential — and turn a quick profit — but something more profound happened in the process. Re-imagining The Village and focusing it on the morning "daypart" turned Chan's approach to restaurants — and life — on its head.
"We've rediscovered our own roots as human beings," says Chan, describing how he and business partner Brian Bobiak literally changed the way they work since entering the breakfast business and making their mantra local sourcing and healthy employee relations.
They've since turned that single neighborhood haunt into five bustling, breakfast-forward cafés — the latest to open is on Store Street in Chinatown — with five new employee-partners invested in both their philosophy and their day-to-day operations.
Instead of focusing strictly on profits, Chan began to think more about people — the people who worked for him, the people who supplied his ingredients and the people in the neighbourhood who became his customers and community.
Serving breakfast taught him how to run a profitable restaurant with holistic, sustainable and altruistic ideals underlying every decision, and that's paid off both personally and professionally. The breakfast business has brought him true work-life balance.
"If you met us five or six years ago, you'd see that this has had a huge impact on our lives," says Chan. "Having to be up early has transformed us — self improvement just happened."
These young restaurateurs have also tapped into a trend that's growing across the country. According to a recent Technomic consumer survey, 78 per cent of the college-age generation Z diners enjoy ordering breakfast all day, leading to growth in the breakfast and brunch offerings on many menus. Breakfast has become "trendy again," the 2018 Restaurants Canada report notes, especially with millennials who are "now the largest category of food-service spenders in Canada."
CAPITAL OF BRUNCH
The Village is just one success story among many in the thriving local breakfast business scene that rules in Victoria's restaurant realm — and has earned the city the title of Brunch Capital of Canada.
Take a walk almost any morning and you'll find a hungry horde queuing up outside Victoria's Jam Café, waiting for that first jolt of java and something poached or scrambled alongside a fresh buttermilk biscuit. It's the same scene at The Blue Fox Café, a longtime breakfast joint set among the historic storefronts along Fort Street. You can't get a table at Shine and it's standing-room only at Agrius. Meanwhile, The Ruby is slinging rotisserie chicken hash and duck confit waffles at two locations — just another typical Tuesday in the capital.
But who are these devoted, crack-of-dawn diners? A quick survey of any popular breakfast spot — or line up — uncovers all kinds, from students to seniors, millennials to moms, early-rising office workers to bleary-eyed bartenders.
Since Victoria is a tourist town, it's not surprising that we have an abundance of choices for leisurely morning meals. But somewhere along the line breakfast became "a thing" for locals too.
Rebecca Wellman, author of First We Brunch: Recipes and Stories from Victoria's Best-Loved Breakfast Joints, speculates that there's an "economic factor" behind the breakfast boom.
"Victoria has a lot of students and young entrepreneurs who may not have the funds to do big dinners," she says, "but they do breakfast and lunch meetings in restaurants every day."
"The most prominent demographic in the brunch crowd is 20- to 35-year-olds. Brunch makes a very leisurely group gathering. It's almost as though it's replaced dinner."
Breakfast is also a social time for families and retirees. And though cheques may be smaller, tables are turned faster, so owners can see profits that equal or even exceed evening dining, and servers make good tips.
"A lot more people can afford to go out for breakfast," says Jim Walmsley, owner of Victoria's Jam Café, where lineups are constant from the 8 a.m. opening to the 3 p.m. closing. "We have 50 seats, but they're turned seven or eight times a day, so our cash outs are almost as much as a nighttime place."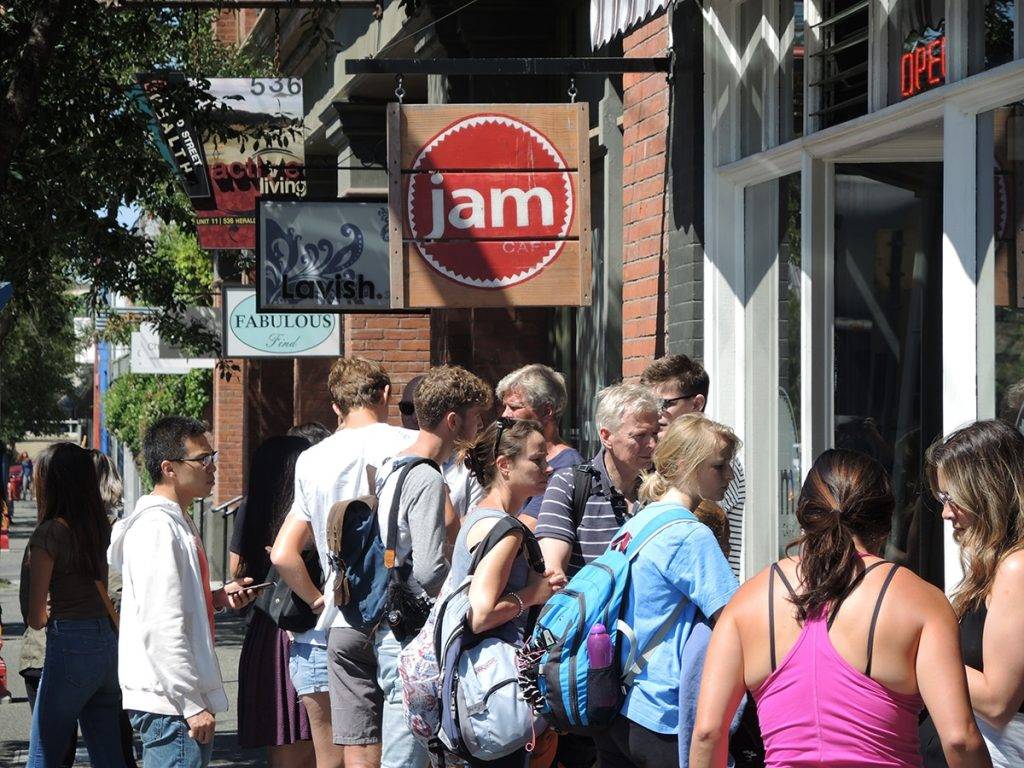 And because Victoria is such a hospitality industry town, that breakfast rush also may be coming from those chefs, cooks and servers working the late shift, says Petr Prusa, owner of Floyd's Diner.
"We have tons of restaurants and tons of people who work late at night," says Prusa. "Breakfast is the only time they can go out to eat."
Adds Bobiak,"Breakfast doesn't discriminate. It's for everyone — 90 minutes of entertainment for 20 bucks."
WORKING THE BREAKFAST SHIFT
Staffing can also be easier for breakfast restaurants in Victoria's tight labour market. Employees start the day early and most breakfast cafés close by mid-afternoon —convenient hours that avoid the split shifts and late nights that face many restaurant workers.
"The hours are attractive; staff definitely love it," says Walmsley.
It was the morning shift that first attracted Prusa to the breakfast business. A single father, he started with a coffee shop and now runs an all-day breakfast empire, with three hot-pink Floyd's locations, plus a new fuchsia food truck.
"It's a happy place. The menu is fun, and the staff have fun," he says. "People come in, work eight hours and by 4 p.m. they're finished."
The culture that Chan and Bobiak have created at The Village is focused on sustainability, especially when it comes to staffing. They pay higher-than-industry wages and have expanded to new locations to share the equity with their long-term employees and offer opportunities for growth.
"It's one of the things that makes our business truly sustainable," says Bobiak, pointing to the five operating partners who have opened the latest Village locations in Chinatown and Cook Street Village. "The message we want to convey to the industry is that we need to take care of our people. Everyone deserves an opportunity to succeed."
"Our people are really happy and that's why diners come," adds Bobiak. "It makes the experience enjoyable."
ADDING SUCCESS TO THE MENU
They say breakfast is the most important meal of the day, which may be why many evening eateries are jumping into the breakfast business.
At Saveur, chef/owner Robert Cassels specializes in elegant tasting menus featuring seasonal local ingredients, but he also opens the restaurant for breakfast from Wednesday through Saturday. It's an unusual move for a high-end dining room, but Cassels sees it as a good way to grow his business, introducing customers to his inventive, French-inspired cooking in a relaxed setting.
"It was always in the plan to serve brunch," says Cassels, whose morning offerings reflect his refined skills, ranging from the Egg McDuckin' duck confit breakfast sandwich and sweet Breakfast Risotto to Eggs Benedict, with beef tenderloin, truffled mushrooms and foie gras hollandaise.
"It brings people into the restaurant and offers a more casual way to try things," he says, noting, that with just 28 seats, brunch adds to the restaurant's bottom line. It's also led to new honours — Saveur won in best restaurant, best fine dining and best breakfast categories in YAM magazine's 2019 Restaurant Awards.
Other top tables serve breakfast too. The Courtney Room puts a French bistro twist  into their breakfast menu with a Mushroom and Goat Cheese Benedict and Brioche French Toast.
Award-winning Agrius blends artisan baking and seasonal organic ingredients in its kale and caramelized onion benny on country bread, and eggs baked Italian-style with sausage, tomato jam and green romesco sauce. The café breakfast at waterfront Boom + Batten features forno-baked biscuits and breakfast pizza from the wood oven, while the "morning to midnight" Sherwood Café & Bar (from the owners of Habit Coffee) features a carefully-curated breakfast menu, including a smoked salmon benny, poached eggs with chorizo and kale, or a Dutch Baby with berries and almond streusel.
At the quick-service end of the dining spectrum, the Victoria Public Market now offers up breakfast/brunch dishes from the vegan "Chicken" and Waffles at The Very Good Butchers, and Pakora Bennies with butter chicken sauce at Vij's Sutra, to the breakfast hand pies at Victoria Pie Co.
"Weekend brunch is just another reason to come out and eat at the market," says Maryanne Carmack, whose Roast, La Pasta and Taco Stand all have breakfast offerings, including porchetta hash with eggs, double bacon and egg-topped Brunch Carbonara and breakfast burritos.
STANDING OUT IN A CROWDED FIELD
If you think the breakfast category is saturated in Victoria, think again. There are many restaurants offering an all-day breakfast, but the most successful among them have developed a following for their unique specialties.
At Floyd's, regulars expect a chuckle from the cheeky menu and come for The Lucky Jack breakfast (served with a Lucky Beer and shot of Jack Daniels) and The Mahoney (kitchen's choice and then flip a coin to pay double or nothing).
"When we started Floyd's, there were about four or five really good breakfast spots, now there are at least 30," says Prusa. "It just makes everyone really good at serving breakfast."
Jam Café is known for its big Southern-style breakfasts, featuring homemade biscuits, pulled pork and s'more pancakes — and an eclectic vintage decor.
At The Village, the restaurant's original Jewish deli roots are still evident in the bennies built on potato latkes, challah French toast, cheese blintzes, Montreal smoked meat and spicy shakshuka, all made with Lockwood Farm eggs, Red Barn bacon, and vegetables from Saanich Organics and Square Root Farm.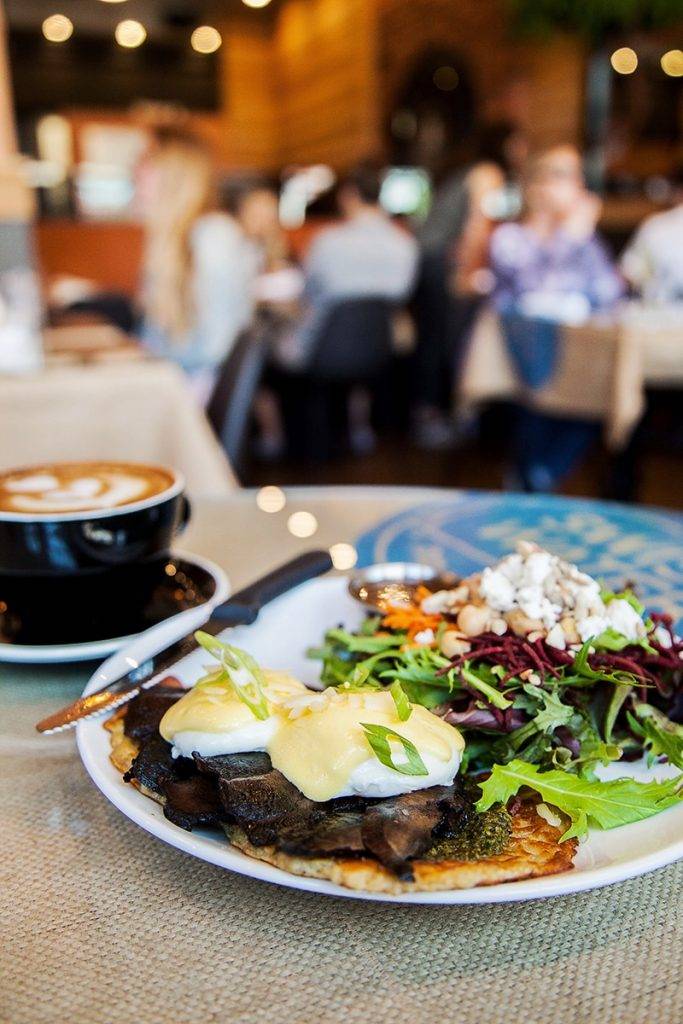 Funky Mo:Le — serving "friends, foodies, hipsters, families, retirees and everyone in between" — is known for its locally-sourced organic ingredients and scratch cooking, from house-made granola and spelt banana pancakes to cold-smoked albacore tuna benny.
EYE OPENERS
It's the simple comforting morning meals that bring diners back to their favourite spots for breakfast. And while breakfast cafés don't need to reinvent their menus with every new season or trend, it also makes them more susceptible to shortages or spikes in commodity prices.
"It's easier to manage regular ordering," says Prusa, "but if pork bellies go through the roof, there are not a lot of options to absorb food costs."
"Breakfast restaurants only have so many skews, and eggs are on 90 per cent of our plates," adds Chan, noting any supply problems can literally leave them scrambling.
And lineups don't necessarily mean big profits.
"It's not the way it used to be," says Walmsley, surveying the crowd queuing outside Jam Café while musing about how the rising cost of fuel, bacon and labour affects the bottom line. "There used to be higher margins in breakfast."
But breakfast is still a winner for these local restaurateurs.
"The Village is not about us; we're lucky to be a part of it," says Chan, reflecting on the many locals who contribute to his breakfast business. "There is a collective of village people that goes way beyond us. We have a lot of friends and allies in this town."
This article is from the October/November 2019 issue of Douglas.