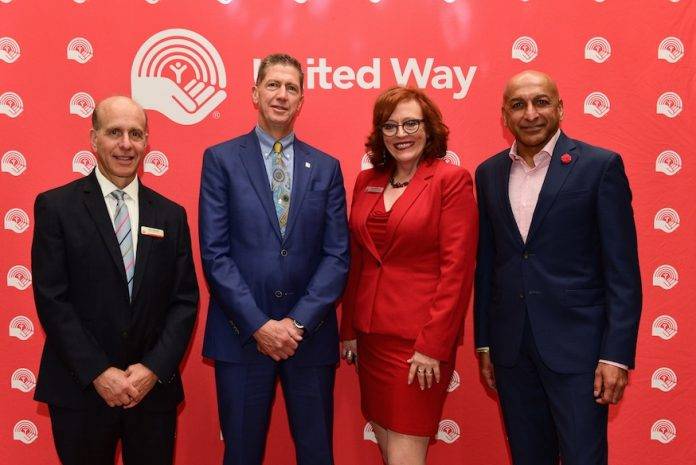 United Way's annual Spirit Awards on April 24 recognized the generous workplaces, organizations and individual donors who call Greater Victoria area home. Employees welcomed United Way into their offices — they volunteered, took part in special events, spoke about the impact the organization is making, and led by example with their philanthropy. In 2018, more than 200 workplaces ran United Way fundraising campaigns to help out a fellow neighbour, friend, colleague or family member.
Al Hasham, President & CEO of Maximum Express Courier and Max Furniture, led the 2018 campaign and continues on in 2019. United Way is grateful for his leadership and volunteer service.
Altogether 13 United Way Spirit Awards were presented. The most prestigious award, the Chair's Award of Distinction, was given to Mark Lovick, RBC Royal Bank Regional VP for South Vancouver Island. The award showcases an individual for extraordinary commitment to United Way's community campaign through the workplace and individual giving.
Seaspan-Victoria Shipyards became an inductee into the Thanks a Million Club. This was achieved by exceeding one million dollars in cumulative giving since first starting its workplace campaign.
"This was my first campaign as CEO, and what inspired me most was seeing how many people stepped up and showed their local love through contributions to United Way. I'm elated by the philanthropic support from all sectors – financial, educational, health, private sector, government, and labour," says Mark Breslauer, CEO at United Way. "Everyone's generosity will make a huge difference in the lives of those less fortunate. We are delivering tangible improvements, inspiring hope and changing lives every day."
UNITED WAY SPIRIT AWARD WINNERS
Outstanding Employee Campaign Chair (organization over 100 employees)
Seaspan – Victoria Shipyards – Stephen Crowe
Outstanding Employee Campaign Chair (organization under 100 employees)
BC Oil & Gas Commission – Andrew Spence
Outstanding Campaign Committee Spirit Award
Royal Roads University – CUPE 3886, RRUFA
Leadership Giving Spirit Award
City of Colwood – CUPE 374
Community Impact Spirit Award
RBC Royal Bank
Community Partner Spirit Award
Burnside Gorge Community Association
Labour Partnership Spirit Award
Viking Air – Unifor 114
Post-Secondary Challenge Cup
University of Victoria – CUPE 4163, CUPE 917, CUPE 951, PEA, UVic FA, USW 2009
Financial Challenge Cup
BMO Bank of Montreal
Municipal Challenge Cup
District of Sooke – CUPE 374, IAFF 4841
Outstanding Workplace Spirit Award
Camosun College – BCGEU 701, CCFA, CUPE 2081
Thanks A Million
Seaspan – Victoria Shipyards
Chair's Award of Distinction
Mark Lovick, RBC Regional Vice President for South Vancouver Island
Follow United Way on Twitter: @uwgv
-30-
*United Way is hosting an Overdose Prevention Expo on May 8, 2019, 11 am to 2 pm at The Bay Centre to highlight programs and resources available to help people struggling with mental health and addictions. For more information, please visit: https://uwgv.ca/overdose-prevention-project/