Sean Elliott is the founder of TapBike Solutions, a Bluetooth app-based bike share technology found in tourist hubs, community groups and developments around Victoria. As well as running and growing this startup, Elliott continues to work as a senior engineering technologist for the District of Saanich.
How does he manage it all? In a nutshell, he's non-stop with a workweek that "seems like a typhoon" and weekends that feel like "mild wild storms" in comparison.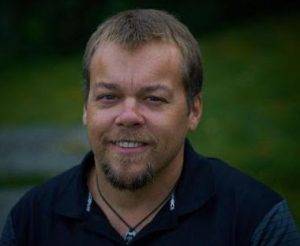 That being said, even as an entrepreneur with a jam-packed workweek, Elliott recognizes the importance of taking breaks to the success of his business, as well as his health. His goal is to find time for one quick escape from work for a breather each day, be that a bike ride, an after-dinner walk or playing ball with his kids.
This is what a typical day would look like for Elliott during a workweek.
6:30 a.m.
Despite being a self-professed night owl, Elliott's workdays begin at 6:30 a.m. with coffee, breakfast (his favourite being Greek yogurt with strawberries and granola), and checking emails and social media.
"As a self-financed entrepreneur, I have a full-time job that fuels TapBike, also a full-time venture. On my days where I can commit all day to TapBike, I often have meetings set up so I'll check my calendar over coffee as well to prepare for the day."
7:00 a.m. to 12 p.m.
On days when Elliott isn't at his day job and is able to commit fully to TapBike, and after he checks emails, his calendar and social media, he spends time responding to time sensitive inquiries, preparing for meetings and prospecting clients. The morning is when he prefers to schedule his meetings and calls.
"I try to schedule my meeting calls between 9 a.m. and noon so that they are not scattered throughout the day, but of course this depends on the schedule of the attendees. Lately, I have had a lot of interest from the east coast of Canada and the USA, so the meetings have been scheduled earlier to accommodate the east coast time zone."
Elliott adds that all the holiday time he's earned over his years spent at his job with the District of Saanich help support his work on TapBike, meaning he can strategically schedule time off to accommodate meetings and program setups.
Lunchtime
As well as fitting in a bite to eat, lunchtime is the point in the day when Elliott would start to work on his business' operational tasks like picking up essential supplies or checking on TapBike bikes. If it's a day where he's at his day job, lunchtime is often an opportunity for a quick meeting or call.
1 p.m. to 6 p.m.
Elliott tends to stick to administrative tasks and meetings in the morning, leaving plenty of time for him to perform operational tasks in the afternoon. Typically, an afternoon dedicated entirely to TapBike might involve picking up, ordering or delivering supplies, and visiting the various TapBike hubs around town.
6 p.m. to 11 p.m.
As soon as he returns home from this, he takes a break from TapBike to focus on his kids and partner over dinner and games or a movie.
"I co-parent amazing 11-year-old twins, so when I have them and return home, my priority is first to feed them (because nobody wants "hangry" children) and second, to have some quality family time after dinner. On the evenings where I don't have my kids, I still usually manage some downtime after dinner, by playing a game of crib with my also amazing partner in life and business, TJ."
Winding down might also involve some kind of physical activity for Elliott: during the spring and summer months, Elliott will attend dragon boat practice during the week.
"In my previous life, I would be found mountain biking [in the evenings] but it has been difficult over past year with TapBike going full speed ahead. It is ironic that bike riding is such a passion of mine, but it is the one thing that I have sacrificed during TapBike's startup!"
Depending on how busy things are, the evenings might also involve work for TapBike.
11 p.m.
If Elliott isn't working on a new program or app release rollout, this is a typical bedtime for him. "I have tried time and time again to go to bed at a descent hour, just to wake up at 2 a.m. with "squirrelly brain." I have found my sweet spot for bedtime to be 11 p.m., but it is not unusual for bedtime to be 1 a.m. or later."
11 p.m. to 6:30 a.m.
Sleeping, before another busy day begins.
For more information on TapBike, visit tapbike.com.