"Nothing worth having comes easy." That message is embossed on the boardroom wall in the The Wilson's Group headquarters on Glanford Avenue in Saanich. It now appears prophetic.
In recent months, this family-owned group, the biggest name in bus transportation on Vancouver Island, with deep roots in the community and a long history of philanthropy, has been hit by both tragedy and trauma. First a fatal bus crash, then the continuing COVID-19 pandemic, which forced the Wilsons to suspend most of their business and lay off staff, then to watch as revenues dried up and future plans became murky.
"Obviously we've got a little bit of a hiccup here; a major, major stumbling block," says CEO John Wilson.
It's now May 20 and our third interview in nine months — this time by telephone — and I'm making yet another attempt to write a company profile on the Wilson's Group that has repeatedly been delayed by the changing business climate.
"Victoria is pretty much stagnant," Wilson says.
The Wilson's Group still has a couple of industrial contracts up-Island, one serving a fish plant in Port Alberni and the other a mine in Campbell River, as well as occasional charters for Canadian Blood Services, but all other operations have been suspended. The tour buses, the charters, the airport shuttle and the BC Ferries connectors are all out of service.
But, on this day, there are positive signs. COVID-19 infections are dropping in B.C. while hundreds of people have recovered. We've flattened the curve, as health officials put it. Some businesses in Victoria have reopened; others are making plans to do so. There are more people downtown and more cars on the road. You can even buy a coffee, and get a haircut. But those health officials, such as B.C.'s provincial health officer Dr. Bonnie Henry, are issuing daily warnings about a possible second wave of infection. Everything can, as we've learned this year, change overnight.
"It's a storm that we're going through," Wilson says. "One of my favourite quotes is, 'You know, we're all in the same storm. We're just in different sized boats.'"
Certainly, few industries have been rocked as hard as tourism and ground transportation. As we speak, 95 per cent of Wilson's staff have been laid off. Revenues are down a staggering 98 per cent.
"It affected us early, hard, and we'll be one of the last ones to recover."
Into the Unknown
It's a very different world from the one last August when we had our first interview. Then the future appeared as bright as the Island skies and as expansive as the Strait of Georgia.
On that summer day, the CEO; his daughter, brand manager Samantha Wilson, and his son, operations and fleet maintenance manager Andrew Wilson, had assembled in the boardroom. On the walls were framed photos and newspaper articles, plaques and memorabilia, celebrating four decades of achievements by the family-owned companies, their executives and employees.
The Wilsons spoke of their love of Victoria, their desire to expand business, their knowledge of the market and their long list of charitable efforts. They reminded me of their motto: The fun is in the getting there. Their eyes were firmly on the future and there were plans to celebrate the family- owned company's 40th anniversary in February 2020.
Over the past few years, the Wilsons had taken on more routes and launched new enterprises. "We're definitely not an easy industry for sure," John Wilson said in that August interview.
There have been undeniable challenges, given the competitive nature of the industry and the changing marketplace.
But on that day, none of the Wilsons could have foreseen how subsequent events would shape their future and pose new and far greater challenges.
On a Friday evening in September, just weeks after our initial interview, The Wilson's Group experienced its first fatal crash. A Wilson's bus, chartered to carry 45 University of Victoria biology students and two teaching assistants to the Bamfield Marine Sciences Centre, skidded off a logging road and down an embankment, before coming to rest against some trees. Two students, Emma Machado of Winnipeg, and John Geerdes,
of Iowa City, Iowa, both 18, died from their injuries.
Now, fast forward more than six months later to early March: The CEO is in a somber and reflective mood as he once again greets me in the boardroom on Glanford Avenue for our second interview. We're in the early stages of the downturn in business and tourism resulting from the COVID-19 outbreak. It will soon get much worse. But now, just days before the World Health Organization declares a COVID-19 pandemic, John Wilson is still hopeful his companies can weather that storm. The September tragedy, however, looms large.
"It's a sad, dark place to be in, not just from the family perspective, but from our working team here as well," he says. The crash is still under investigation, so he can't talk about the specifics. "We've been going on that road for 30-plus years, and we've never dealt with such a thing … It definitely was, and still is, top of mind. There isn't a day that goes by that it isn't on my mind. And we just try to move forward in a positive direction, both as a family, as a company and within the community."
In December, an RCMP technical report said speed was not a factor. It noted a Jeep was approaching the bus on the gravel road, and the Jeep's lights were probably shining in the bus driver's eyes. The report was submitted to Transport Canada and the BC Coroners Service.
On the night of the crash, the CEO got a call from the manager of North Island operations, his nephew, Travis Wilson. Then he phoned his vice-president and both started making calls to find out what they could do. They dispatched a team to the hospital in Port Alberni to be with the passengers. In the morning, they sent buses to Port Alberni and the Cowichan Valley to pick them up and bring them back to Victoria. Then Wilson and members of his team went to UVic to meet the passengers when they returned. The university had counsellors there.
"The most difficult thing I had to do, for sure," Wilson says.
The Bamfield road is narrow, with many twists and turns, humps and hollows, as well as loose gravel. It's often shared with logging trucks. Ordinarily, Wilson says, the company would not have had buses traveling to Bamfield at night: "We'd always been firm about travelling in the daylight. Only, unfortunately, incidents happened on that fateful day that required going in at night." With some students running late, the group needed a later departure time.
The Bamfield bus route is an important part of Wilson's business. At the time of the crash, the company still had 10 or 12 bookings there. It kept those commitments, with a guide vehicle serving as a pilot. Then, as the investigation continued, the company suspended the direct bus service, but offered passengers transportation to the ferry from Port Alberni to Bamfield.
"We got a lot of calls, letters, emails from supportive people," says Wilson. "And I think the biggest role of support is just continuing to utilize our services."
Again, it's early March, the worst of the pandemic is yet to come and business continues to be strong. The Wilsons hope their deep roots, public support and record of community involvement will help them pull through these difficult times.
The Local Connection
During our August 2019 interview, brand manager Samantha Wilson said the fact Wilson's is locally based gives it an advantage over a big company like Greyhound.
"The routes we took over from Greyhound are all here in B.C., and because we are so close to them, we are able to make changes quicker than having our head office be in a different country, different time zones."
No one was sure if the new routes would be profitable. "I'll let you know," John Wilson says with a laugh during last summer's meeting.
"Right now, no. We've had to make a lot of changes. We are improving equipment, bringing in our policies around drivers and uniforms, adjusting schedules to where we think they are viable."
How can Wilson's succeed where a corporate giant failed?
John Wilson's reply? "It's a lot of sweat equity and a lot of hard work that gets put in by a lot of different people that gets us to where we are today.
"Our diversity is the biggest part of our ability to adjust to the winds of our industry and the economic change in tourism," says Wilson.
"We're involved in many aspects of ground transportation: scheduled services, a charter business, sightseeing, a rental van fleet, school buses. We have double-deckers. We have pretty much everything you can think of in ground transportation. Most companies focus on one of those areas, not all of those areas."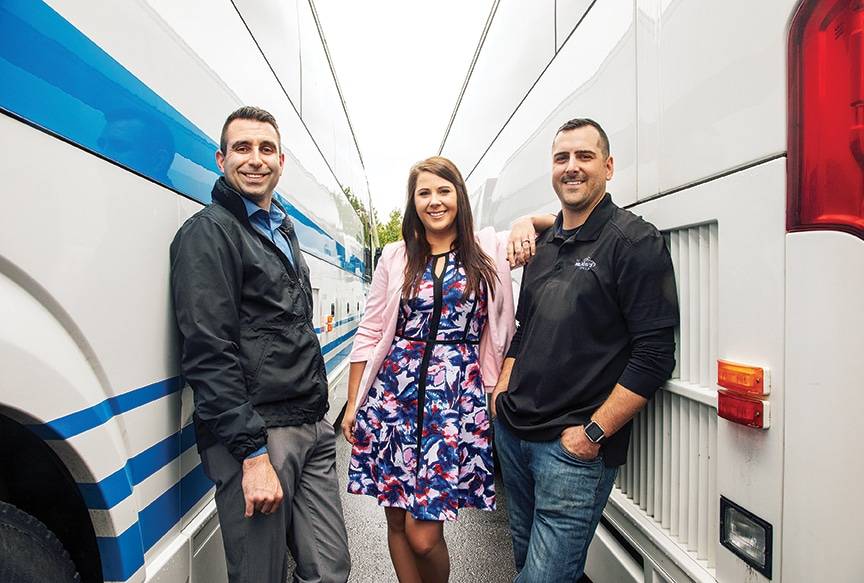 The Wilson's Group also operates its own maintenance shops in Saanich, Nanaimo and Vancouver, as well as its own bus stations (some depots closed last year) and reservations centre. It carries some freight on its BC Ferries Connector and the Vancouver Island Connector. All this infrastructure, Wilson says, "makes us both nimble and able to change."
His son Andrew, a licensed mechanic, oversees maintenance for Wilson's fleet and other carriers that come to the Island and use Wilson's services: "It allows us to have a lot of close relationships with other bus companies across the province, across the country, all
the way down to California," Andrew Wilson says. "Once they get off the boat and get onto Vancouver Island, if something happens to their vehicle, then they are stuck, so being here and having a lot of experience in the business, we are their first call."
An Enviable Reputation
It all adds up to a solid business model for a company that has an "enviable" reputation, says professor Brock Smith, a specialist in entrepreneurship and marketing at the University of Victoria. Last August, he had rated Wilson's chances of succeeding on its new routes as "very high."
In March, after the tragic crash and the start of the COVID-19 outbreak, Smith still held that view, although he added Wilson's ability to withstand a downturn in tourism may depend on how heavily leveraged it is after acquiring its new businesses.
Smith says Greyhound struggled, "because its original business model was developed
to serve long-haul transportation needs cost effectively." But much of that long-haul business shifted to air travel.
Wilson's, meanwhile, has taken over shorter routes, with more passengers, lower costs per passenger and smaller, less luxurious buses.
"If the customer is only sitting in that seat for one or two hours, or maybe three or four, that's very different than sitting in that seat for 60 hours," Smith says.
Invested in Community
Smith also praises Wilson's efforts to invest in the community through sports and charitable works: "Not just as part of their identity, but as a business strategy as well. In academic-speak, that is what we call building social capital, right? Basically endearing yourself to the various stakeholder communities."
The Wilson's Group website lists nearly half a page of sports teams, activities and events that it supports, sponsors or co-owns, everything from hockey, baseball, lacrosse, rugby and basketball, to racquet sports and stock car racing. The company provides ground transportation for many of those teams.
So is this a business proposition – or a way of supporting the community? Both, says John Wilson: "It is a community give-back. You wake up in the morning, hoping to break even."
Wilson says the company first got involved in sports in a big way during the 1994 Commonwealth Games. It's since had a role in many high-profile events and activities, such as the Vancouver Canucks training camp and the World Junior Hockey Championship.
Then there's the charitable work, ranging from the Mustard Seed Food Bank to Pacific Opera Victoria. The Wilsons are big donors to the Our Place Society Therapeutic Recovery Centre, which offers rehabilitation programs for those recovering from addiction and hoping to re-enter society.
John Wilson, who this January became chair of the Greater Victoria Chamber of Commerce, says he can't estimate the amount of time he and his family spend volunteering, but says the donations provided by all the companies in the Wilson's Group are probably close to half a million dollars a year.
Then there's the commitment to the environment. "Buses are great products as they are," says Wilson. "You are taking numerous cars off the road." Just days after we spoke last August, the company launched its first fully electric vehicle, the Camosun Express, a free shuttle for Camosun students and staff.
It doesn't stop with buses. In 2018, the company announced plans to launch a fleet of electric boats that will operate in the Inner Harbour, going hand-in-hand with the company's Gray Line Sightseeing Victoria product.
And that's where the Wilsons were last summer as they looked forward to their 40th anniversary of incorporation: packaging and refining their services after a period of rapid expansion.
"It's time to take a breath and do what we do, which is tweak them and make them successful operationally," John Wilson says as we wrap up that first interview.
And how would he and his family like the public to think of the Wilson brand? Everyone pauses for a moment before the CEO says, "Safe, reliable and community minded."
The Pandemic
Six months later, in early March, after the fatal crash and the COVID-19 outbreak, Wilson says, "I still stand by those words. I still feel very much we are a safe operator."
He's still surrounded by the plaques and clippings and awards, and the reminders about the value of family, community, charity and hard work.
But just a few days later, with the COVID-19 drama unfolding, with dire warnings from governments at all levels, with tourism drying up, and much business across the country shutting down, the Wilson's Group posted a notice on its website, informing the public it had decided to suspend all operations of its Vancouver Island Connector, Tofino Bus, Mount Washington Ski Bus, BC Connector, CVS Tours, and Sightseeing Victoria Hop-On Hop- off bus until further notice. It reduced the BC Ferries Connector to two departures a day.
Later that week, the Wilson's Group announced it would suspend all BC Ferries Connector buses through April 30. Its message to the public: "We apologize for any inconvenience this change in service may cause and thank you for your understanding as we work through this together."
That of course, was just the start. On May 5, the Times Colonist published John Wilson's commentary on the impact of the pandemic, during what was to be a year of celebrations marking the 40th anniversary: "Never did I think this is how we would be spending it when late last year we began making celebration plans for this significant milestone for our company and our family. Like many others, rather than celebrating, we are just trying to survive."
On May 8, the company posted yet another notice online, saying it had made the difficult decision to extend the suspension of all its scheduled services. Twelve days later, when we spoke again, John Wilson said he hoped the BC Ferries Connector and some other services could resume with a reduced schedule in early June, but the YYJ Airport Shuttle, the Vancouver Island Connector and the Tofino Bus remain suspended indefinitely.
And yet, for all of this, Wilson is still trying to look ahead and strike a positive note.
"It's upsetting, but we've got to look at what we have to work with. We're doing the best we can with the skeleton crew here, a lot of family, and again, we'll scratch and claw and do the best we can. We'll get knocked down, but we'll keep moving forward."
Holding Out Hope
The Wilsons are hoping to reschedule the 40th anniversary celebrations for next year. They've also postponed the launch of the tour boats until 2021.
Meanwhile, The Wilson's Group is part of a national consortium of bus companies trying
to negotiate some federal funding to help them break even on inter-city transportation. It's a work-in-progress. There's a vast array of federal programs out there, and Wilson hopes his firm qualifies for some of them. Right now it's not clear where it may fit.
As for the travelling public, "We feel there is still optimism and pent-up demand that will take precedence in 2021, and we're hoping we can be here to reap the benefits of it to serve Greater Victoria, Vancouver Island, as we've done for many years in the past."
The world, of course, has changed. It's a formidable challenge for any business, particularly one that depends so heavily on tourism. The coming months will show just how far all that hard work and commitment, community support and loyal customer base will carry The Wilson's Group and its fleet of buses.
Then again, as they say at Wilson's headquarters, nothing worth having comes easy.
Continue reading: Indigenous Tourism Gets Creative After Pandemic