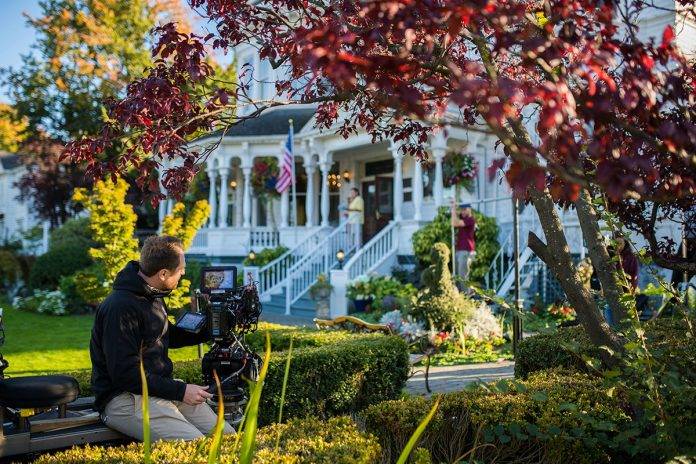 The clifftop villa with the million-dollar view has likely never seen the likes of this. The shooting of a German TV movie about a Mary Poppins-like nanny trying to work her magic on the sullen teenage daughter of a wealthy Canadian family is underway in the Central Saanich mansion, and every inch of it is alive with a film crew on the move.
Lunch break is almost over, and only a handful of the 50 people working on the film are lingering in the makeshift cafeteria set up in the enormous garage. People rush past carrying ladders, clipboards, rolls of plastic. There are cameras everywhere. Two purposeful-looking women pass by draped in heavy-looking shoulder bags packed with makeup, spray bottles, hairbrushes, tiny sponges; I'll later learn every actor has their own bag (numbered for ease of reference).
A distinguished-looking fellow making his way along the upstairs hallway stops to be introduced. "He's very famous in Germany," whispers my host Andrew Williamson, whose company Cedar Island Films is producing the movie, which will eventually air to eight million German TV viewers who are big fans of The Nanny movies.
"Quiet on the set!" someone calls out, and the organized chaos pauses in place. "Did you turn your cellphone off?" Williamson asks in a quiet but urgent way. "Because that's one mistake I wouldn't want you to make on your first visit to a film set. It can be unpleasant."
I'm here to get a feel for the region's film industry, which was born in the late 20s to early 30s when filmmakers wanting to air their work in England began travelling to "the colonies" to meet a content quota. Britain required at least 10 per cent of its screened films to be shot either in-country or somewhere in the Commonwealth. The seeds for the Greater Victoria film industry were sown.
A Unique Local Scene
Eight or so decades and many stops, starts and heady periods of stardom later, the local industry feels both vibrant and a little bit stuck, still waiting for its big breakthrough.
Film shoots like The Nanny: Mission Canada put a smile on everyone's face, both for the millions of dollars that a TV movie like this drops into the local economy and for the priceless exposure of the South Island's natural beauty to all those German viewers, some of whom are sure to want a closer look.
Movie shoots fill up local hotels; spend great amounts on supplies, services and food; and provide well-paid jobs for Greater Victoria's nascent film workers, who do everything from set-building and transport to a diverse array of creative arts.   
But the local industry accounts for just $20 million of the $3.2 billion spent annually on film productions in B.C. That $20 million expenditure hasn't changed much in two decades, a time during which the provincial spending doubled.
Boom years when everything looked to be on track have alternated with periods of gloom when nobody was working enough: the 2008 recession; the infamous 2007-08 writers' strike; a rough six-year period when a past provincial government excluded the region from a "distant location" tax credit.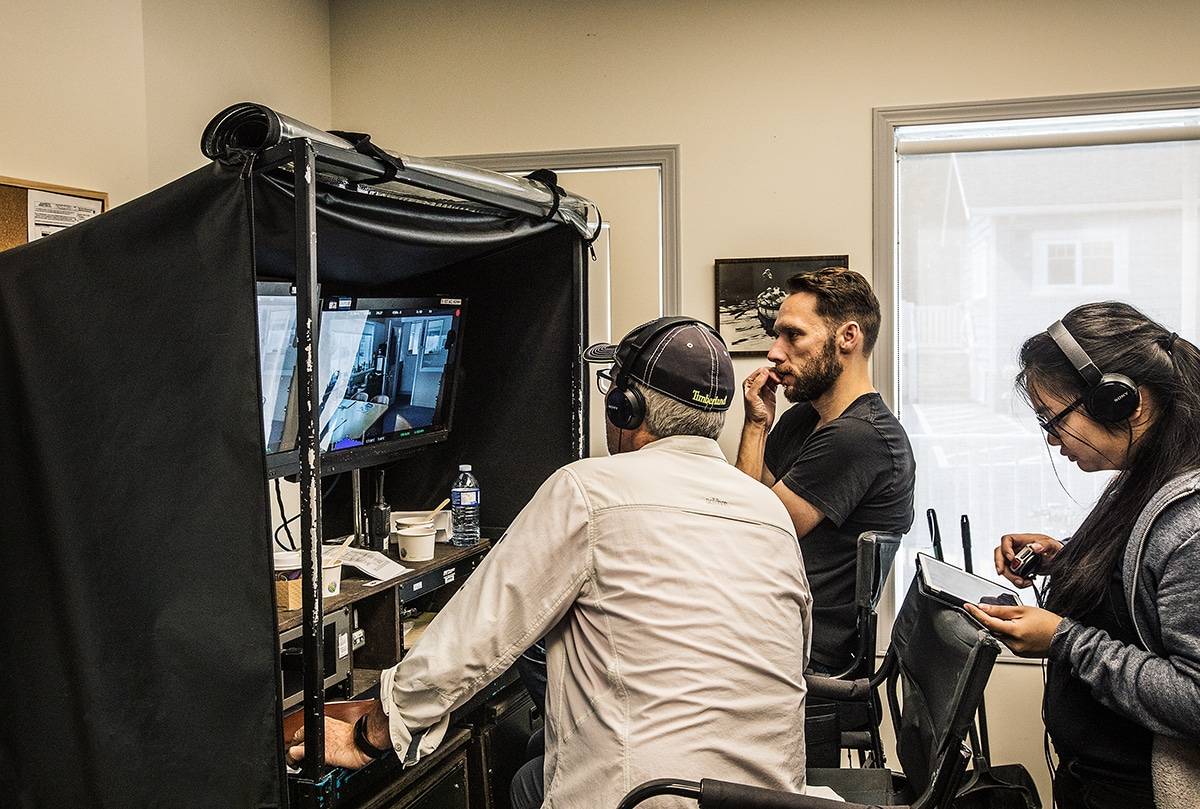 "It took until 2014 to turn that one around," recalls Kathleen Gilbert, film commissioner with the Vancouver Island South Film & Media Commission, which acts as a concierge for filmmakers seeking to get connected to crew, locations, materials and services.
Meanwhile, the Vancouver film industry just kept growing. The city now has 100-plus sound stages and studio/crew capacity for 50 shoots simultaneously. Victoria has sufficient crew for two and a half shoots at a time, and no studio. Vancouver sees more than 300 productions a year; Victoria saw 20 in 2018. In Vancouver, there are full-time jobs in the industry; in Victoria, the more typical experience is steady work for a few months and then a couple months of waiting for the next production, says Gilbert.
But there's still something special about the local scene, says independent filmmaker and UVic film professor Maureen Bradley.
"We are a community here and can call on each other for help," says Bradley. "Sure, Vancouver and Toronto are the places to go, but nobody can afford to live there. Victoria is happening, but we need a sustainable place for young people to live. A studio. A government that finds ways to mitigate the risks of film production. Tax credits, specifically for series. We need to show that we are where Vancouver was 25 years ago – equally beautiful and cheaper!"
The Film-Friendly Factor 
Building a successful film industry is a complex undertaking. Sure, the South Island is a stunning and versatile location, but the world is full of pretty places. The region's many independent filmmakers scratch by on the skinniest of margins as a matter of course, but even big-budget film productions prepared to spend $200 million are mindful of expenses.
So the first ingredient for a successful industry is film-friendly governments offering tax credits generous enough to compete with all the other film-friendly governments around the world also eager to lure filmmakers to their towns.
"The first thing now and always are the tax credits," notes Gilbert.
The B.C. government, for instance, offers a tax credit on certain labour costs incurred in the province, recently adding scriptwriting to that if the work is done in B.C. The "distant location" tax credit that Victoria was excluded from for more than six years was a lure aiming to draw filmmakers to other parts of B.C. and away from Vancouver, which is now so busy with film shoots that some in the industry worry about citizens losing patience with the street closures, the blocked-up parking and the disruption to their lives.
After tax credits, the next most important ingredient for a thriving industry is the number of skilled, experienced people a region has available for hire. Hiring locally can mean big savings, and avoids logistical nightmares like trying to find hotel rooms for an imported crew at a busy time of year in a tourist town, with two-weeks notice.
"You can fulfill positions in almost every department here," says Gilbert.
The fact that Vancouver is still the place to be if you want to work in film in B.C. makes it challenging to build up sufficient crews in Victoria, where there's not enough work. Not having enough crew members available locally can be the deciding factor in whether a filmmaker opts for Vancouver instead. Victoria has the talent, but now it needs enough steady work to keep people on the Island. "We need a series here, because that's what pays the bills," says Bradley.
Sufficient space for moviemaking is a whole other complex industry need. Film productions typically require massive amounts of warehouse space for equipment, costumes, set construction, workshops, offices and crews. (The big shoots in Vancouver employ upwards of 400 to 500 crew.) They require vast warehouses with four-storey-high ceilings and plenty of parking, and motivated investors prepared to own and manage buildings with a rotating cast of short-term tenants.
Those are challenging requests in the tight confines of Greater Victoria, where even finding empty land for building something big is a tough order to fill.
"Netflix just called us looking for 100,000 total square feet," says Gilbert. "When Victoria gets its studio, I would never build anything less than 18,000 square feet. We really need that."
The Studio Debate
Ah yes, the studio. Whether to build one or not has been a hot topic in the region for many years. "Build it and they will come!" proponents have exhorted. "Don't build it until they're coming!" others have warned. Governments have walked a carefully neutral path, wary of ending up with a taxpayer-built studio like the one in Regina, Saskatchewan that has never recovered from the loss of Corner Gas and an end to tax credits for the film industry in that province.
But these days, getting a studio built seems to be on everyone's mind. Saanich Mayor Fred Haynes campaigned in last year's municipal election on a promise to build two or three of them in the municipality.
Haynes's enthusiasm has now caught the attention of Camosun College, which met with him and an investors' group he brought to the table. They are now putting together a proposal that would see Camosun providing land at its Interurban campus in exchange for space for film-related trades training in a purpose-built production complex with two 20,000-square-foot studios.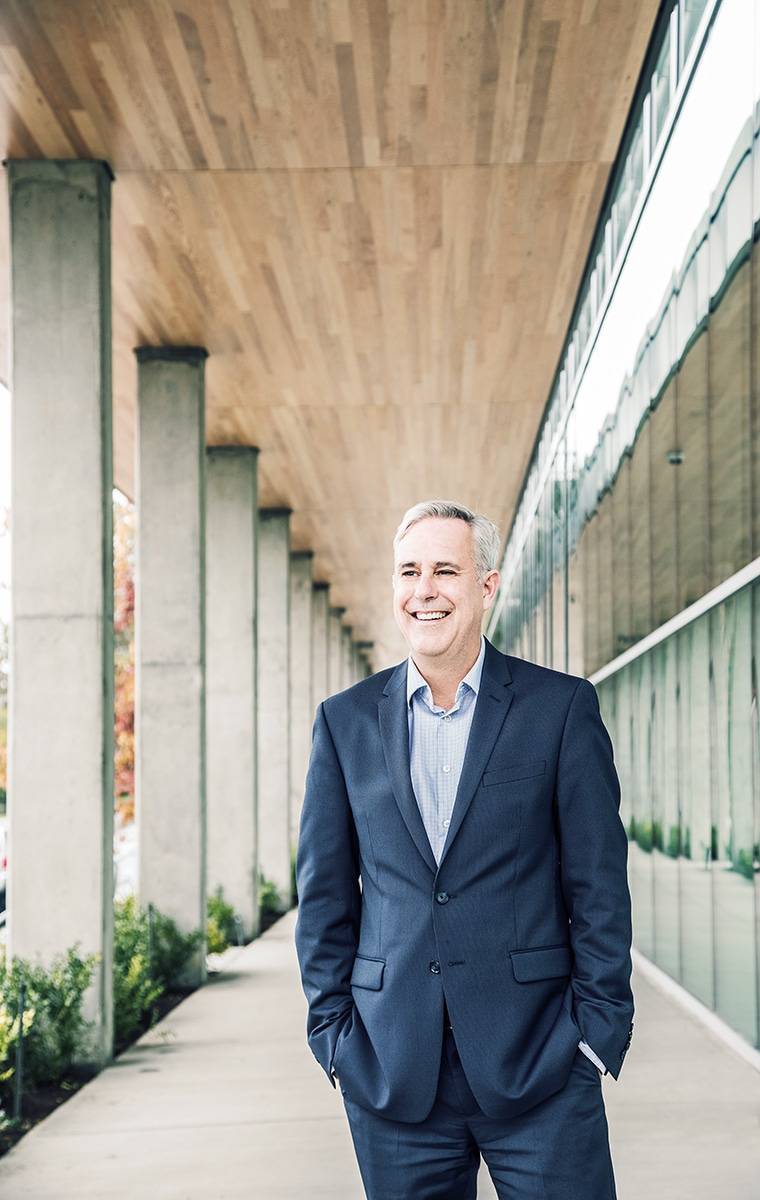 "Our interest is on the educational side," says Geoff Wilmshurst, Camosun's vice-president of partnerships. "Our focus will be on the trades and tech side, maybe in some specialties like costume design, hair and makeup, 3D animation. Our next step is to get the business plan to Camosun's board of governors, then to the Advanced Education Ministry."
It's way past time for a studio, asserts Haynes, who would like to see as many as five studios and accompanying production spaces opening around the region.
"Paramount, Netflix, Amazon — they've all come to myself and members of the film studio team, saying, 'Hey, we'll film here but we need a studio,'" says Haynes, whose brother Matthew works in the industry in Los Angeles. "We could be delivering to the coming generation of young people the opportunity for studio work, and a number of ancillary skills. I'm optimistic we could be breaking ground on a studio by 2020."
Recently losing out on two major series due to a lack of warehouse space has really "put the fire in people's bellies" this time around to get a studio built, says CineVic President Darlene Tait, a retired real estate developer who now works as an actor and filmmaker. TV movies typically don't require studios, but feature films and series do, as do those coveted series like Hallmark's Chesapeake Shores, which has just finished its second season in Parksville/Coombs using a customized warehouse space as a studio.
Be careful what you wish for, cautions Allen Lewis. He's the vice-president of production for Front Street Pictures, the largest such company in the region. Front Street produces six to 10 films a year in the region at $2.5 to $3 million apiece, most made-for-TV movies for Hallmark, most shot on location with no need for a studio.
A small studio could be a benefit, Lewis acknowledges. But wishing for a film scene like Vancouver is folly in a comparatively small town that would quickly grow weary of the disruptions a significantly expanded industry would bring, he adds. There's also the problem of crew shortages for smaller filmmakers when the big productions come to town and suck up all available resources.
"A lot of people think that if we build a studio, we'll get stars and sexy things coming to Victoria," says Lewis. "But you've got to look at it in economic terms, and remember that once you build a studio, now you're in the real-estate business. The draw of Victoria is location. Victoria stands alone because of its intrinsic beauty. Even in the slow years, we stayed working here."
Building an Industry
Gilbert feels confident a studio is coming soon. In fact, she pegged her retirement on it, telling local media in 2015 that she wouldn't retire until Victoria had its film studio.
"You don't want people thinking it's never going to happen," she says, noting a number of false starts over the years that failed because they were poorly thought through or announced to the public before any money was secured. This time is different, she adds.
"Right now, there are at least four organizations doing business plans for a studio," says Gilbert. "Camosun is the only one who has come out publicly, but the Malahat and Tsartlip bands are also talking about studios on their lands. It's definitely piquing the interest of the big companies in Vancouver."
She dreams of a day when 20 big feature films are being produced every year in the region, with numerous TV movies and series providing the "bread and butter" that keeps people working. Bradley says the feature film might be Pup Star and the series might be Pup Academy, but a major production of any kind is still a terrific learning experience that helps local auteurs develop the skills they need to make their own films.
"Elsewhere, everyone's working on big American films and generating enough money to be able to seed their own narrative film. As a teacher, it's so cool to see my students going on to do that," says Bradley. "Sure, it might be Pup Star everyone's working on, but it pays the bills. That's what will build this industry."
This article is from the December/January 2020 issue of Douglas.