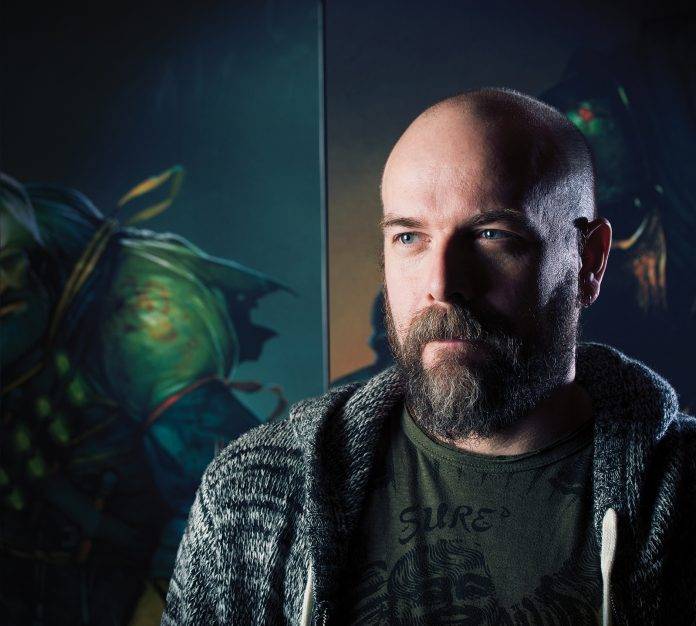 There's only one thing more surreal than the technology itself, and that's the dizzying pace of change and innovation in the world of virtual reality. Cloudhead Games started as a basement shop of three game designers in Qualicum Beach in 2012 and has since grown to 14 employees, attracting a talented team of digital creatives while quickly gaining international recognition for the development of a pioneering virtual reality (VR) game. And it's all happening in quaint Coombs, known more as place where goats graze on the roof of the market and people shop for imported gifts and kitsch than as a hotbed of VR innovation. 
"Technology is changing so fast. It's incredibly rewarding but also incredibly frustrating," says Denny Unger, founder, CEO and creative director of Cloudhead Games.
In other words, when Unger and his team of designers encounter problems, there are no quick Google-search fixes; VR technology is still largely uncharted territory and is the new frontier of the digital gaming world.
To Boldly Go
Cloudhead's flagship built-for-VR game is The Gallery, a four-part episodic fantasy-exploration game based on what Unger calls "1980s-era fantasy movies." The first episode, Call of the Starseed, is receiving rave reviews. Its promo touts "a missing sister, an ancient machine and a sinister presence." It invites users to "reach out and touch a forgotten world filled with bizarre characters and wonder." Unger hopes The Gallery will raise the bar of the VR gaming experience with its focus on interactivity and user locomotion.
In a reference to Star Trek: The Next Generation's fictional VR unit, Unger likens Cloudhead's technology to a "first generation Holodeck," a high-tech experience that allows users to walk through walls one moment and inhabit other planets the next.
"The Gallery was our initial starting point in late 2012, but over the course of development we have amassed a number of R&D tools and skills which cemented us as innovators in the VR space," says Unger, while taking a break from a busy schedule.
"Since then we've consulted with 20th Century Fox, Legendary Pictures, Valve and others to further branch our potential reach into the entertainment market. We are pursuing parallel projects in other areas and responsibly expanding the team to meet those demands."
Cloudhead Games has attracted the attention of VR heavyweights and at the time of this interview was in negotiations with HTC and Oculus, two major competitors in the VR platform arena. But it hasn't come without a lot of long days and short nights. Before launching Cloudhead Games, Unger was already well established in the gaming industry as owner of the small but successful firm WorldWorksGames, which he launched in 2002. He still owns the company, but as his new venture takes off, it's a juggling act that's becoming more difficult to sustain.
"I'm looking for a buyer," he says.
Entering the Elite Realm
Cloudhead got its start with roughly $82,000 in crowd-sourced funds, followed by a round of family and friends funding, to the tune of $185,000. After establishing itself as an upstart in VR technology, Cloudhead applied to the Venture Acceleration Program, an initiative of the BC Innovation Council that helps tech companies get investment ready and is offered through regional partners like Nanaimo-based Innovation Island. This program in turn enabled the company to tap $1.1 million in private investment capital (Unger says once an investor understands the groundbreaking technology, it is very attractive,) leading to further expansion for the Coombs tech upstart.
"Cloudhead is in an elite category in VR game development," says Graham Truax, executive in residence and business adviser with Innovation Island. He has worked with Cloudhead since the company entered the Venture Acceleration Program in October 2013.
Over the past two years, Innovation Island has helped 17 companies, including Cloudhead Games, secure a total of $1.5 million in private investment capital, $400,000 in government grants, $1 million in new revenue and 35 partnership agreements.
Truax says innovators like Cloudhead can use what he calls "Canadian characteristics," such as doing more with less and being more humble than many of its U.S.-based counterparts, as a market advantage and opportunity.
It also helps that Cloudhead is on the cutting edge of a gaming platform that is set to take off.
"Cloudhead is one of the few indie game developers that was started in the past few years to focus 100 per cent on VR," says Cumberland-based Nygil Goggins, a VP with GEX Capital, a boutique venture-capital firm focused on early-stage tech companies.
"Given that VR really is a new entertainment medium in its infancy," he adds, "Cloudhead is a pioneering group working to solve problems and create better VR experiences for players. I think they'll be well situated as a first mover with limited competition." 
Small Town, Fast Lane
Though Coombs seems an unlikely location for a VR gaming company, Unger believes the small-town Vancouver Island lifestyle has allowed him to attract experienced employees looking for a change from the city and a place to raise kids.
"Best-in-class, world-changing technology can be built anywhere," says Innovation Island's Truax.
"When our staff needs to step out of the office, they're not in the middle of a big city," Unger says. "They're in a place that's beautiful."
That is, if they have time to step out of the design studio for a break; these days it's game on for Cloudhead Games.