Gayle Robinson is a runner, and when a woman left her store this past summer with a $700 jacket, Robinson gave chase. Co-owner of Robinson's Outdoor Store, she ran seven blocks, keeping distance between herself and the thief in case the woman became aggressive.
No one tried to stop the woman but a person on Douglas Street called the police. "I kept telling her to drop it," Robinson recalls of the incident, admittedly rare in her 15 years running Robinson's. "She finally did." When police caught up with Robinson, they told her not to do that again because of the potential danger. The woman was likely in debt and didn't care what happened to her or Robinson.
Crimes committed by homeless addicts and the lack of long-term, corrective treatment are old news to Jeff Bray, the Downtown Victoria Business Association (DVBA)'s executive director. "When someone needs to commit a crime every four hours to feed their addiction, having a home won't solve it," says Bray, also co-chair of the Coalition to End Homelessness. "More of the same isn't good enough."
As crime climbs and enforcement fails to keep pace, people are beginning to believe they may not be safe in downtown Victoria, putting unique local shops and distinctive boutiques at financial risk. With holiday shopping underway, there is risk they'll head to the malls or locales like Sidney or Langford, Bray says.
Kathy Whitcher agrees with Bray. She's executive director for the Urban Development Institute (UDI), Capital Region, an 850-member B.C. association for the development industry.
"The elephant in the room is, we have to talk about the mental health crisis," Whitcher says. In October, she started working from home after a man smashed windows and threatened several people in a building across the street. "It's bad. Businesses were initially empathetic. Now they're done, fed up," she says. "But it really boils down to the fact that office workers haven't come back to the downtown. The people on the street are the people living on the street. Tourists are non-existent."
Falling Foot Traffic
According to Bray, at least 65 per cent of former office employees are needed to keep food,
beverage and gift shops open. The DVBA contacted the provincial government in September, asking it to send workers back. But the government has been slow to act, opting for a staggered, part-time return, which began in mid-October with employees asked to work at least one day in the office. Bray expects it will take time before numbers rise significantly and consistently. "But I do know for property owners who have private sector employees, their numbers have been higher for some months," he says.
When a typical downtown retail business closes, about five employees lose their jobs, Bray says. If unemployed, their EI won't cover the cost of rent in Victoria. Many of those people need their jobs. They're students, new Canadians and those re- entering the workforce.
Politicians need to understand there could be hundreds of people close to homelessness if small services fail, Bray says. The other worrisome aspect is that business owners pay 48 per cent of all property taxes for the city of Victoria.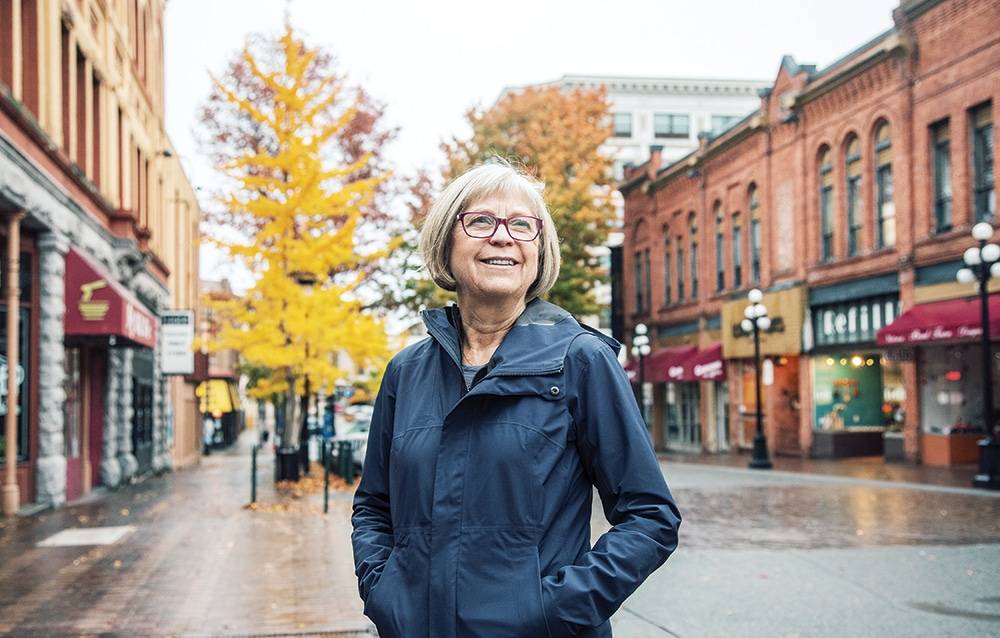 While it's difficult to determine whether an exodus is brewing, Whitcher has heard from property brokers whose clients are opting to build or live in outer municipalities, rather than downtown. UDI members (none of whom wanted to be interviewed for this article), with projects in downtown Victoria, are seeing pre-sales suffer. "People are not wanting to live downtown anymore," Whitcher says. If developers can't sell units, they'll build where they can, in places like Saanich or Esquimalt.
Victoria Mayor Lisa Helps agrees that "very unhealthy people are being left on the street." But she stresses that it's not a Victoria-only problem. She cited Vancouver, Kelowna, Prince George, Kamloops and Abbotsford as some other cities dealing with a rampant homeless problem. At the September Union of BC Municipalities annual gathering, it wasn't transit, infrastructure or housing that dominated demands for funding. "We've fixated far too long on housing," Helps says.
"Our number one ask is for mental health and addictions treatment."
In October, mayors of B.C.'s 13 largest cities called for immediate help, laying groundwork for the BC Urban Mayors' Caucus to have an ongoing relationship with the new provincial government. The strategy is following Ontario's lead — big city mayors will hold regular tête-à- têtes with Premier Doug Ford, Helps said.
The same month, the City of Victoria confirmed that businesses have been impacted by sheltering within the DVBA boundary, despite measures to decentralize encampments.
Space for Lease
Helps is also cognizant of growing street-level business vacancies and how winter, with the lack of tourists and few office workers, may snowball the problem. But Helps remains sanguine, counting on a return of visitors and investment. "We are very well-positioned over the next few months to tell the world we are safe," she says.
While Tyler Dolan, the Colliers managing director for the Island and the Okanagan, expects the remainder of 2020 to be stable, he notes that construction in downtown Victoria has not been gangbusters.
In the third quarter of 2020 there were no new projects under construction, says Dolan. Office investment in Greater Victoria for the first nine months of 2020 dropped 35 per cent by total transaction volume compared to the same period in 2019.
And while office space rentals haven't been hit as hard, even with employees working from home, the bigger concern is retail space. The downtown vacancy rate also rose to 6.7 per cent compared to 6.1 per cent in Q2 2020. But major employers, like the provincial and federal governments and tech companies, have kept their spaces. "Right now the big thing is what's going to happen when stimulus falls from the government," Dolan says.
The return of office employees is crucial, he says, even if it's on a rotational basis. His prediction? "It's going to be back to the basics. The strongest will survive."
Road to Recovery
Internationally known, Richard Florida is a professor at the Rotman School of Management, and Distinguished Scholar-in-Residence at the School of Cities at the University of Toronto. He holds a PhD in urban planning from Columbia University. Via an email exchange, he reminds businesses that recovery from COVID-19 will be difficult.
"Resources are going to be scarce and budgets are going to be strained. That is exactly the time you need clear priorities. I am shocked, and I mean shocked, at the lack of attention communities across this country are paying toward the long run, economic recovery from the pandemic.
Throughout the entire process, our communities have been working from behind the eight ball, trying to mobilize medical capacity and locking down, then reopening in a haphazard way. And then, maybe, closing down again, never paying any mind to recovery," he wrote.
Florida advocates partnerships between all three levels of government to address the future of cities and communities. The test will be when cheaper urban space becomes available, as big stores, downtown malls and swanky condos empty. "Do you want to miss this opportunity to turn undervalued real estate assets into much-needed affordable housing or innovation or creative space? We missed the opportunity after the financial crisis of 2008 to do just this, and so we got more expensive housing," Florida wrote.
Helps touts the city's plan, Victoria 3.0–Recovery Reinvention Resilience–2020-2041, which, she says, lays out how Greater Victoria will reinvent itself in a low carbon way. The document has a strong focus on small business, calling for specific support of youth, newcomer and Indigenous businesses.
Redeveloping the conference centre, creating an arts and innovation district and ocean futures cluster, promoting Victoria's tech successes and rebranding Victoria are all elements of the document. "The 21st century is an opportunity for smaller cities to shine," Helps says.
Further Afield
Fifteen kilometres northwest in Langford – yet a world away – Mayor Stew Young says it's business as usual. "We say, do it safely. We have our economic development team go out and talk to businesses," Young says of how his city has supported entrepreneurs. "We want to amplify what we've got. We don't want businesses to fail. You don't see a lot of empty spaces in Langford. One moves out; another one moves in."
Young's mantra of being open for business — by avoiding high commercial taxes, creating a safe and affordable community for families and coming down hard on crime, like vandalism — has made Langford, population about 45,000, one of B.C.'s fastest growing communities. Municipal growth in 2020 was five per cent.
"Housing starts are as high as they've ever been in 20 years," Young says. A high-tech company, bringing 100 employees from Brampton, Ontario, is setting up shop, and
an 80,000-square-foot office tower is being built on a blasted hillside behind Costco. And Young's cheeky move to give free land to the drifting Maritime Museum got some downtown noses out of joint. "Langford's got everything now," he says. "We're our own self-contained economic zone."
While Langford may offer the predictable services found in most small cities, Victoria
has the cachet that comes with the offbeat and bohemian. In Fernwood, Luna Collective owner Eryn Beattie has come out of the COVID-19 tempest on higher ground. "I was able to adapt pretty quickly," Beattie says of her three-year- old shop that sells vintage and handmade goods. She closed Luna Collective in mid-March and laid off her two part-time staff.
But behind shuttered doors, Beattie pivoted to online sales, deliveries and customer pickups. Regular clients stepped up to buy. "I'm grateful that a lot of loyal customers rallied behind my business," she says. "There's a really special feeling about Fernwood.
"A lot of downtown businesses were doing similar things, but they had to paper up and board up their windows due to crime," she says. "I felt like I didn't have to do that. I haven't seen crime affect my business." A bonus is that her landlord lives above her street-level shop.
But for some businesses, online sales are a double-edged sword. A September Royal Bank of Canada survey reported that almost a third of Canadians are opting to buy online items they previously bought in stores. Making it more palatable is that delivery costs are falling, store pickup options have improved and so have online loyalty programs. Segments at risk, according to RBC, are department stores, smaller malls and high-density commercial properties, buttressing Florida's prediction.
Working solo to fulfil or deliver orders, Beattie was able to match her usual monthly sales while closed. When she reopened in mid- June, sales stayed consistent and summer was even better. "August and September were my best months ever, since opening," Beattie says of sales that were 85 per cent in-store and 15 per cent online.
The Long Game
Robinson closed shop in mid-March, reopening for the May long weekend, just as people were gearing up for the outdoors. By August the business had recovered revenue lost during its two-month closure. Success is attributable to Robinson's loyal customers who value the advice and service they get. "You can buy a backpack online, but no one will fit it for you. We fit it and tell you how to load it," Robinson says.
Accustomed to the long game, Robinson took over the store's reins in 2005, remodelling and revamping the store her grandfather George Robinson started in 1929. "He survived World War II and the Depression," she says. "We haven't had a major world crisis.
Now we're having one." Originally a store selling hunting and fishing equipment, George added bicycles, starting layaway plans so newspaper carriers could afford bikes during the Depression's hard times. Later he brought in baby carriages after seeing mothers struggle with babes in arms.
Despite COVID-19, in April, Robinson paid off the building even as the business's property taxes rose almost 20 per cent from the year before.
As more and more customers return to her store, Robinson believes she and other Victoria businesses will prevail. "Next year (2021) will be tough. But Victoria is a destination."
Florida offered his balm for the B.C. capital. "Victoria is a beautiful place. We almost did
a vacation there this summer, but then we decided not to take our two little kids on a plane," he wrote. His words of advice?
"Victoria can benefit immensely by the shift to remote work. It's close to Vancouver. It is a beautiful place that is connected to the world. Victoria needs a strategy for recovery based around remote work and remote talent. It can do as well as it wants to."
Continue Reading: