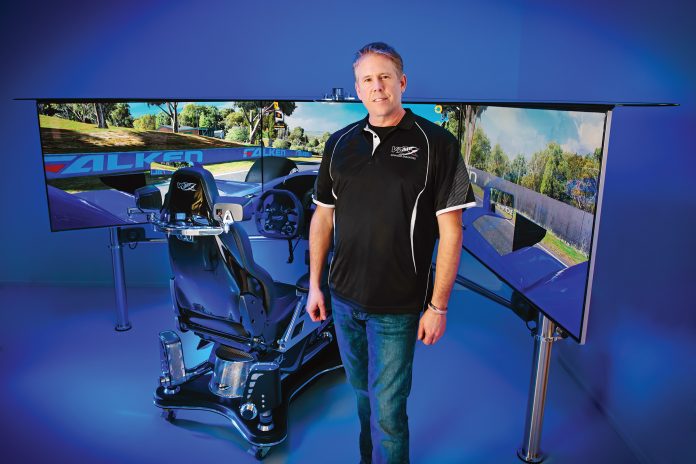 At first glance, Sidney by the Sea seems far removed from the multi-billion dollar industries of Nascar and Indy 500 racing. But many of the world's best drivers have trained on a VRX simulator, developed and built here on the South Island.
"The big advantage is track time," says Robert Stanners, CEO and founder of VRX Advanced Simulators. "You can prepare on any track worldwide without having to go there with the car and your crew, and having to pay for tires and fuel. It really comes down to being able to train at your race shop or your home, prior to hitting the real life track."
According to Stanners, the simulators give drivers the realistic experience of a course. By laser scanning the entire track, such as the Daytona International Speedway, all the track data — including bumps and unlevel spots where a car may become unsettled — gets put into the virtual track. The driver will feel exactly what that track is doing underneath the car. Data from 360-degree cameras is also used.
"All drivers will look for certain points on the track — it might be a tree, a marker, or a grandstand — to where they actually turn in on a corner, or for braking points or things like that," Stanners says. "All that data is also put into the virtual track."
Along with racers like Dale Earnhardt Jr. of Hendrick Motorsports and Jeff Andretti, who use the systems to train crew and drivers, clients like Microsoft and Intel use the simulators at trade events to draw people to their booths.
Currently, VRX is developing a system that uses the Oculus virtual reality headset. Says Stanners, "It's in the next phase of how virtual driver training will be done."

Caption: Giant curved screens extend into the peripheral vision, making the simualtor an immersive experience — and forcing the drivers to actually turn their heads to look into the curves. The iMotion system has a four-actuator, commercial grade D-Box Motion System intergrated in the seat, capable of producing up to two Gs of acceleration and three degress of freedom in mobility.