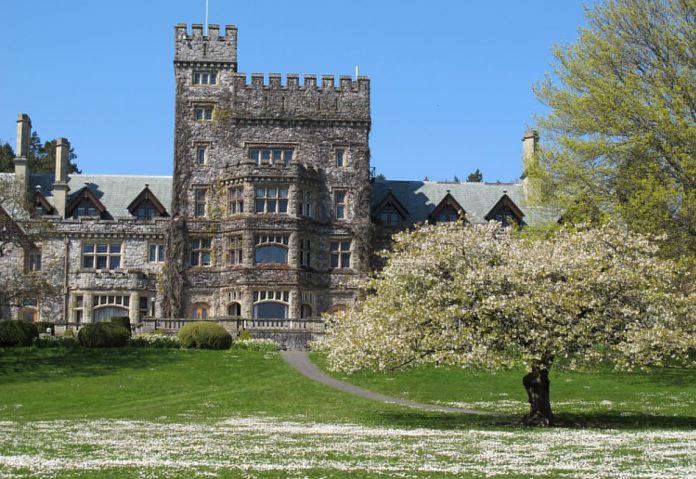 What's the next step for the digital classroom? "Future View," the innovative new recruitment campaign by Royal Roads University, lets prospective students experience campus life virtually through cutting-edge technology.

Tactics include the very first virtual university tour conducted live via Google Glass and GoPro. School representatives were outfitted with the technology and sent into the grounds as 'virtual guides' – attending lectures, conducting Q&As with faculty, enjoying the pristine grounds and taking in a tour of Hatley Castle – transmitting their experience live in real time. Viewers could also tweet their questions and instructions along the way.
"It really gives people a taste of what we do and a sense of what goes on here at our fabulous campus," says Catherine Riggins, Royal Roads director of branding, marketing and recruitment.
Other elements of the campaign include a LinkedIn component where the university posted custom profiles that are the "future selves" of select student prospects to show how their careers could advance after a Royal Roads education. The university also created Facebook events of "future career milestones" for specific candidates, who were invited through promoted posts.
Riggins says the response to the campaign was very positive and that the school's Twitter followers have almost doubled since the campaign began.
"The question is, 'What do we do now?'" Riggins says. "We own the technology and we're on to something in terms of recruitment. When a prospect asks about a program we can show them. We used to send them a brochure, but now we can show them inside the classroom and they can even meet the program head."
While Future View has some mass appeal, the campaign was mainly focused on students already interested in the university. Michael Milardo, creative director from Cossette, the advertising agency behind the new campaign, says the creative was all about narrowcasting rather than broadcasting.
"We knew it was more fruitful to speak directly to warm prospects, and what better way to do that than to put them at the centre of it?" he says. "Through technology, these potential students can sample the Royal Roads experience firsthand with elements such as the Google Glass stunt, or take a glimpse of what their future would look like if they decided to attend the University. Such a personal approach to the campaign is proving to be highly engaging."
The campaign was launched in mid-November and will run through to the end of the fall. The virtual tour can be viewed here.