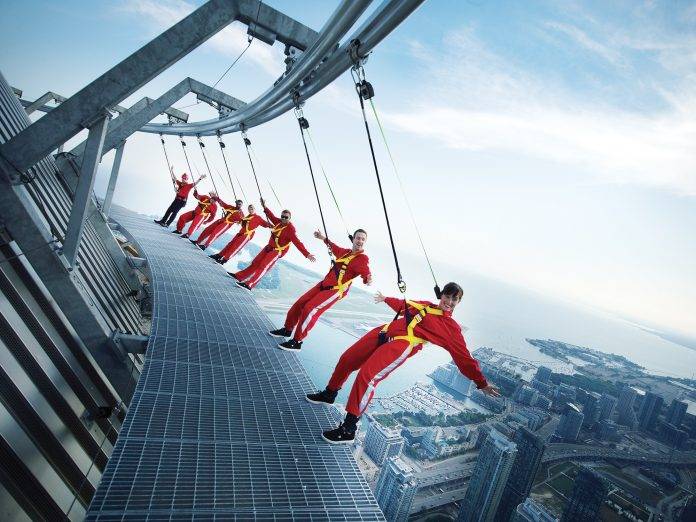 You can't get there from here. The biggest risk is not taking any risk. If you keep doing what you've always done, you'll keep getting what you've always got. What do these oft-repeated phrases have in common? They all point to the power and benefits of moving beyond that anxiety-free field known as the comfort zone.
You might ask, why should I leave my comfort zone when it's just so … comfortable? The reasons are compelling. Out there, beyond that zone, is where you discover that you're capable of more than you think, you're more resilient than you knew, your focus and concentration are enhanced — and new ideas are within reach, ready for you to grasp.
Performance management expert Alasdair White, who in 1999 published the paper "From Comfort Zone to Performance Management," called the area beyond the comfort zone the "optimal performance zone" the space between complete ease and dangerously high levels of stress. That's where the sweet spot is, and it's different for each individual.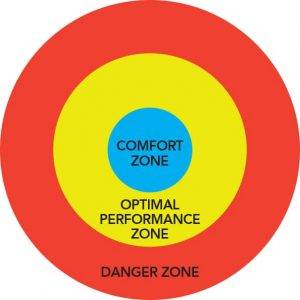 Beverly Booth, CEO and founder of The Magical Marketing Booth, a Victoria-based tourism-marketing agency, says leaving her comfort zone and finding the courage to do things like skydive from a plane in the middle of a hail storm eventually gave her the confidence to launch her own business, which specializes in luxury-tourism marketing, working with high-profile clients such as the Oak Bay Beach Hotel and The Discovery Club.
Most recently, in an extreme feat of urban adventure, Booth allowed herself to be outfitted in a harness and tethered to a metal wire 356 metres (1,168 feet) above the city of Toronto to take part in the experience known as the EdgeWalk.
"They open the door, and wind just rushes in at you. The girl beside me was shaking so hard; the adrenalin is just rushing," says Booth.
In an hour-long adventure high above Canada's largest city, Booth and other participants built up courage in increments until finally, in an act of supreme trust in their trainers, their safety equipment and themselves, they leaned out away from the tower, tilting into the abyss.
"You're hanging in the air over Toronto," Booth laughs. "You see planes taking off and landing, and the lake and traffic way far down.Some people were struggling and we began cheering for them — and then, once they do it, you see the expression on their faces. It's like, 'I really did this.' It's empowering.
"You find out what you're capable of. I still keep those pictures up in my office as a reminder that sometimes you just have to go and do it. It solidified my belief that I can dream big and achieve my dreams (skydiving was on my bucket list for years) and it also confirms that living life fearlessly can be really fun."
What is a Comfort Zone (and why do you need to get out of it)?
Not everyone needs to skydive or "edgewalk" to get out of their comfort zones. For some people, just speaking in front of a crowd or making a courageous business decision is an edge experience.
But what exactly is a comfort zone?
Simply put, it's a psychological space where you experience maximum self-control, minimum stress and reduced risk. Sounds good, right? Contentment is high, anxiety and fears are constrained, and our brain works efficiently because it is operating out of habit, with no new experiences to tax it. That's because the brain actually seeks efficiency. It looks for patterns of what works, then carves out neural pathways that allow it to repeat those actions with minimum effort.
But that wonderful sense of comfort and efficiency can also lead to stagnation.
Two psychologists, Robert M. Yerkes and John D. Dodson, found this out in 1908 when their experiments with mice revealed that a certain level of increased stimulation led to improved performance. Over 100 years later, we still know that to be true.
Get Uncomfortable
Tony Joe, a Greater Victoria real estate professional of 26 years, says one of his biggest epiphanies, which he only came to in his early 40s, was finding that he exists at his optimum when he's outside his comfort zone.
"Sometimes it's almost like I yearn to get out of that zone," he says. "It's not quite an addiction but … every once in a while in a moment of inspiration, I'll say, 'OK, it's time to get uncomfortable again.' When you do that, that's when your radar really peaks and you start looking out for those opportunities."
Living outside the comfort zone may seem like a given for Joe. After all, he leads a successful real estate team at the newly rebranded Prime Real Estate Team at Remax/Camosun, he's a founder of the Victoria Business 4 Business network, he hosts a CFAX real estate show, and he's an energetic community champion who chairs the Chinatown Night Market and works with a long list of charities.
But Joe said a decade ago, his attitude to life was very different and he actually had to be challenged to push the limits.
"It's easy for people to remain static and maintain the status quo," he says. "For me, things changed when I began working with a business coach — and in that time period I experienced three areas of diving in the deep end without a life jacket. I remember how scary those areas were."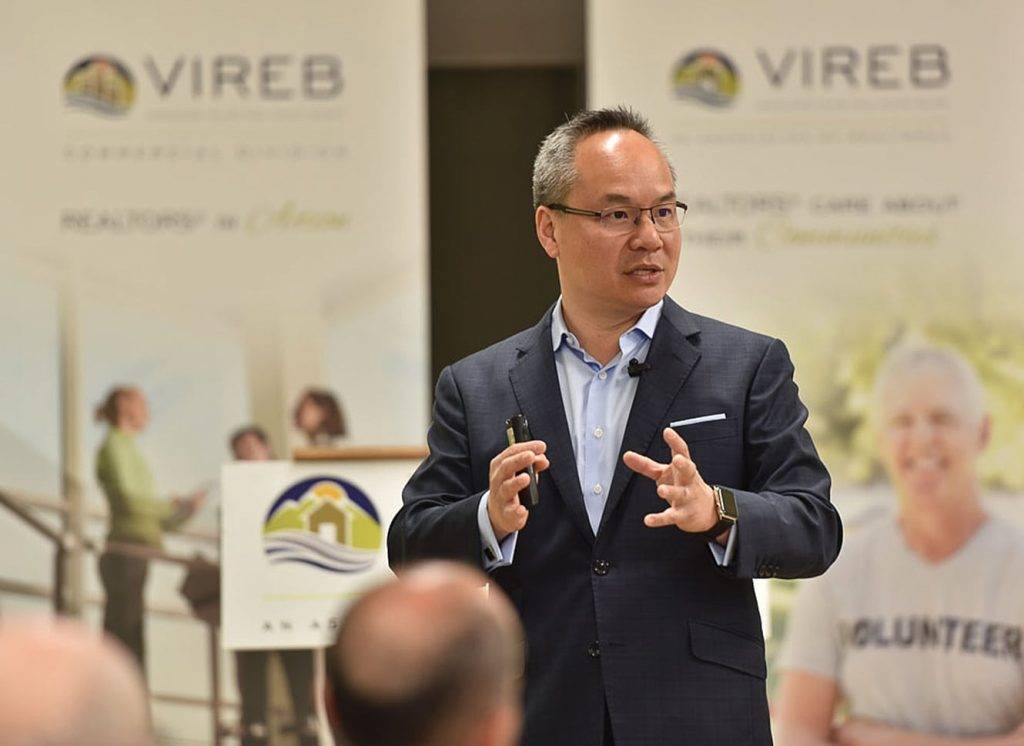 Joe's three areas of deep growth didn't involve skydiving, but they were just as profound when it came to business growth:
› He hired an assistant
"I remember lying awake, wondering what I was getting myself into, worried about having the responsibility … But the added productivity way overcomes the expense. I remember being forced on the ledge by my coach and being mad. Today, I would never go back."
› He handed over his financial tasks
"My business coach explained I would free up a lot of mental real estate if I got rid of things that I wasn't good at. It was hard to let go, but I eventually did. He was right."
› He let go of a five-year employee
"It was tough and there's emotions involved … I'm not saying having that employee was bad, but I needed to make that decision to grow my business."
Joe is a perfect example of why business professionals often turn to coaches for growth: as many world-class athletes have found out, sometimes you can't see your own biases and you need to be coached to move out of the comfort zone to find your true potential.
Deciding to Grow
Sometimes moving out of your comfort zone means choosing the more difficult road — but one that holds the promise of bigger rewards. For business consultant Clemens Rettich, who has worked with Joe as a coach, that shift came when he was teaching music and film at a Haida Gwaii school. At that time, educators were being advised to upgrade their degrees to masters or PhDs. While many of Rettich's colleagues opted to stay in the education paradigm, Rettich had an epiphany that business skills could improve his understanding of education management, so he decided to get his MBA in Executive Management.
It was certainly outside the comfort zone for a teacher, but Rettich wasn't interested in having an upper-level education degree that would put him on the path to superintendent: he was interested in exploring his potential.
He has no regrets. "I'm beyond happy because, to be frank, I'd lost my faith in [what I was doing]," he says.
Today, as a business adviser with Great Performances Group, Rettich works with business owners to create maximum long-term value in their businesses. In his clients, he says, he encounters two basic types of people:
1. People with permanent growth mentalities "These people seem to be constantly seeking change and preparing to make change. They're always reading, talking, exploring …
2. People who claim a certain reality and hunker down on it "They're the ones who need something like an epiphany … they need a light to go on before they will make a change …"
While people with a growth mentality might not need much prompting or planning to leave their comfort zones, Rettich says everyone can benefit from the following advice when it comes to making life changes that take them beyond the known:
Meditate "Most of our lives are spent in the running and reaction mode; every once in a while you need to slow down."
Do detailed visioning exercises "Don't be vague about it. Write down your vision and use the present tense, as if you were actually doing it. I am, not I will. There's a lot of research in the area of sports psychology that shows athletes like figure skaters visualize their successes in great detail. It helps them make a mental commitment."
Make a list of pros and cons "Write down positives and negatives. If you can do that in the context of having a conversation, it's even better, because on our own we only come up with a limited list."
Rettich is also a big fan of finding ways to combine "unlike things." For business people, that could mean taking part in multi-sectorial roundtables that challenge confirmation biases. Getting involved with other community members can also be an eye-opener, as Tony Joe found through involvement with his real estate industry group.
"Everything began happening for me when I got involved in organized real estate at the Victoria Real Estate Board, and I got to know how boards function and about team-work and collaboration," he says. "When we work together, we can do good things together. If you talked to me eight or 10 years ago, I never would have imagined this. It makes me think, 'Where will I be in eight or 10 years?' The horizon has expanded."
Following the Vision
Sometimes the greatest challenge is not getting out of the comfort zone, but refusing to be put into it. That was certainly true for Tim Cormode, founder and executive director of the Power To Be Adventure Society, a Victoria- and Vancouver-based organization that works with at-risk youth, people with disabilities and others facing major challenges, empowering them to "explore their limitless abilities through inclusive adventures rooted in nature."
"We put people in supportive environments where possibilities that were never thought of due to financial, physical and social barriers are removed," says Cormode, "so when people come forward, they see the possibilities of what they can do."
The idea had its roots in Orillia, Ontario, where Cormode's first summer job was with an outdoor organization. At age 16, surrounded by nature and working with young adults with disabilities, he found a skill set and a sense of purpose. But once the experience was over, and he began working for institutions "where the culture was more about the issues with the culture than helping people," the feeling began to get lost.
So at age 26, Cormode took a leap. "I left my job and went on unemployment insurance, not knowing where I was going, but knowing what I had been doing wasn't a fit for me anymore."
He decided to take a course in outdoor leadership at Yamnuska Mountain Adventures in Canmore, Alberta. There, he discovered people doing the kind of work he knew he was destined to do.
"I didn't know where it was going, and I was at an age where you think, 'I should have a more defined path,' but here I was, doing camp counselling like a kid."
Then one day he climbed a mountain peak and looked around. "A real sense of euphoria and gratitude came over me, and I thought, 'If I feel this way, how cool would it be for other people to feel that way?'" he recalls. "I literally saw a vision for myself I wanted to explore — and I could see the vision so clearly and where I could go. It completely changed my life."
In 1998, he launched Power To Be, which has since gone on to work with more than 8,000 participants, exposing them to experiences in nature.
Like Rettich, Cormode is a strong advocate of visioning.
"I try to do my very best to look at my day and the choices ahead, and ask, 'What's the desired outcome?' I picture that goal or outcome and figure out 'what do I need to do to get there?' That outcome always has to be 'Is this outcome in the best interest of Power to Be and is it worth the risk I need to get there?"
The Truth is Out There
So how do you know if you need to move out of your comfort zone? Perhaps the biggest question to ask is this: Is where I am making me happy? Do I have real enthusiasm for my life or am I dissatisfied? This can manifest as feelings of boredom or restlessness, and feeling tired or lacklustre. It can happen to people — and it can happen to organizations.
Moving out of this zone, beyond the so-called "terror barrier," isn't always easy, but as Tony Joe says, "There are so many people saying 'there's always tomorrow' and then they are in their 50s and they say it's too late. I say that because I'm approaching my 50s — and even though I still feel young at heart, there's a sense you have to be bold and do it. And if you're a competitive person, look at it this way: take the leap or someone else will."