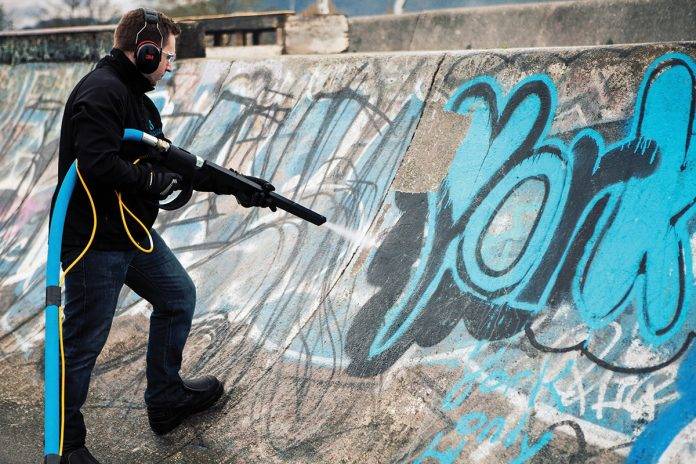 Industrial cleaning is a dirty business, but a new green technology patented by Port Alberni's Coulson Group and adopted by the likes of Tesla, Johnson & Johnson and Ford is turning the industry on its head.
Instead of relying on traditional solvents, water or particulates like sand to pressure-clean factories, industrial sites and machinery, the Coulson Group's Ice Blast technology uses regular "gas station" ice to strip difficult industrial grade materials off all types of surfaces.
The machinery, developed and manufactured by Coulson Group through its subsidiary, Coulson Ice Blast, has been praised for being simple to operate and light on resources, using 95 per cent less water than similar technologies while producing zero airborne particulates.
"What we are quickly finding is that ice is one of the most effective cleaning mediums in the world," says Foster Coulson, VP of Coulson Group. "It's also the cheapest, so we have a really unique opportunity and we've been able to establish ourselves in the market as a world leader in cleaning technology — and we're the only ones using ice. We feel that out of a small community we are making a dent in the industrial cleaning industry, which is a multi-billion-dollar industry."
Coulson says the company's growth in 2018 was almost 500 per cent, with major international conglomerates taking a serious interest in the Ice Blast technology, including United Rentals, which recently committed to buying Ice Blast's smaller units — good for commercial contractors — to rent from its locations across North America.
The wins don't end there. Foster, who runs the company with older brother Britton and father Wayne, was a Top 40 Under 40 finalist in BCBusiness magazine's 2017 awards, and Coulson Ice Blast was recently listed as a semifinalist for the Small Business BC awards.
This article is from the February/March 2019 issue of Douglas.