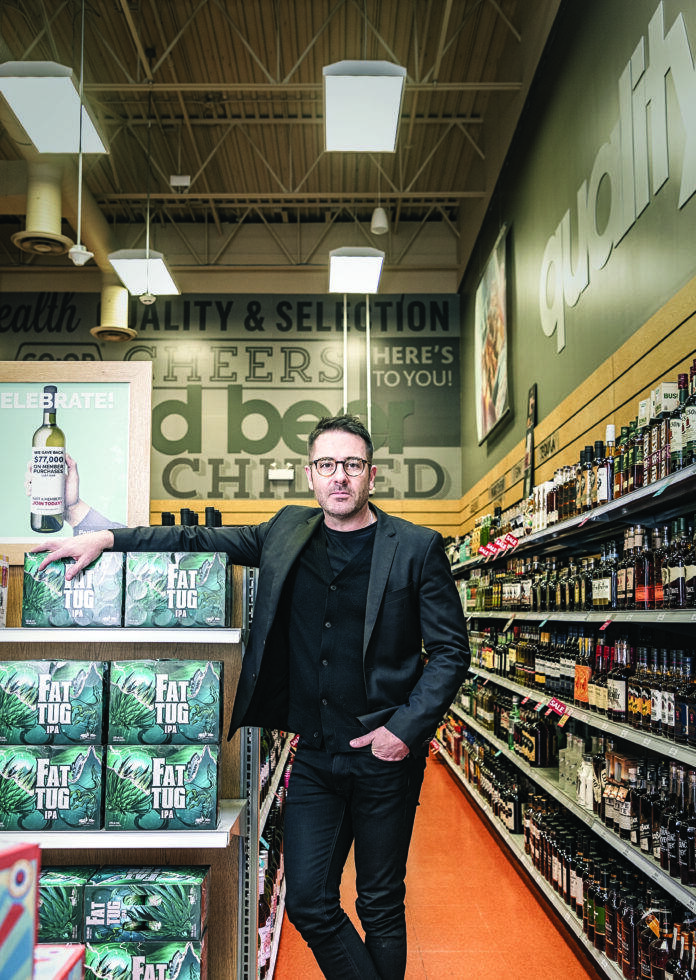 Many of us have heard the familiar jingle "Moving ahead by giving back." Peninsula Co-op's motto fits. In the last five years the retailer has donated over $2.5 million to various local causes; $500,000 each year is the norm. Since its start in 1977, today the Co-op counts more than 115,000 members. From Sidney to Duncan and in Comox and Campbell River, the Co-op operates 18 gas stations and convenience stores, along with 12 cardlocks. Home heating oil sales and distribution are also part of its petroleum arm. The Saanichton Food Centre and two liquor stores round out Corey Gillon's new portfolio.
What is your background?
I grew up in the Vancouver area and spent the better part of my life there before a whirlwind of career moves. I liken it to being a lifelong student of retail. Part of my career — I'll call it my pedigree — was spent with Walmart. I started as a cart pusher and worked my way up to being a vice-president of Western Canadian business operations, with a multi-billion dollar profit and loss. I also headed Walmart Canada's e-commerce strategy, spending two years getting my digital chops. Later, I was asked to help integrate an acquisition that Walmart International had made in sub-Saharan Africa, in a holding company called Massmart, which included five different retail brands. I ended up moving to Johannesburg for a couple of years to help integrate that business.
Later, I was living in Toronto and working for Walmart when I had an opportunity to connect with a founder of a Vancouver-based retailer, Aritzia, Brian Hill. We hit it off and about six months before the company went public, my focus was to help position the business for higher growth; in particular, as the business started to roll out into the U.S., as well as expanding in Canada. That was a chance to return to the West Coast after 15 years away. I was able to balance a large company like Walmart and a more boutique style of retail. After working for a company like Walmart, it's rare when you can say you'll never work for a company that large again. 
I took a startup company, pre-revenue, and helped build it to a saleable business, which was the board's expectation. I built the team and business and learned my way around the startup world. When we sold that business in the summer of 2022, it led to my next move, and to a conversation with a recruitment firm about Peninsula Co-op.
How would you define a co-op?
I think there's the obvious definition, but I look at how co-ops came to be, whether it was about services or products that did not exist in certain markets, and the groundswell that creates them. People come together as a community and start to build foundations. Maybe how they started isn't why they exist today. The more pragmatic question is how co-ops will exist in the future and still carry out all those amazing things that made them community-focused and member-owned.
What is it about co-ops that first interested you?
There are two pillars and our mission. The first is that we're here to provide products and services to 115,000-plus members, across the market we serve.
The second is about strengthening communities. We've contributed over $2.5 million in donations in the past five years to the communities we serve. The same reason co-ops came to be still leverages them in the future. That's the part that interests me.
What needs to be fixed or modified at Peninsula Co-op?
I don't know if I'd use the word "fixed." That refers to something that's broken. We're a business that's predominantly in a retail environment. We serve members and customers every day. It's taking us from our journey of what is a very good company today and transforming it into a great company that can strive and thrive tomorrow. 
Are there expansion plans?
Yes. I think in defining expansion, we've got to think about our mission as a compass, and make sure it's at the forefront of our decisions. Several things stand out. First, continue to maximize our member relationships. How do we do that? By aligning ourselves to our services. The second is really about being a great place to work. In order to focus on our members and our customers, it starts with an employee-centric model. For us, it's engaging, attracting and retaining top talent. 
The third goal is investing in infrastructure. Do we have the right structures in place in order for us to be even better in the next three to five years? Your point about expansion and diversification is important. That's always been a part of the culture of Peninsula Co-op, being able to adapt and thrive. 
Tell me about your Harvard education.
Walmart was looking to build global talent, with a focus on global readiness. The company took about eight people within the international side of the business every year and put them through a program at Harvard called PLD (Program for Leadership Development), which was part of a greater Walmart program of readiness for global mobility.
Do you have a business degree or are you a natural?
I don't know how to answer that. I went to business school later in life, through the Harvard program. I don't think some letters behind your name are necessarily your requirement for intelligence. I came through retail, from the front line. I worked my way through the business. To be successful meant providing results. You get results in leadership by having a pretty good plan, ultimately executing it, but you do that through people. I think we're in a people business, and if there's one thing that's served me well, it's surrounding myself with good people.
How would you describe your return to the West Coast?
Love the West Coast. It's home. Where I like to spend time is with my wife and son. Like most West Coasters, we love to be outdoors, enjoy nature, whether it's hiking or cycling. 
How are you finding Victoria?
Love it. Brilliant community. Love the market. Beautiful place. I love the walkability. This may be upsetting to other cities, but it's probably the best restaurant scene of any market that I've seen in a long time.