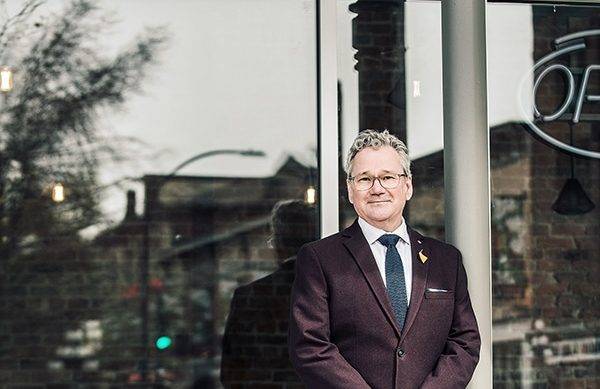 This June, Bruce Williams stepped into his new role as the CEO of the Greater Victoria Chamber of Commerce. The former broadcaster, who had been acting as the interim CEO of the South Island Prosperity Partnership, says his marker for the Chamber's success will be a relatively smooth and healthy recovery.
"And an economy that will take advantage of the opportunities we have right now," he says.
What he brings from Growing up in a Family-Run Business
Williams is known to many in the region as a broadcast producer, and former on-air host and television anchor with the CTV television network. What many may not know is that Williams grew up in a family business.
"My family owned a bakery in a small town," he says, referring to Aurora, Ontario. "It taught me very early the value of hard work and respect for employees. And the role that a business can play, not only in the greater business community, but in the quality of life and the health of the community. The line between businesses and community is very often blurred — especially in a small town — but that same ethic can be applied in a larger circle, too."
Why the Chamber Matters More Now Than Ever
According to Williams, his priority is to keep the Victoria Chamber strong and engaged with its members. "That will be the driving force that helps our economy build its resilience as it recovers," he says. "The Chamber matters more than ever in its 157-year history, because as we respond to what's going on and develop recovery and resilience, the connections provided by the Chamber — the mentorship, the expertise — can help members best understand how they can use the reliefs being offered by the government. Creating that sort of security and resilience within an economy keeps us healthy. It keeps us safe."
How This Can Be a Time of Opportunity
While this has been a time of great change and upheaval, Williams points out that it's also a time of great opportunity.
"It's difficult to not be distracted by the downside, but the upside has also been seen," Williams says. "People have had an opportunity to see what can be better about this world, this community, their own business, and about how to make things healthier for their family … The cliche is 'A crisis is a terrible thing to waste.' We have the opportunity now to create a much better world … I want to make sure that the Victoria Chamber, and me personally, can do everything to help people take advantage of those opportunities."
Continue Reading: SIPP Rising Task Force adds Inclusion Expert