On a Bernhardt Contracting job site, you're more likely to see the Victoria company's name emblazoned on an electric car than on a vehicle more traditionally associated with construction.
Two of the three vehicles in Bernhardt's fleet are all-electric Smart cars. The third is a diesel-powered Mercedes van.
"I've been harassing Mercedes to get me an electric version of it," quips Mark Bernhardt, who started in construction about 16 years ago and has been running his own firm for a dozen years.
Almost 40, Bernhardt considers himself a millennial/genX-er. That makes him a youngster in an industry grappling with an aging workforce and straining to keep pace with technological advances and regulatory changes. It also positions Bernhardt on the leading edge of a new generation of upstart Victoria builders — like Matty Jardine and Ryan Goodman of Aryze Developments — that is coinciding with a changing of the guard at established firms like Durwest Construction Management.
"The nice thing about construction is that it does have a relatively low barrier to coming in," says Bernhardt, who has eight employees. "In the early stages, I was able to hire the expertise that I needed and then learn and take courses. I've been taking courses since I started."
AN Eco-Friendly SHIFT
The electric cars mesh well with Bernhardt's focus on what he calls high-performance building. That includes installing vehicle chargers on all of its projects. Originally from the Okanagan, Bernhardt earned a science degree at the University of Calgary. Upon graduation, he did impact assessments for oil and gas pipelines. Now, he applies similar methodologies he learned in that field to his construction projects.
"When we do that, we come out with energy as our biggest cost," Bernhardt says. "Not only is it our biggest cost, but it's also the easiest thing to fix."
Bernhardt's recent projects include acting as a "passive house" consultant and envelope contractor on the Charter Telecom commercial project in Langford. He is an unabashed proponent of the BC Energy Step Code, which the provincial government introduced in 2017 as a voluntary standard within the B.C. Building Code. His website even plays up its Step Code certifications, and its capacity for doing blower door tests and providing EnerGuide ratings.
"I know Langford isn't pursuing the Step Code, but they're getting the highest tier of Step Code, regardless, right in their city," he says.
For others, however, the Step Code is anathema. The Victoria Residential Builders Association (VRBA), for example, has advocated strongly against it. Casey Edge, executive director, voices a litany of complaints. They include that it isn't mandatory, enabling individual municipalities to skip any or all of the steps. "And there's no mentoring, education and training for it," adds Edge, citing estimates of an average of $80,000 in additional costs for a new home built to step five of the code.
Edge would rather see a program to retrofit older, draftier homes because new homes are already highly energy efficient.
"So an older home will have anywhere from 10 to 40 air changes per hour," Edge explains. "A new home will have, let's say, three air changes per hour. And the Step Code reduces that from three to one. Why wouldn't you do a retrofit program for older homes and reduce them from 40 to 10?"
Bernhardt, who is also president of the Canadian Home Builders' Association's Vancouver Island (CHBA-VI) chapter, disagrees.
"And it's not an us versus them," he says. "It's not a renovator versus new builder argument. It's both. And we need to do both now."
Changes in Customer Demand
Energy efficiency has become a priority for home purchasers, Bernhardt adds, citing the 2018 CHBA's Home Buyer Preference Study.
Another is affordable housing. Aryze Developments is aiming to build "missing middle housing" in infill neighbourhoods like Fernwood and James Bay.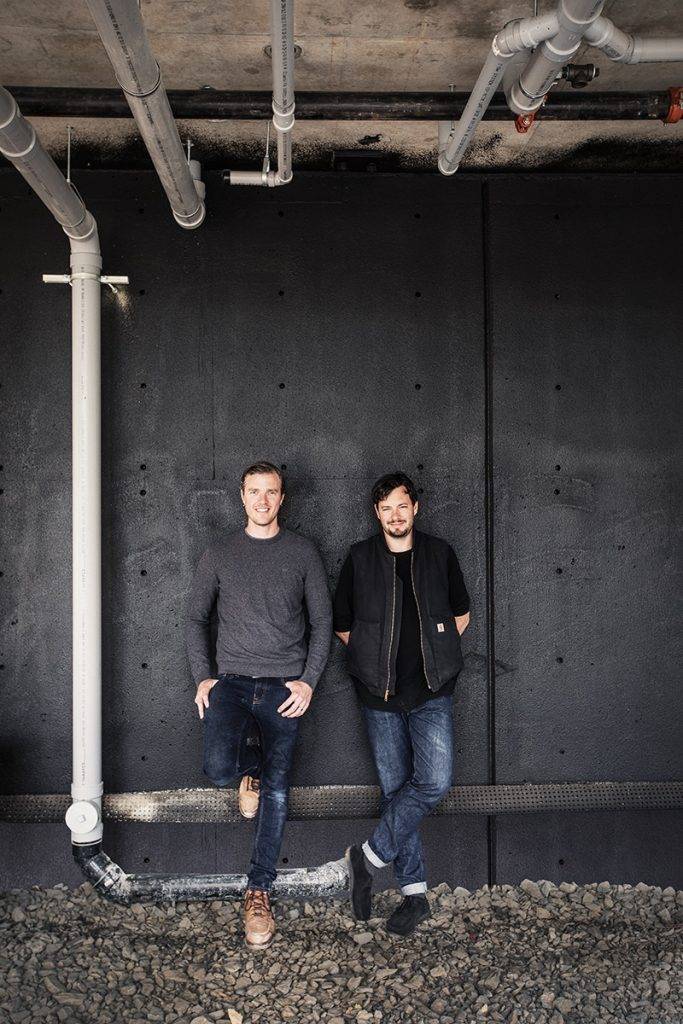 "Most great cities have this kind of shallow density outside the core. It's where all the action happens. It's usually where all the cafés and restaurants are, in neighbourhoods right outside of downtown," says Ryan Goodman, who became a partner in Aryze in 2011, fulfilling a dream he and Matthew (Matty) Jardin had since their childhoods in Kamloops.
Aryze even drafted a covenant on a project at 430 Parry Street that designates two of the 11 units at 15 per cent below market value in perpetuity. Aryze is making that covenant available to any other developer to apply anywhere in the capital region.
"… we think it's an innovative way to deliver affordability within these projects that aren't specifically affordable," Goodman says.
Timber and Tablets
Aryze is a millennial-owned business with most of its 27 employees in their mid-30s. Among its projects is the proposed Speed Avenue 12-storey mass timber-frame building it is working on with Mike Geric Construction and D'AMBROSIO architecture + urbanism. Goodman says the project is currently in the development permit process. He anticipates construction of the underground parkade to begin later this year.
B.C.'s Building Code was recently amended to allow wooden structures of up to 12 storeys, double the previous limit.
"The benefit of mass timber is that it's a way more efficient way of building," Goodman says, adding that, "the panels are actually built off-site and they're brought in and installed by a small team, whereas concrete is all site-built. Mass timber buildings are also way lighter than concrete buildings."
It will be the first mass timber project Aryze has taken part in. However, an Aryze affiliate — Mill Bay-based Kinsol Timber Systems — recently finished its work on Langford's Charter Telecom building.
"From what we've seen, they're about 25 per cent faster to erect than a comparable concrete building," Goodman says, adding that concrete construction is one of the greatest contributors to greenhouse gases in the world, whereas timber actually sequesters carbon.
New technologies are making construction efficient in other ways. Where a site superintendent used to carry around rolls of blueprints, hundreds of those drawings can now be loaded onto a tablet computer, says Devon Kray, VP of business development with Durwest Construction Management.
"There's a detail on a drawing on the screen; you circle it with your finger and you send it to the architect with a question or a request for information. It's pretty neat really, all the various options and programs you can select from," says Kray, whose father co-founded Durwest in 1979 and is still president, but he's handing off responsibilities to his son.
A Market of Niches
In recent years, Durwest has built several prominent institutional and commercial projects on Vancouver Island, including Songhees Wellness Centre, Sidney Pier Hotel & Spa and projects on Bear Mountain.
"Victoria is kind of a funny market where certain builders may find a niche with certain projects or a certain type of project for a period of time," Kray says. "For us, our portfolio remains a bit more diverse."
Current Durwest projects include expansions at Victoria and Nanaimo international airports, and a new learning-teaching auditorium at Royal Roads University. In the works for later this year is the new Nigel House in Saanich.
Durwest has about 45 full-time employees, which remains constant throughout the year. "Then on any particular project, depending on the size of it, and depending on what's required from our forces, we could have as many as a dozen guys on one particular project," Kray says.
Still Quite Strong
Durwest is among the nearly 460 members of the Vancouver Island Construction Association (VICA), which serves the institutional, commercial, industrial, civil and multi-residential sectors. That's unlike VRBA and CHBA-VI members, who concentrate on the residential sector.
VICA members include such Island construction heavyweights as Farmer, Kinetic, Knappett and Campbell, plus businesses that support construction such as lawyers and accountants.
The construction market is strong, particularly for multi-family residential, with most regions of the Island having low rental vacancy rates of around one per cent, notes VICA CEO Rory Kulmala.
"Demand is driving need," he adds. "The great thing about the market is it's reacting and being responsive to the need. And our contracting community is mobilizing and making it happen."
VICA announced this March that for the second straight year Vancouver Island had set records for construction employment and building permit values in 2018. Employment rose 3.8 per cent to 35,700 workers, while building permit values increased nine per cent to $2.45 billion. Fourth quarter permit totals for the Island dropped 16 per cent compared with the third quarter, however. Kulmala attributed that in part to a softening of real estate prices.
Kulmala notes that during Vancouver's housing bubble, many people opted to "cash in their chips" and move to the Island. "Now, with the softening in Vancouver, we're seeing the same thing happen (here)," Kulmala says.
Solving the bottlenecks
Kulmala shares some of the same concerns as VRBA's Casey Edge about Greater Victoria's various municipal bureaucracies and the impacts they have on the costs of projects and getting them off the ground.
"There's a fairly broad difference across the CRD on how they're handled," Kulmala says. "You look at Langford, they get building permits out, development permits out very quickly. It's a very attractive environment to build."
Another challenge for the industry is getting enough qualified tradespeople.
"If we need to hire a crew for a new project and if all our guys are busy, which everyone is, it's a real challenge to find a carpenter," Kray says. "Most of our hires that we have coming into the company now, they're guys coming from Alberta."
Phil Venoit, president of the BC and Yukon Territory Building Construction Trades Council, says one way to address the shortage would be for the provincial government to employ its new community benefits agreement on more projects. "It comes with a mandatory apprentice ratio, and right now we use it so far on highways and bridges," Venoit says. "But we don't find a lot of sheet metal workers or plumbers and pipefitters on a highway."
The agreement, which the NDP announced in July 2018, is controversial. VICA and the British Columbia Construction Association have both expressed concerns. "It is imperative that all construction projects in B.C. are open to all companies, both union and non-union, without binding them to a prescribed labour agreement," Kulmala said in a news release at the time.
That dispute aside, Venoit says B.C.'s union and non-union sectors typically get along. "It's very hard to find a project today where all trades are union on one job," says Venoit.
One key difference is pay, with non-union workers earning about 25 per cent less than their 8,000 union counterparts on the Island, Venoit says.
Even for non-union firms like Durwest, Arzye and Bernhardt, the pay for trades compares favourably with other vocations. Starting wages are $18 to $20 an hour, rising to $40 or $50 for a highly skilled journeyman carpenter. As baby boomers retire, the industry worries not enough younger people are entering the trades, despite the promising pay and prospects.
Attracting a new generation
For Bernhardt and for Goodman at Aryze, it's all about creating unique work environments that appeal to the youth cohort.
Construction just needs to shed its "alpha-male dominated" tradition in which a recurring message is to do things in certain ways because that's the way they've always been done, says Goodman.
"I don't think that really flies with the younger workforce, who have different expectations over the culture and the workforce," he says, adding that his company, which has a lot of women on its diverse team, treats its people with respect, "the way that we would want to be treated ourselves."
Meanwhile, Edge of the VRBA proposes universities and colleges — and high schools — add carpentry and other trades as electives to academic programs. He believes it will reduce the stigma associated with trades and encourage even more bright young people to learn construction skills.
Despite the challenges, the outlook for the Island's construction industry looks bright.
Bernhardt expects his slice of the business to keep growing. He is already planning on more hiring over the next year. After that, he anticipates demand levelling off but remaining steady for the next five years. Perhaps by then Mercedes will make that electric-powered van he's been wishing for.
This article is from the June/July 2019 issue of Douglas.