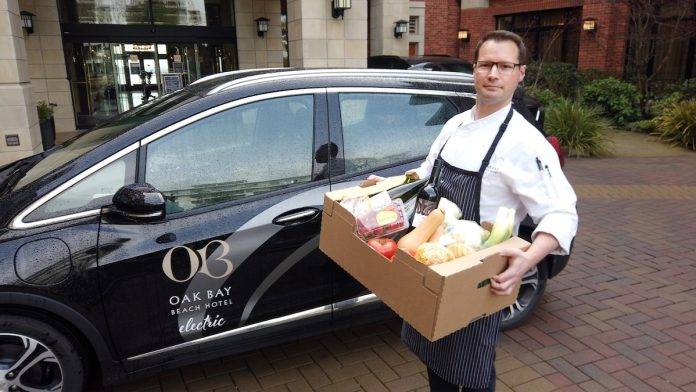 The Oak Bay Beach Hotel expands their home delivery offerings.
The Oak Bay Beach Hotel is rolling out a new initiative to support their local community with an expansion of their delivery service. In addition to prepared food delivery, this program allows customers to select fresh grocery items, dry goods and beverages online through the hotel's website or by phone and have them delivered to their homes the next day.
The safety and wellbeing of guests and employees at the Oak Bay Beach Hotel has
always been a top priority. As the COVID-19 pandemic has continued through these past few weeks, the hotel, as well as the entire community, has had to make some significant and difficult changes to the way they operate. With the temporary closure of their iconic Snug Pub and elegant Dining Room, the hotel began offering a limited takeout and delivery menu like many other restaurants in the city. However, they began to notice the gap between food service distributors, and those struggling to order groceries from the comfort and safety of their own homes. The hotel saw the opportunity to enhance their offerings to help fill this temporary gap by offering an expanded free delivery service.
"The Oak Bay Beach Hotel has been at the heart of this community and a place of
gathering for over 90 years" says Madone Pelan, General Manager at The Oak Bay Beach Hotel. "So it has been especially difficult to know that so many of our neighbours have voiced their challenges accessing grocery delivery. We are encouraging everyone to be safe, stay home and practice social distancing as much as possible, therefore we knew we had to find another way to continue to support and serve our community during this time of need."
"We looked at our resources and realized that this is something we could offer which could make a difference," she adds, "and allow us to stay connected to the community, until the time comes where we can welcome everyone back."
The Oak Bay Beach Hotel remains committed to upholding the highest standards of
cleanliness and want their customers to feel at ease when using their home delivery program, knowing they will experience the quality that they have come to expect from this award-winning hotel.To place an order, customers can visit www.shop.oakbaybeachhotel.com or call 1-250-598-4556. Orders made before 4:00 PM will be delivered next day between the hours of 11:00 AM and 5:00 PM.
The hotel is currently delivering to the areas of Oak Bay, Uplands, Oaklands, Fernwood, James Bay, Downtown Victoria, Fairfield and Rockland.