When I think of the people whom I consider great leaders, I see one thing in common: a desire to serve their people, their organizations and the world to achieve a common goal. These leaders inspire their followers to find ways to be successful and trust their inherent abilities to do so.
Looking back on my early days as a business owner, I realize I was a natural leader. I was ready to lead the way to save the world from one social injustice or another, or at least pave the way for Canadians to be more successful with their health care, employment or other social challenges. As time passed, I learned more about being a manager and forgot about being a leader.
While a leader models the way through inspiration and creating a long-term vision, a manager plots out the individual steps, then ensures team members follow each step precisely as prescribed. I was encouraged to focus on the micro picture and use my head more than my heart. I was bogged down in managing projects and HR. I spent a lot of time reading financials. What do you think happened?
If you guessed that I lost my way and my passion, you would be right. I stopped dreaming and became much more automated. In short, I stopped thinking I could change the world. I stopped being a "servant leader."
Leading Through Empathy
While servant leadership is not new — Robert Greenleaf coined the phrase in the early 20th century — it is experiencing a resurgence based on those who are finding that dictating to the workforce and micromanaging team members is eroding loyalty and workplace satisfaction. Greenleaf's concepts of empathy and compassion in leaders are making a comeback. It takes a lot of self-awareness to extend empathy to your employees.
This aha moment came a few months ago when I took an excellent workshop on leadership. I felt so validated to learn that the new leadership model is to use a human-based approach, not dictatorial. We talked about listening and asking questions to learn how team members tick and then help them grow in their own capacities as problem solvers.
These coaching questions open up the opportunity for innovation. I have enough humility to admit I don't have all the answers; I have enough trust to know others can discover them if I provide opportunity.
The Leadership Challenge
Yes, leadership can be messy. Great leaders have to make difficult decisions and be willing to "take one for the team" if those decisions fail. They need to reflect — not ruminate — on the results. Leaders may not always be correct, but they need to do what they say they are going to do. Without honesty, there is no trust. Without trust, you don't have a team.
James Kouzes and Barry Posner have been studying and teaching leadership skills for more than 30 years, amassing a significant body of work on the attributes of exemplary leaders.
Their international survey results over the years reveal that while the things we value in leaders may vary, the top four attributes have not changed in three decades: honest, forward-thinking, competent and inspiring. These four themes form the basis for the leadership development discussed throughout their book, The Leadership Challenge: How to Make Extraordinary Things Happen in Organizations.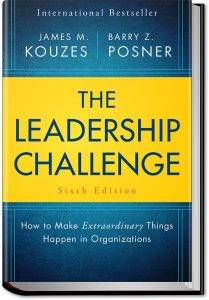 I'd add humility to the list or, perhaps more appropriately, humility is the stage upon which these attributes can succeed. It was Nelson Mandela who famously advised to lead from behind and put others in front, especially when there is cause for celebration. A leader steps to the front when times are dangerous or challenging.
Lack of humility almost cost Dave Balter his business. When the founder of BzzAgent, a leading word-of-mouth marketing company, was featured on the cover of New York Times Magazine and was the subject of two Harvard Business School case studies, Balter says his ego was running unchecked. Then the recession hit in 2009.
BzzAgent was particularly hard hit because of Balter's "outsized ego and the way I was leading the company." The chairman of his board called him on it.
That rude awakening led Balter to change his mindset and become a student of life and business. Now a passionate humility evangelist, his 2011 article in Inc., "The Humility Imperative: CEOs, Keep Your Arrogance in Check," led him to start a movement called the Humility Imperative.
A wiser Balter says, "The humility imperative is simple: If you're an ego-fuelled leader, find humility today, before it's too late. Instead, choose to recognize your place in the universe is no more important than anyone else's. Know you can learn from every single interaction — no matter the person's credentials."
Discovering True Leadership
I'm older and wiser, too. Yes, I learned a lot from the strict business minds around me, but I also learned that to be a good leader I have to be my authentic self. I did have the right idea in my early years and didn't have to sacrifice it while learning the principles of business. Once I returned to my instinctual methods of leading, I definitely saw great results.
There is no better way to show humility, trust, inspiration and empathy than to model the way for others. It becomes contagious. You will easily recognize the true leaders in your organization when they start exhibiting the same behaviours.
Challenge, motivate, innovate, achieve, celebrate. Repeat. It's not New Age mumbo jumbo; it's raising an engaged, loyal workforce.