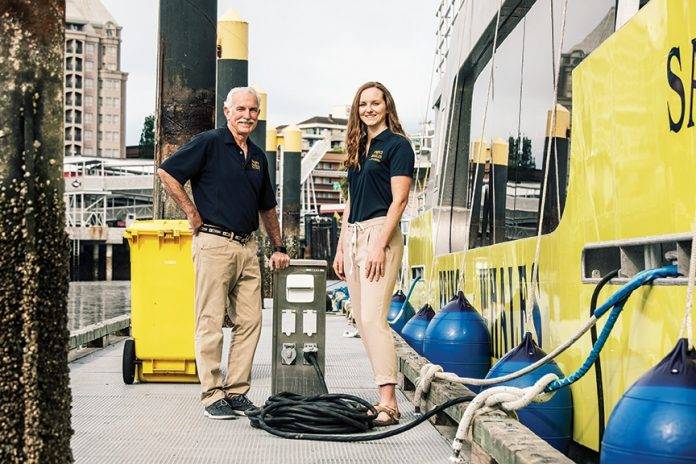 It's a magical spring morning in the Inner Harbour. Above the Legislature, fluffy white clouds drift across the azure sky. The lawns of the Fairmont Empress are a riot of colour, bright purple and magenta tulips offering a bounty of Instagram possibilities. But no tourists crouch to snap that perfect shot. The streets and sidewalks are deserted. No buskers' singing, voices of tour guides or bike bells break the silence — the only sounds are bird song and the muted lap of the waves against the hulls of the boats docked at the marina.
"My gosh, we've had all this beautiful weather, it's just been a stunning spring," says Prince of Whales owner Alan McGillivray, whose whale- watching business is based in the Inner Harbour, out of 112 Wharf Street, a very prominent tourist location. Several of his boats are moored there, including the Salish Sea Eclipse, a $3.5-million high-speed, luxury, custom- built catamaran launched last year.
"We should have been all fired up on April 1," he says. "When we're going full blast in the summer, we have almost 100 employees. Back in March, when the really obvious announcements came from the Prime Minister that the borders were closed and international travel was pretty well canceled, we had to layoff everybody except for three employees."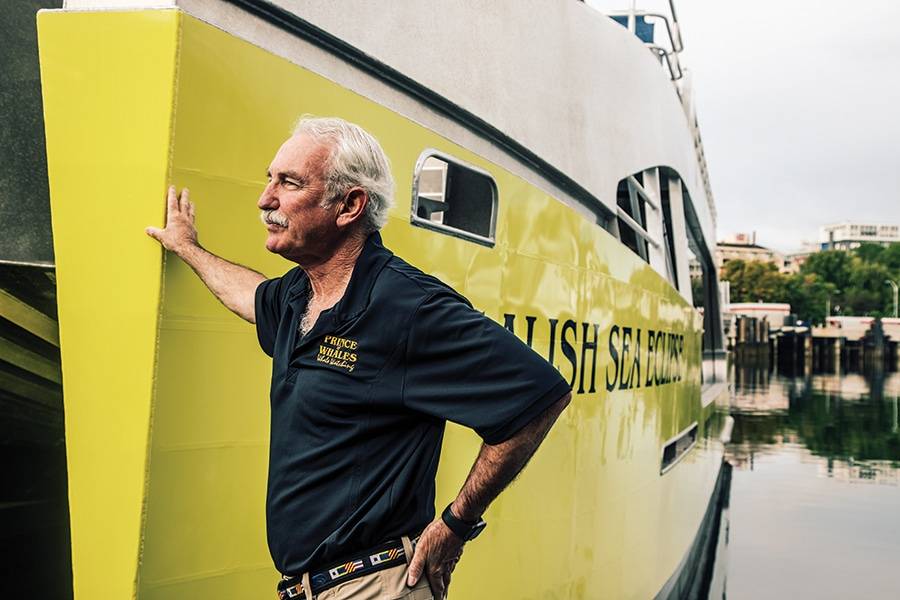 It's not hyperbole to say that in the wake of COVID-19 the Victoria tourism industry is among the hardest hit of sectors. Prior to the pandemic, tourism was the second largest industry in Greater Victoria, boasting an annual $2.3-billion economic impact and bringing $1.4-billion in new revenue from visitors into the local economy each year.
"2020 was setting up to be a record here in every and all channels," says Paul Nursey, Destination Greater Victoria CEO. "We had record conventions, incredible sports tourism opportunities, like the FIBA World Cup Basketball Qualifiers, and it was looking to be a very, very strong year.
"We'd been working diligently for the last six years on two big priorities: Year-round, high-yield business and sustainable tourism. We were heading to a really good place. And regrettably this virus has disrupted all that."
The Worst Possible Timing
Presenting the full scope of the losses is difficult. According to Destination Greater Victoria, projections show a $1.4-billion decrease in visitor spending, along with job losses of 19,800 to 22,500. Most tourism businesses receive up to two-thirds of their annual revenue from May to September and rely on this revenue to keep functioning over the remainder of the year.
In 2020, it's likely that this revenue will decrease by up to 88 per cent, assuming it is safe for some travel and tourism to recommence this summer. Industry forecasters predict the tourism business will be extremely curtailed for 18 months until the fall of 2021.
In addition, as Nursey points out, the pandemic happened at the worst time of the year because many of the local tourism businesses had already invested heavily in the coming season, and will not see that return on investments.
"It is a financial challenge," McGillivray says. "We went through the whole winter with very little revenue and supported all of our initiatives, keeping all of our facilities paid for, both offices and moorage. We put in place all of our marketing and website improvements. We built a brand new office on Granville Island, which we haven't even really occupied yet. Likewise, we took delivery of a brand new 3.5-million- dollar boat that, on its very first hour of being legally inspected, we had to park it at Granville Island, and it has not moved since."
The Recovery Task Force
To help the struggling Greater Victoria tourism industry through the fallout of the COVID-19 pandemic, 12 tourism business leaders have formed the Greater Victoria Tourism Rescue and Recovery Task Force. They are working together to propose solutions and to also develop ways forward for business recovery.
According to Nursey, the focus of the task force is two-fold: to seek policy initiatives and financial support to ensure survival of Greater Victoria's tourism industry through the COVID-19 pandemic; and to position Greater Victoria's tourism industry for the expected economic recovery, as restrictions related to the COVID-19 pandemic are relaxed, with a focus on a realistic 18-month survival-and-recovery strategy.
In its initial report, the Task Force has prioritized five requests for government that are critical to support local tourism businesses immediately and going forward.
Five Requests for the Government from the Task Force
Extending the Canada Emergency Wage Subsidy (CEWS) well into 2021.
Extending the 16-week period before severance is required for staff on temporary layoff, as well as flexibility for group lay-off provisions for tourism's highly seasonal workforce.
Providing interest-free loans, grants, subsidies, or similar financial supports.
Supporting COVID-19 safety-oriented and physical social-distancing measures.
Redirecting Destination Canada and Destination BC marketing funds from traditional international source markets to domestic source markets, at the community level, for the short term upon the approved restart.
As of June, 2020, Destination Greater Victoria is slated to receive $504,000 over the next two fiscal years (2020 and 2021), flowed through Destination BC.
Anthony Everett, president and CEO of Tourism Vancouver Island, is another member of the task force. His organization also helped spearhead the BC Tourism Resiliency Network with Island Coastal Economic Trust.
"What businesses are telling us is that their number one need, besides cash, is to be liquid," Everett says. "We can't help them with that, but [the network] can help them navigate all the online government systems. We have program advisers who work with businesses directly. And we also have an extensive set of experts that a business can access for free for further help as they navigate to reopen, adapt and market their business."
The Cruise Component
The cruise industry is an essential part of the tourism equation in Victoria. In 2019, the Victoria Cruise Terminal at The Breakwater District welcomed more than 700,000 passengers and 300,000 crew. This included the inaugural call of the Royal Caribbean Ovation of the Seas, which will be one of the vessels utilizing the new mooring dolphin extension when sailings resume. The cruise terminal reportedly contributed more than $130-million annually to the regional economy, including 800 direct and indirect jobs in Greater Victoria.
"We were anticipating that this was going to be another very strong year, and boy, what a difference 60 days makes," says Ian Robertson, CEO of the Greater Victoria Harbour Authority (GVHA), the not-for-profit organization that manages the Victoria Cruise Terminal.
"It's no secret that this year, our organization will realize a financial loss … we've had to make some very difficult decisions around temporary layoffs, which resulted in close to half of our organization being temporarily laid off. That was probably the most difficult day as a CEO that I've ever had."
While there are some optimists, the local cruise industry might not have the smoothest sailing to recovery. Early pandemic news stories of cruise ships carrying infected passengers could have lingering effects. According to reports, cruise companies lost $750-million in revenue in the spring, while shares of the big three — Royal Caribbean, Carnival and Norwegian — dropped by 60 to 70 per cent.
With the loss of a full cruise-ship season, the GVHA anticipates losing about $12.5-million in cruise-ship passenger fees, approximately 70 per cent of its total revenue for 2020. But Robertson says he is more optimistic about the future than he was in the early months of the pandemic. GVHA's cruise partners have reported that 76 per cent of cruise-ship passengers whose trips were cancelled this year have opted to take a credit and rebook next year. There are berth requests for 2021, and the GVHA should know what the season will look like by November.
"We will need an acknowledgment from the cruise lines that they are going to put even more stringent screening practices into effect," Robertson says. "First and foremost in my mind is that the cruise lines have to assure the communities they are coming into that their passengers have been screened. We want to make sure when cruises return, the passengers and the crews will be welcomed."
Exploring Our Own Backyard
In the short term, the industry focus will be on the local traveler exploring the region, and then gradually moving into the rest of B.C. and then the rest of Canada.
"We don't typically rely on B.C. residents to partake in the activities we offer," says Elspeth McGillivray, Prince of Whales' operations manager "This is giving us, and all the tourism operators, an opportunity to look to our local communities — to not only support us in these times but to enjoy your own backyard. And to encourage people to spend their vacation dollars within B.C. when they would otherwise be going to Europe or elsewhere."
In the Tourism Industry Association of Canada's (TIAC) recent report, The State of Tourism in Canada During COVID-19, it notes that as some restrictions begin lifting, travellers have started researching destinations and showing some travel desire. TIAC believes that in the North American market, car travel will be more attractive for tourists in the short term.
But Nursey cautions that while B.C. tourists can help save some of this year's lost tourism season, they are not going to be enough to return the industry to its previous levels of economic success.
"International travelers spend more and do more diverse activities than domestic travelers," he says. "And conferences are the highest spending customer by far. So any notion that somehow the B.C. traveller can replace international travel is not accurate."
Brand Safe
When the cruise industry does return, it's believed the Alaska route could be one of the global itineraries to rebound the fastest.
"The reason for that is Alaska is seen as being very, very safe," Robertson says.
And safe is the key word for the travel industry going forward.
"There's a really good quote," says Deidre Campbell, managing director of Beattie
Tartan. "It goes: 'After 9/11, without security, there would be no tourism.' Because of what happened then, we needed to increase security. They're now saying that after COVID-19, without health and safety — and the training around health and safety —there will be no tourism."
(As a comparison, the U.S. Travel Association reports that the impact of COVID on travel is six or seven times greater than the 9/11 attacks.)
Campbell, a communication specialist, who was awarded Destination Greater Victoria's Miracle Award in recognition for her work in tourism, believes the perception of what makes a destination safe is something the entire region will have to agree on, meaning collaboration across the board.
"We're building a brand of trust around a brand of a destination," Campbell says. "So
if everyone is not on board with the level of health, safety, hygiene and cleanliness, and all those distancing measures, that's going to hurt our destination."
Collaboration is also at the core of Mandy Farmer's vision for the future of the industry. As the CEO of Accent Inns, she led the company through some innovative measures to thrive in the last few months — including housing hospital workers and running hotel rooms as self-contained workspaces — and is still going ahead with the planned opening of its eighth property in Tofino this summer.
"I'm among the hotel association that is helping to build the guidelines for safe travel within B.C.," Farmer says. "We're like bending over backwards to share information with each other. One of our managers used to be a manager of a hospital ward, so she just whipped us all into shape."
Those guidelines from the BC Hotel Association have been shared nationwide.
"You want to be the one that shows leadership, shares information, helps each other through this," says Campbell. "If we become known in Victoria — as we were with sustainability — for these new standards of safe tourism, then I think that's going to be
our edge."
Continue reading: Indigenous Tourism Gets Creative After Pandemic