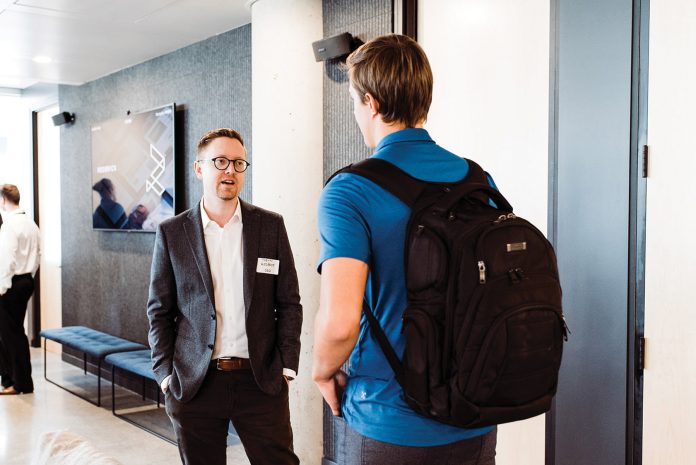 Recruiting new team members is highly competitive right now, across every industry. My advice to other employers: take on co-op students to fuel a vibrant company culture and secure the next generation of talent. 
I've seen both sides of co-op programs, as an employer at Redbrick and as a student. During my own co-op term, I was a mechanical engineering student placed at a nuclear power plant and tasked with building a specialized lock for fuel basket operations. It took our team eight months to develop what was essentially a fancy combination lock because of all the approval hurdles we had to jump through. 
In the meantime, I built software for the scheduling team that organized employee availability. It immediately eliminated countless hours of manual data entry. Needless to say, I wanted to transfer into software engineering as soon as my co-op job was completed. 
I discovered a love for coding during my placement, but that's not why I left mechanical engineering. I didn't want to continue because my co-op term didn't make me feel excited about the industry. 
Now as a CEO, that insight guides how I manage our co-op students and how I use the program to find talented individuals for our teams. For both parties to truly benefit from co-op placements, employers have to cultivate an authentic, dynamic experience. 
Getting it Right

 
Having enthusiastic, emerging talent on your payroll is invaluable, especially in a job market where that's in high demand. But when co-op placements feel like a drain on resources or just part of employee churn, it's a warning light for how you're running your program. 
If you're not seeing the benefits of having co-op students on your team, it's likely an indicator that you're not letting them work up to their potential — and that's a disservice to them and your company. Relegating co-op students to admin tasks and side projects will only slow down your full-time team while leaving your co-op students feeling uninspired. 
That's why impact — what I felt was lacking from my term as a co-op student — is such a crucial factor in the success of co-op strategy. Plan a co-op's workload as if they're a new team member, offering the same freedom, resources and responsibility so they feel empowered and supported. 
Co-op programs allow you to pick from some of the brightest new minds within your community, scouting talent before it enters the workforce. This is an opportunity for you, as much as it is for them. Don't waste that opportunity by handing off busy work. 
The Key Ingredient

 
Forty per cent of our co-op students return to us full-time after completing their degrees. They're ready to work, already acclimated and have a proven track record of great ideas. 
I believe we have such a high recruitment rate out of our co-op program because of our "one week to value" approach, meaning students are working on real projects or committing their first lines of code before their first week is up.
We want them to feel inspired — that's the energy that nurtures new employees and infuses our full-time teams with optimism. To confirm this feeling, I reached out to our previous co-op student and asked them to reflect on their terms whether that was ten years ago or just last month. 
The responses were consistent: our co-op student return as employees or recommend our program because they were given meaningful work. 
"I wasn't siloed away on a pet project, or given something that was designed to be replaced in two months. I was given real tickets, from the real backlog, and if I look at Redbrick's websites today, I can see changes that I made persisting throughout these years since my co-op," says Jonathan Bezeau, one of our co-op student from 2020. 
This is the next generation of talent, bringing you energy, ideas and passion. Support them, give them room to grow and a safe space to fail because their success is your success as well. The richer you make their experience, the more likely they will return as employees — and they return more qualified because you spent that time on their professional development. 
Community Matters

 
Regardless of whether your co-op students return for full employment, your investment doesn't go to waste — it's an opportunity to make your own impact as well. 
When I was a co-op student, it gave me the opportunity to experience what post-graduation life looked like in my industry, and, more importantly, it showed me that I needed to change course. I know first-hand that co-op terms are invaluable to students, allowing them space to discover new passions, accelerate their progress and gain confidence in their abilities. 
"Working in a co-op bridged the gaps between a school environment and becoming an effective software engineer, solving real problems," says Aleksiy Kudelsky, a co-op student from 2017. "My favourite memory was being given ownership of a piece of the product and delivering it end-to-end to real customers. At this moment, I realized I was no longer just a student but had meaningful skills that allowed me to impact other people for the better." 
Reading the responses of our previous co-op students, like this one from Aleksiy, makes me proud of the commitment we have to our program. It's a privilege to provide that kind of opportunity and have an impact on one of the most critical periods of their careers — and to cheer them on as they take that experience and accomplish amazing things. 
Beyond an individual level, hiring co-ops can strengthen your connection to the community while keeping homegrown talent within local companies. Victoria is an amazing place to live but it's also an expensive one. Many young professionals are forced to leave this city, but co-op programs offer a foothold in their industry, helping families stay in Victoria. 
We're also fostering a reciprocal relationship with the hubs of new talent, cutting-edge research and great ideas: our local colleges and universities. Those partnerships pay off, opening so many doors to resource-pooling and shared projects. 
And remember, your impact as a company isn't just tied to the success of your product. It's the impact you can have on your community and your people. Investing in those things fosters endless positive opportunities and makes you an employer worth working for.
4 Steps

to a Successful Co-op Program

 
Hire students you want to retain
Take this opportunity to scout talented, diverse students as team members, while giving a true interview experience.
Respect your full-time team
A co-op student doesn't need a wealth of experience, but they do have to show up ready to engage so they don't slow anyone down. 
Onboard & integrate
Onboard co-op students like long-term team members, giving them access to top-of-the-line tools and all the communication channels they need. Don't forget — "one week to value." 
Make it fun
Welcome your co-op students, invite them to events, add them to your Slack channels and provide the full experience of what it's like to work at your company. They are part of the team.
Tobyn Sowden is the CEO and founder of Redbrick, the parent organization to a portfolio of software technology companies based in Victoria, B.C.