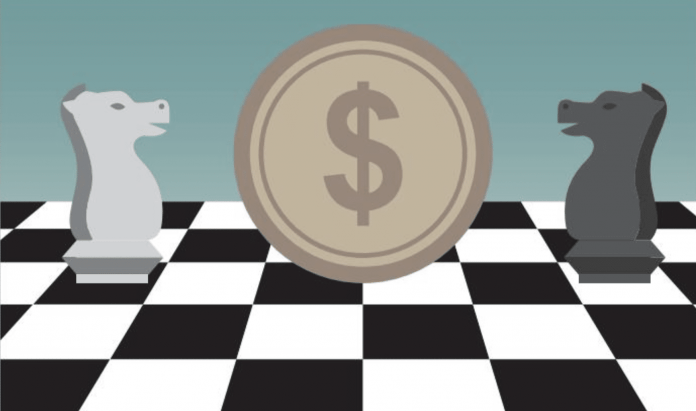 The best business advice I ever received rarely came in the form of advice. It always arrived wrapped in a story.
In thinking about this column, I considered what possible advice I could offer up to small business owners and teams that would truly help in these unique times. It made sense to turn to my old faithful: a story. It's not a checklist or framework or even a case study. I don't even decode the lessons for you at the end. But I hope it helps.
In February my dad died. He chose to pursue Medical Assistance in Dying (MAiD) after enduring years with a debilitating pain condition. This choice gave us precious time with him, which he used, true to form, to share some of his favourite business stories and life advice with his grandchildren.
I thought sharing one here might be appropriate.
The Tale of the Two Cheques
Not long after my father joined his family's advertising agency, he bought it. And then never told anyone. As a young son-of-a-founder, a lot of people wondered why he was there in the first place. He knew he needed to work his way up in the business and earn the respect of the senior executives who, in some cases, were waiting for "the kid" to fail. But he needed to know he would eventually be in control.
So he worked a quiet deal with his family, stayed in his role as a junior account executive, learned the ropes and assessed who in the company he would eventually tap as his trusted lieutenants and partners.
When he finally announced that he had bought it (and had owned it for a while), there were a lot of surprised faces. And some scared ones. Those who had treated him poorly wondered whether their time was up.
But he was fair — and a pragmatist. He knew they were exceptionally talented people who, with the agency's best intentions at heart, had given him a tough education.
One of them we'll call him David (not his real name). David not only thought my father wasn't up to the challenge, he told him. A lot. And often he was right. David was exceptionally talented and managed the agency's most important accounts. He was legendary in the industry.
David also had a drinking problem. And soon, the shine of David's considerable skills was tarnished irretrievably by his inability to hold his liquor — or his tongue.
When he threatened to throw the president of an international consumer goods company ( a major client) off the balcony of a Toronto hotel, my father was left with no choice. David had to go.
This is my dad's account of the story, recorded by his grandson, Cameron:
So I asked David to come up to a meeting room on the fifth floor. Not my office, not his office, not a big room. A small, innocuous place. I said, "I know you're angry. I know you've seen everything in this agency and know more things than I do. You know all the hidden secrets. But I have to fire you."
"Well, I'm taking you to court," David said. "I'm going to call in all the clients – and they're going to hate that because they don't like to get involved in this stuff – and I'm going to get every penny I can out of you."
I said, "Well, you might break the agency." And he said, "I don't care. I want to get you." So I made a gamble. "I'll tell you what I'll do." I said. "I'm going to put two pieces of paper on the table here. I want you to write on your piece of paper what you want as severance. And I'm going to write on mine what I'm prepared to give you. Then we're going to flip them over, and I'm going to give you the higher of the two."
He looked at me and said, "You screwed it up again, Hayhurst! You mean the lower."
I said, "David, deep down inside, you really have a love of this agency and a respect for us. And I don't think you want to take down this agency. I think you want to get what you can out of us, but you don't want to take us down."
He said, "I could write down millions of dollars! And if I do that, you'll pay it?"
"Well, whatever you write, I will give you everything I've got to help you get to the number."
He got up and wandered around this little office, sat back down and said, "You're nuts."
So we grabbed our pieces of paper and wrote our numbers down. Now, I'm panicked. If he writes millions, I have to pay it. So I'm hoping my judgment of his character is right, and I'm resting my whole career — my whole company — on my judgment.
He turns it over. And then he turns over mine.
And he says, "I'll be damned, my number is lower than yours. You're right. I couldn't take you down. I may hate you, I may be angry as hell. But it's a good company. You do good things. I know I have to go. Ah, jeez. Your number is higher than mine."
So I went downstairs and got two cheques. One for his number. And one for the difference between his number and my number. And I gave him both cheques.
He never cashed the second cheque. He was an honourable guy.
Stories Create Connection
There's an old saying I learned early on in my career: If you want money, ask for advice. If you want advice, ask for money. I might add, too, that if you want to give really good advice, start by telling your stories.
Stories create connection — the first and most important ingredient in helping others see their way through difficult times. Moreover, the lessons tend to reveal themselves in
ways you never anticipated, often over years and decades. You don't even have to draw conclusions for people. Even as I write this, my father's stories still ring in my ears and provide perspective and guidance
And for that, I am eternally grateful
Continue reading… Leadership Development with Jim Hayhurst
---
Jim Hayhurst is a trusted advisor to purpose- driven organizations and leaders. He is currently active in six companies and social impact projects that elevate Victoria's reputation as a hub of innovation, collaboration and big thinking.