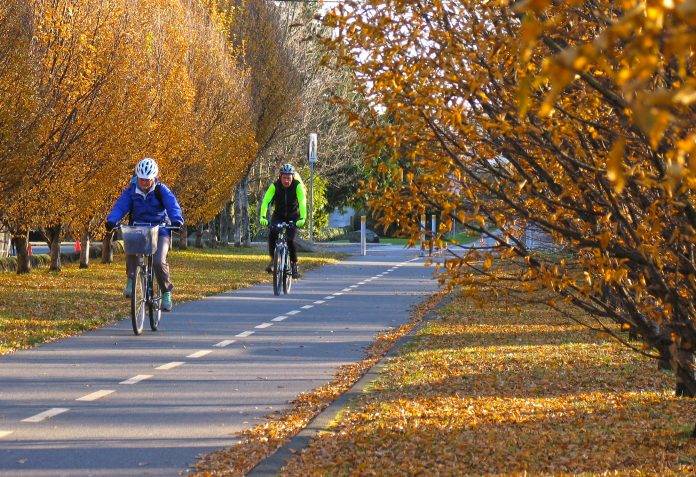 The 2012 edition of Bike to Work Week officially kicked off Monday, April 16, at a launch event at Victoria City Hall.
Emceed by Erin Glazier of CTV News and featuring speeches by Victoria Mayor Dean Fortin and TELUS Community Board chairman Mel Cooper, the event marked the beginning of the six-week countdown to Bike to Work Week in Greater Victoria — one of the region's most highly supported and well-recognized events.
Douglas magazine is proud to be one of the dozens of sponsors of Bike to Work Week, which began 18 years ago with 500 participants and 50 teams. Since that time, the event has continuously grown each year, with over 7,000 riders on 615 teams participating in 2011.
This year, Greater Victoria Bike to Work Week has set a goal of attracting 1,000 new commuter cyclists.
Victoria "is the best place I've ever lived for cycling," says Capital Regional District environmental science officer Todd Johnston, who moved here from Vancouver five years ago. Johnston and his CRD colleague Kathy Grinde appear on the official promotional poster for Bike to Work Week 2012 unveiled at Monday's launch event.
"We've got the infrastructure," Johnston adds, "but let's get some more people into the fold."
Taking place May 28 through June 3, Bike to Work Week will be filled with free celebration station events offering complimentary snacks, bicycle first aid support, and more than $25,000 in great prizes. Broad Street Cycles will provide a secure bike lockup, free of charge, for downtown commuters from April 17 to June 3.
On Wednesday, May 23, the door-to-door convenience of cycling to work will be put to the test in the annual Commuter Challenge, a bike vs. car race held from 7 to 9 a.m. at Starbucks Coffee at Fort and Blanshard streets. Cooper notes that May 26 is the TELUS Community Board's annual Day of Giving and may very well provide a star-studded preview of Bike to Work Week as David Foster and friends, in town for the David Foster Foundation Miracle Weekend, take to the Galloping Goose Trail and other popular cycling routes.
"We are thrilled with the enthusiasm around Bike to Work Week," says Robert Wickson, president of the Greater Victoria Bike to Work Society. "More people are getting the message that biking makes good sense for health and wellness, and that it's a lot of fun."
To register for the Commuter Challenge and Bike to Work Week 2012, visit www.biketowork.ca/victoria.