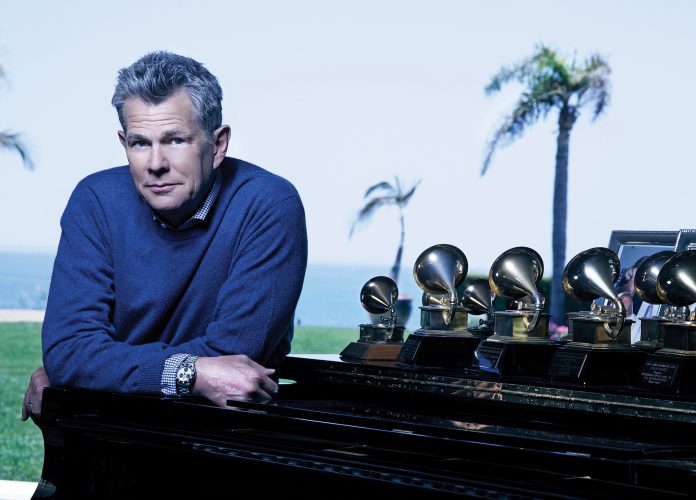 One of the music industry's most accomplished producers, David Foster, recently added another honour to his 16 Grammy Awards when he received the Peter B. Gustavson School of Business 2015 Distinguished Entrepreneur of the Year (DEYA) Award. Douglas talked to Foster about his entrepreneurial approach to music and philanthropy, the future of the music business and the truth behind those inspirational quotes.
Most people think of you as a musician and a philanthropist, so what does winning the DEYA mean to you?
It appeals to the business acumen side of me I always hoped I had. Even though other people who have won this award are all business and arguably more successful in business than I am, I believe I have maximized what a piano player from Victoria can do in the business world. I don't think music and business are necessarily related, but I am always more fascinated by sitting with somebody like Jeff Mallett or Dennis Washington than I am by sitting with an extraordinary musician.
Why is that?
I look at someone like Dennis Washington [who owns The Washington Companies, which includes Seaspan, and is a recipient of the 2013 DEYA], and I think, "How did this guy do it? How do you run 60,000 employees? How do you start with one truck and turn it into a billion-dollar business? How does that work?" It just amazes me.
What business lessons have you taken away from running the music label 143 Records?
The one thing I've figured out is the only thing constant is change. Exponentially, we have got ourselves into quite a mess in the music industry. I like to say that the music business is doing great but the record business has to find a new path. Because there is no better offer than free. We're all guilty of it. I go on YouTube just like the next person when I want to hear a song. It's hard to beat free. But we have to find a way; otherwise songwriters aren't going to be able to make a living. And if the songwriters can't make a living that means screenwriters will not be able to make a living. Then you're not going to have movies and you're not going to have music. So we will find a way. I do believe it will get straightened out but it's going to take the next decade. I think we're adaptable and there is no doubt the music business will be a robust business again.
What major changes do you see in the near future?
Spotify is on the tip of everybody's tongue right now, and Beats and iTunes and these music services, which are trying to be premium services for $9 or $10 a month; and they're under-delivering right now. They're over-promising and under-delivering. But if we can get it to a point where they actually are delivering what they promise, we will be back to a $40 billion industry. Right now we've shrunk to around a $10 billion business.
What secrets of success did you share with the Gustavson School of Business students during your guest lecture?
Just by being in business school already, they know all the inspirational quotes, but the funny thing about these quotes is they're all true. The coined ones that we hear all the time: "Follow your dreams. If you're doing something you love, it's not like work." I have a few too: "If you're not working Saturday and Sunday, somebody else is."
My personal mantra is "Good is the enemy of great" and it is something I follow diligently. What I wanted to impress on the students is to really listen to the words and to try and have them penetrate more than just skin deep. They really are true. The opportunities for young people — on this continent especially — are endless and you really can do anything.