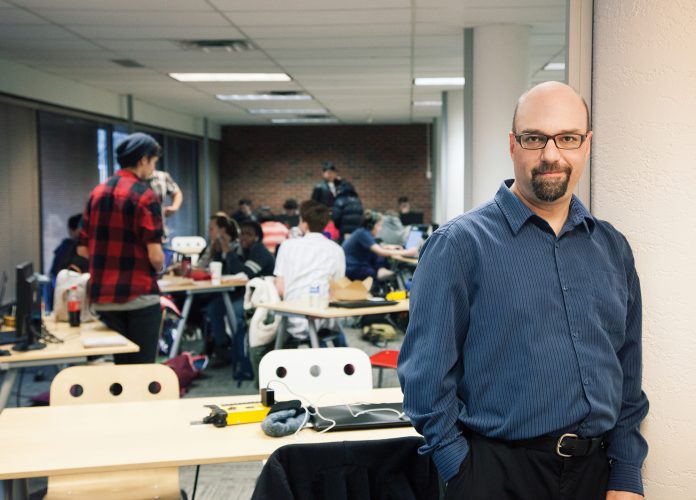 The spark of enterprise exists for most entrepreneurs long before they launch their first businesses. So why aren't we heavily leveraging the education system to better grow entrepreneurs?
During the past couple of years, I've been part of an ongoing conversation with academics and serial entrepreneurs about how to help students in entrepreneurial programs move from the abstract to the actual. One question I've asked is: why isn't there a bachelor-degree program for post-secondary students who want to build businesses? Yes, they do theory and case studies, but my argument is: why not get these students out building their own businesses as part of the degree-granting process?
There are good reasons to develop this kind of post-secondary program. First, it encourages entrepreneurship and builds value in our community. Second, there's no better time to take on entrepreneurial risk than when you're young, relatively unencumbered by debt and without need to support a family. Third, being part of a business-building program through a university mitigates risk for both the families and the students. Students find out early if being an entrepreneur is for them. If the answer is yes, it may lead to entrepreneurial success. If the answer is no, they still walk away with business acumen, a university experience, time to pursue other paths and a B.Com to fall back on.
Seeing Possibility at PSII
As I was pondering how to boost entrepreneurship in education, I was introduced at a local tech event to Jeff Hopkins, founder of the Pacific School of Innovation and Inquiry (PSII, pronounced "sigh"), and to Jake West, a teacher at PSII.
If you haven't heard of PSII yet, let me start by dispelling the myth: it's not an alternative school. PSII is Victoria's newest high school, offering personalized education through a formal process. Learners develop their own pathways of inquiry that act as the umbrella for projects and other learning activities. And yes, PSII's interdisciplinary curriculum leads toward provincial requirements for high-school graduation. Simply put, PSII is a bespoke high school.
I asked Jeff and Jake what makes PSII different from other schools. It wasn't long before I started connecting the dots between what PSII was doing with high-school students and what I was pondering as a possible approach for universities to consider. At PSII, students are encouraged to develop real projects, based on their own inquiries. They are further encouraged to access the world outside the classroom via mentorship, modelling and project development, including ways to contribute positively to society.
PSII students work with entrepreneur volunteers such as Justin Love and Manjinder Benning (Manj), co-founders of Limbic Media, a company that specializes in transforming public spaces through high-tech reactive art and light installations. On a recent tour of PSII, I observed one of the lighting/music design student projects which Manj was involved in. To my surprise, it looked more like a software startup or innovation centre than a high-school project.
Manj was consulting with a group of very engaged, intelligent students who were designing architecture and writing code for a new software product that will have real-world applications. My take-away from observing this group was that PSII gives its students the freedom to be their best and the skills and encouragement they need to move on to college or university.
Brianna, a student I met at PSII, was working on a gift-store concept that she was committed to seeing move from concept to reality. I couldn't help but support her project. After introducing her to local building owners Bob and Brenda, my business partner and I enlisted the support of entrepreneurial colleagues to help mentor her and accelerate her vision. Everything required to support Brenda was present. All she and her school needed to do was to connect the dots between students, building owners, entrepreneurs and makers. This collaboration resulted in a successful community pop-up store called YYJingle during Christmas 2015.
Innovation for the new economy
As we move toward the new economy, this is the kind of education and community that we and our future generations need to be successful as entrepreneurs. So in addition to making university culture more entrepreneurial, let's also back that up in grades 9 to 12 as PSII is doing. Using education as a vehicle for entrepreneurship, from high school through post secondary, seems to me to be a recipe for success in growing our local living economy from the ground up and creating healthier and happier communities.